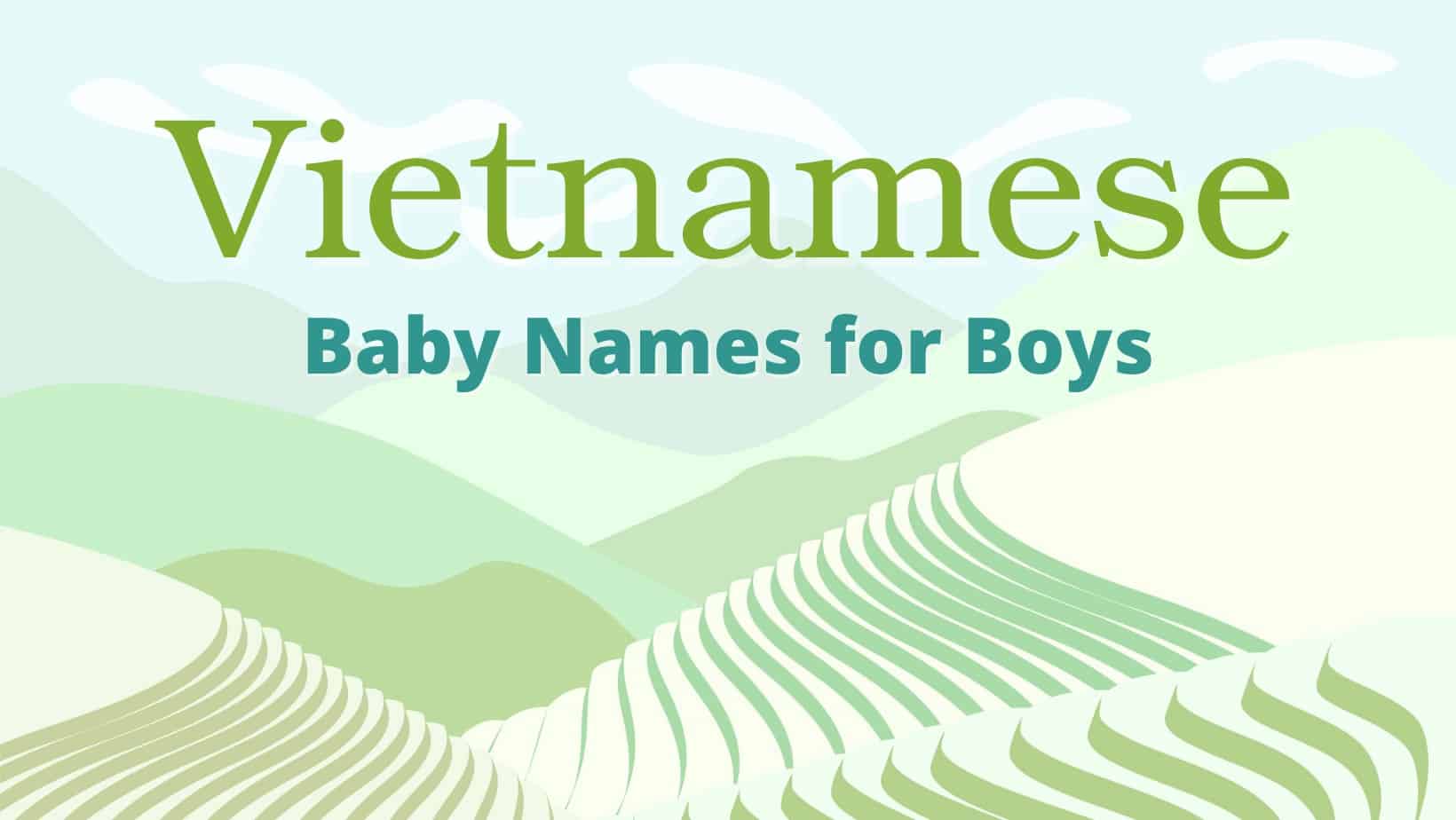 From Minh to Ba to Thang, this list of Vietnamese baby names for boys is filled with a variety of options of differing meanings. Explore the meanings of each and marvel at the deep symbolism of each.
RELATED: Vietnamese Baby Names We Love!
An

– This boy's name consists of two words. Together they mean peaceful hero.

Ba

A short male name that represents "three or third". This is a common description of brothers.

Bay

For a baby boy born in July in Viet Nam, Bay is a common name. It stands for "July", the 7th month, or the "7th born son".

C"ng

An interesting name for a Vietnamese boy that means "skillful and industrious".

Dai

This is a bold boy's name for a baby boy set with a positive future in mind. It means "great".

Hoc

This short Vietnamese name says it all. "Studious" is the meaning for a special newborn boy.

Hy

Hy represents a "hopeful" male boy from the first day of his birth. This name is common in Asian countries.

L…nh

Some names in Vietnamese have a mixture of letters and symbols. This is one example of a boy's name that means "peaceful".

Lam

This popular male Vietnamese name is filled with depth. The original translation stands for "fully understand and knowledge".

Lap

Lap is a male name that means "independent soul". Parents may see this trait in their newborns right away.

Long

A Vietnamese name that is odd according to meaning. In Chinese, its meaning is "hair" while Vietnamese is "dragon". It is usually given to males only.

Minh

This male baby name of Vietnamese origin is perfect for a happy boy. It means "bright".

Ngai

Ngai is a male Vietnamese name that means "herb". Another similar name is Nghi which has a different meaning of "suspected".

Nghia

For a future as bright as a newborn baby boy's face. This name translates to "forever".

Phong

This Vietnamese name can address many types of meanings. "Wind" is the primary translation for a swift or elevated baby boy.

Phuc

This name is also spelled Phuoc, a Vietnamese baby boy would be blessed with this name. "Blessings or luck" are the meaning of Phuc.

Pin

As parents lay out the future for their new baby boy, this original Viet Nam name says it all. Pin translates into "faithful boy'.

Quan

A strong and healthy boy's name, Quan shows everyone what type of man he will be. Used by many Vietnamese parents, it means "soldier, warrior".

Son

A short boy's name that is easy to remember and say, Son, captures the picture of a "mountain" in its Vietnamese translation.

Thi

This name can also be spelled Thai and is an original name from Viet Nam. Masculine in sex is a popular name that means "many or to multiply".

Thang

Full of strength, Thang is a male baby name and quite popular. The original meaning is "victorious".

Thian

Also spelled Thien, this boy's name is indicative of "being smooth". The country of origin is Viet Nam.

Tin

Originated in Viet Nam, Tin means "thinker". Another way of spelling is Tinh where it has a different translation of "mindful or aware".

Toan

This is a positive name for a Vietnamese baby boy. Toan means "complete and secure".

Tong

This baby boy's name is common in Viet Nam. The original meaning is "fragrant".

Tung

Tung is a strong male name that signifies "seriousness and dignity". This is a very respectable name in the Asian community.
Peruse thousands of baby names on MomsWhoThink.com! And follow us on Pinterest for more parenting inspiration!