Let's Get Ready for Baby!
Sign up for our monthly pregnancy email series, and you'll get regular updates on your baby's development, helpful timelines to get ready for their arrival, must-have baby needs and so much more! PLUS, you'll get instant access to the MomsWhoThink "Ultimate Guide to Baby Naming in 2022."
CLICK HERE
to get started!
Adelaide may be one of the biggest and most notable cities in Australia, but roots for this beloved baby name are largely German. In fact, the city was named for a German princess who went on to become the queen consort of Great Britain during the 1800s. The name means nobility, and throughout history, many noblewomen and members of royalty were given the moniker, especially throughout Europe.
Meaning of the name Adelaide:
German: Nobility
Origin of the name Adelaide:
Adelaide is derived from the German name Adelheid. Its components "adal" and "heit" mean "noble" and "kind or sort," which is where we get the meaning "nobility" for the popular baby name.
Symbolism of the name Adelaide:
The baby name Adelaide has been attached to many queens, princesses and countesses over the last few centuries, helping it symbolize its true meaning of "nobility."
Style of the name Adelaide:
Traditional
Gender of the name Adelaide:
Adelaide is a girl's name.
Pronunciation of the name Adelaide:
A-duh-layd
Number of syllables in the name Adelaide:
Three
Emotion evoked from the name Adelaide:
The name Adelaide evokes the image of a woman who is kind and gentle yet regal and important.
Alternative spellings for the name Adelaide: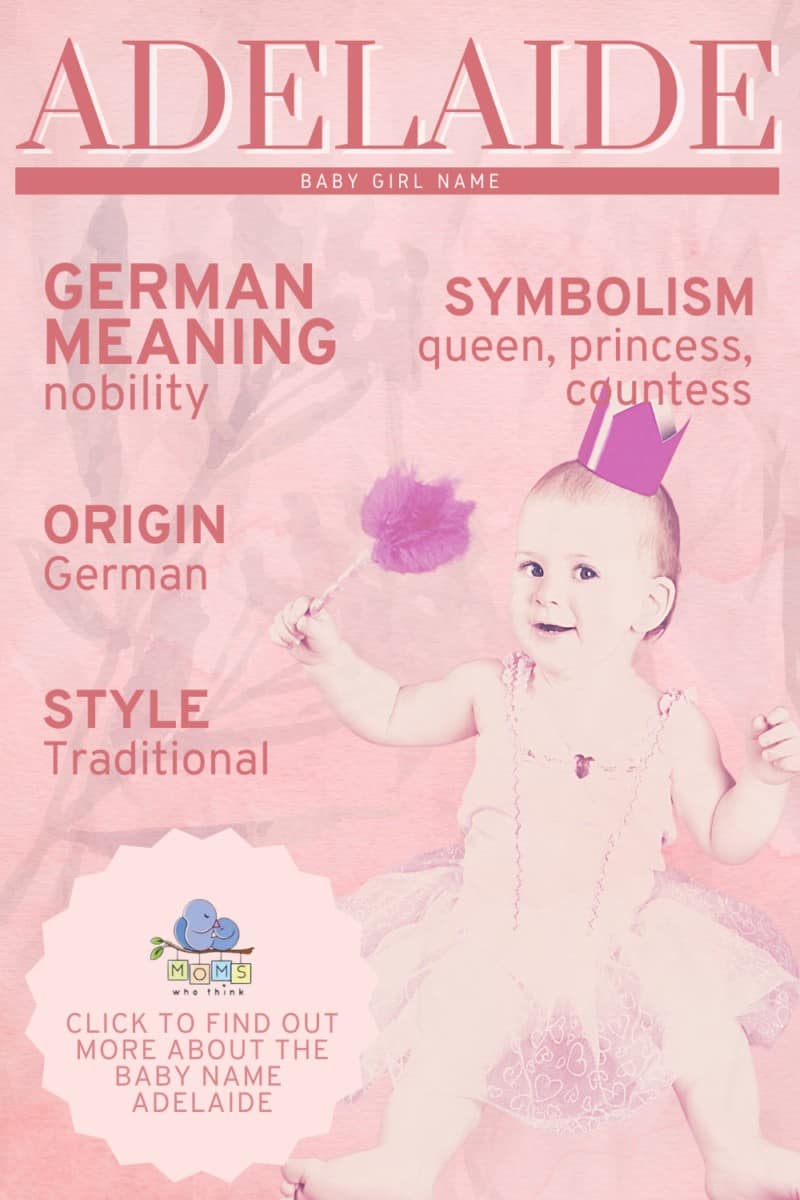 Nicknames for the name Adelaide:
Popularity of the name Adelaide:
According to the Social Security Administration, Adelaide was very popular during the first half of the 20th century. While it fell out of favor during the second half of the decade, it reemerged on the list of the top 1,000 names for baby girls in 2005. As of 2020, it's the 274th-most popular name for baby girls in the United States.
Related names for the name Adelaide:
Great middle names for Adelaide and their meanings:
Famous people with the name Adelaide:
Adelaide Thompson Spurgeon (Civil War nurse and philanthropist)
Adelaide George Bennett (poet and botanist)
Adelaide Cilley Waldron (author)
Adelaide Kane (actress)
Adelaide Leroux (actress)
Adelaid Clemens (actress)
Adelaide of Saxe-Meiningen (queen consort of the United Kingdom)
Adelaides in popular culture:
Miss Adelaide (character in the musical "Guys and Dolls")
Adelaide "Addy" Wilson (character on the TV show "Gimme a Break")
Aunt Adelaide (character in the movie "Nanny McPhee")
Madame Adelaide Bonfamille (character in the movie "The Aristocats")
Adelaide Brubaker (character on the TV show "Diff'rent Strokes")