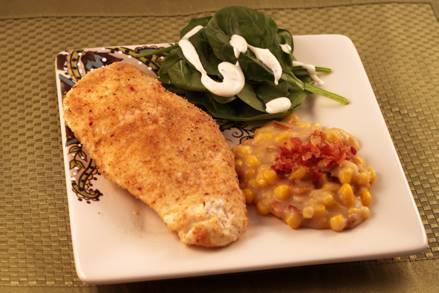 Buttermilk Pan Fried Chicken & Homemade Creamed Corn
Let's Get Ready for Baby!
Sign up for our monthly pregnancy email series, and you'll get regular updates on your baby's development, helpful timelines to get ready for their arrival, must-have baby needs and so much more! PLUS, you'll get instant access to the MomsWhoThink "Ultimate Guide to Baby Naming in 2022."
CLICK HERE
to get started!
Ingredients:
¾ cup fine dry bread crumbs
½ of a .7 ounce package dry Italian salad dressing mix (2 ½ teaspoons)
½ cup buttermilk
4 skinless, boneless chicken breast halves (about 1 ¼ pounds)
2 Tablespoons cooking oil
Directions:
1.  In a shallow dish combine bread crumbs and salad dressing mix.
2.  Pour buttermilk into a small bowl.
3.  Dip chicken breast halves into buttermilk, coat with the bread crumb mixture.
4.  Heat oil in a large nonstick skillet over medium heat.  Arrange chicken in skillet so that pieces don't touch.
5.  Reduce heat to medium-low.
6.  Cook, uncovered, for 10 to 12 minutes or until chicken is tender and no longer pink, turning once to brown evenly.  Makes 4 servings.
7.  While chicken is cooking prepare corn.
Homemade Creamed Corn
Ingredients:
1 cup canned corn
½ teaspoon milk
2 Tablespoons sugar
2 slices bacon, crisply cooked, crumbled and drippings reserved
3 Tablespoons all-purpose flour
½ cup water
Salt and pepper to taste
Directions:
1.  In a medium mixing bowl, combine corn and milk; add sugar.
2.  Place corn mixture and bacon drippings in a large skillet.
3.  In a measuring cup, mix flour and water together; blend until smooth.
4.  Add enough additional water to the measuring cup to equal 1 cup.
5.  Add flour mixture to corn and stir over medium heat until mixture is thick; salt and pepper to taste.
6.  Cook for 10 to 15 minutes. Makes 4 to 6 servings.
Try one of our favorite 30 Minute Meals: