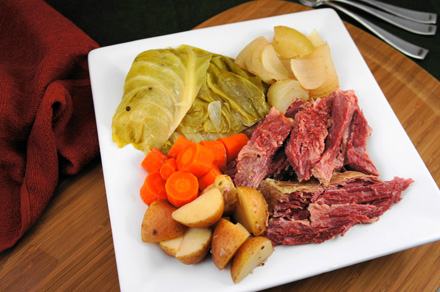 Crock Pot Corned Beef and Cabbage
Ingredients:
12 new red potatoes, quartered
4 carrots, sliced
4 pounds corned beef brisket
2 onions, sliced
3 whole bay leaves
8 black peppercorns
1 head cabbage, cut into wedges
Directions:
1. Place potatoes and carrots in bottom of the crock pot.
2. Add brisket, onions, bay leaves and peppercorns. Add enough water to cover the brisket.
3. Cover; cook on low 4 to 5 hours.
4. Add cabbage. Continue cooking on low 4 to 5 hours longer. Remove brisket to a serving platter.
5. Slice brisket against the grain, and serve with the potatoes, carrots, onions and cabbage.