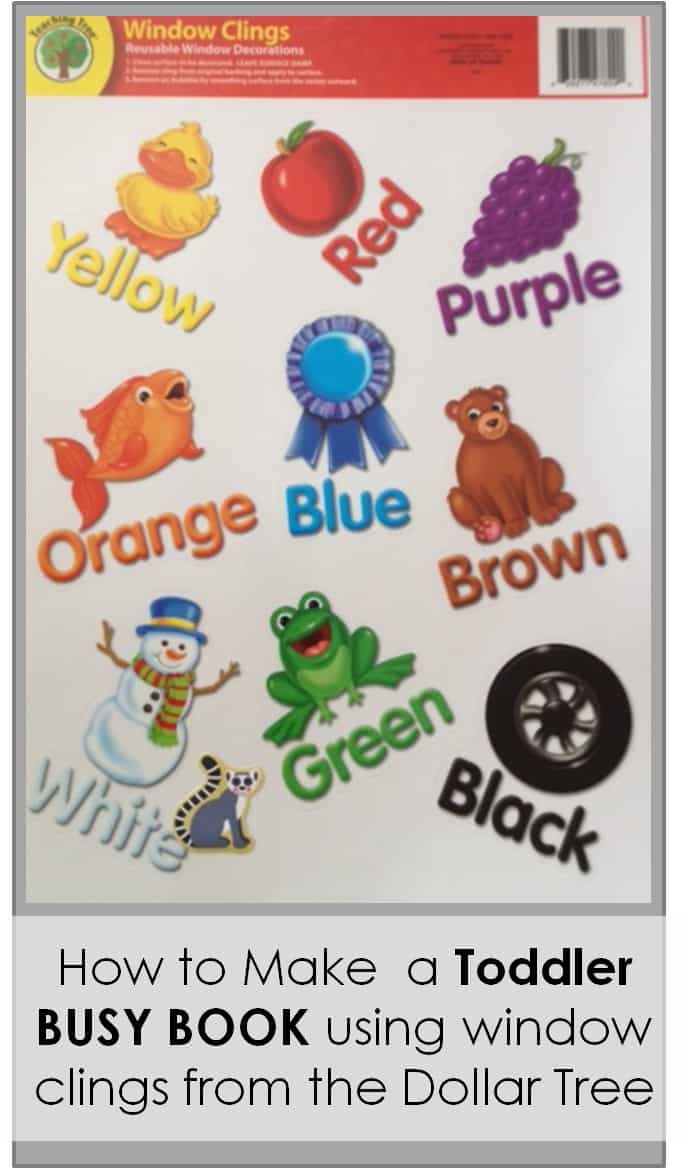 Let's Get Ready for Baby!
Sign up for our monthly pregnancy email series, and you'll get regular updates on your baby's development, helpful timelines to get ready for their arrival, must-have baby needs and so much more! PLUS, you'll get instant access to the MomsWhoThink "Ultimate Guide to Baby Naming in 2022."
CLICK HERE
to get started!
I'm super excited about this post. For two reasons.
I finally figured out the best way to use my Dollar Tree window clings. BUSY BOOK!
And Jamba Juice has started putting vegetables in their kid's smoothies. And they are like in the two dollar range. It's like a value menu but for Jamba Juice. Have they always had kid's smoothies?
Okay, first things first. The Busy Book!
How to Make a Busy Book with window clings from the Dollar Tree
Sidenote: Dollar Tree is in NO way sponsoring this post. I just happen to love the place. For the past 6 months or so I have been collecting window clings from there in hopes of making a busy book out of them. They have so many educational and fun window clings, but I've struggled with finding the right materials to make the book out of. They stick to glass, but not to laminated pages like I was hoping. As I was organizing our office, I came across my husbands photography portfolio. I believe it is an 11 x 14. To my amazement and delight, the pockets are the exact size that the window clings come in, AND they stick to the special plastic in the portfolios! Let me show you so you know what I'm talking about:
The Dollar Tree seriously has so many different window stickers and they come out with new ones for each of the holidays too. Here are what the clings look like:
and here is what the portfolio looks like:
What also thrilled me is that
is also the same size to fit my Melissa and Doug removable sticker scenes. They are one of my favorite products, except that the sticker scenes are too flimsy and tear. Now I have something to protect them! If you are making the book for a boy you could use the habitats sticker scenes as well as the transportation ones. For a girl you could use the play house sticker scenes as well as the dress up sticker scenes.
this is the safari page from the habitat sticker book
Is anyone else as excited about this as I am?
Okay, now on to the smoothies.
Jamba Juice Fruit and Veggie Smoothies
I got the opportunity through the Moms Meet program to try Jamba Juice's new fruit and veggie smoothies. And just so you know, you don't have to be a blogger to try and review new products. You can apply to be a mom ambassador through the Moms Meet Program. Basically, you agree to sample the new products with your "group" of other moms and then give your feedback. If you're gonna drag your kids to a play group, you might as well be getting free products for it, right?
Okay, I'm getting off track again.
The smoothies. My husband and I tried the Tropical Harvest and my toddler tried the Jamba Kids Berry Beet it.
Here's what we thought:
Both my husband and I thought the tropical harvest was okay. For having veggies in it, it was pretty good; however, if I'm going to pay for a smoothie I will probably stick to one of the all fruit flavors that I LOVE. I am willing to try the Berry upBEET on a future visit though, just because I am a much bigger fan of berries than I am of mangoes. That might have been where I went wrong.
HOWEVER….my toddler gulped hers down! And I would definitely pay for the kid's smoothies because I'm totally okay with sneaking veggies into her diet in all ways possible. Plus, they are pretty cheap and she had no idea she was drinking something with carrots, beets, broccoli, spinach, kale, and lettuce in it! You can spend the same amount getting your kid a snow cone or milk shake, or you could get them a fruit & veggie smoothie and they will love you just the same.
Each of the smoothies contain 2 servings of fruit, and 1 serving of veggies. No added sugar!
Jamba Juice: click here to see what other fruit/veggie smoothies they have, as well as what they put in them!
Facebook: Visit their Facebook page for offers and promotions. Last month they had an awesome buy one get one free offer!
I received this product for free from the sponsor of the Moms MeetSM program, May Media Group LLC, who received it directly from the manufacturer. As a Moms MeetSM blogger, I agreed to use this product and post my opinion on my blog. My opinions are my own.