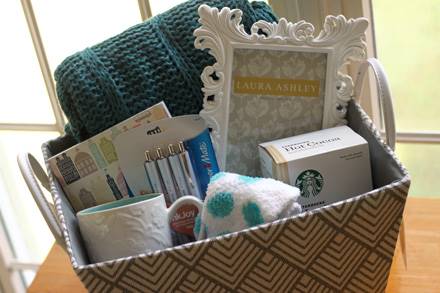 Winter Warmth Gift Basket
Let's Get Ready for Baby!
Sign up for our monthly pregnancy email series, and you'll get regular updates on your baby's development, helpful timelines to get ready for their arrival, must-have baby needs and so much more! PLUS, you'll get instant access to the MomsWhoThink "Ultimate Guide to Baby Naming in 2022."
CLICK HERE
to get started!
Fill a white basket with the following:
*Homemade Peppermint Cocoa Mix
Ingredients:
3 (4 1/2-inch) peppermint sticks
1 cup powdered sugar
1 cup powdered non-dairy creamer
3/4 cup unsweetened cocoa
Measure all ingredients into a blender, grind until powdery and well blended.
Vacuum seal mix or store covered.
Per Mug: 1/4 cup mix, boiling water to fill.
*Trendy hot chocolate mix
*Fun mug
*Journal
*Nice pens
*Fuzzy socks
*Warm blanket
Tip: Stores like TJ Maxx, Ross's, and Home Goods have great deals on baskets and miscellaneous items you can purchase for a lower price but not lower quality. They're great for when you're shopping for gift basket items and not specific items.