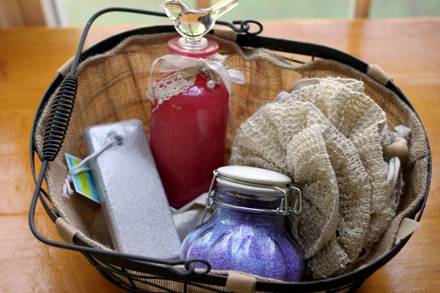 Homemade Bath Salts
Let's Get Ready for Baby!
Sign up for our monthly pregnancy email series, and you'll get regular updates on your baby's development, helpful timelines to get ready for their arrival, must-have baby needs and so much more! PLUS, you'll get instant access to the MomsWhoThink "Ultimate Guide to Baby Naming in 2022."
CLICK HERE
to get started!
Supplies:
1 cup Epsom salts
Measuring cup
2 jars with lids
2 colored of liquid food color
1 pretty 8 oz. jar
A few drops of your favorite essential oils
Directions:
1. To make these good smelling bath salts, first measure 1/2 cup of Epsom salt into each jar with a lid.
2. Add 15 drops of food color to each jar, one color per jar and put on the lids. Shake the jars until the Epsom salts are dyed evenly.
3.If you want your colors to be darker, add more food color and shake again. Take off the lids and let the salts dry overnight.
4. Now, make sure your pretty jar is all clean and dry. Then pour the dyed bath salts into the jar, alternating colors (you may want to get colors that go together well).
5. Add a couple of drops of essential oil to the bath salts, put on the lid.
6. Gift in a basket with other bath items such as loofahs, stones, eye masks, etc.
Tip: Stores like TJ Maxx, Ross's, and Home Goods have great deals on baskets and miscellaneous items you can purchase for a lower price but not quality. They're great for when you're shopping for gift basket items and not specific items.