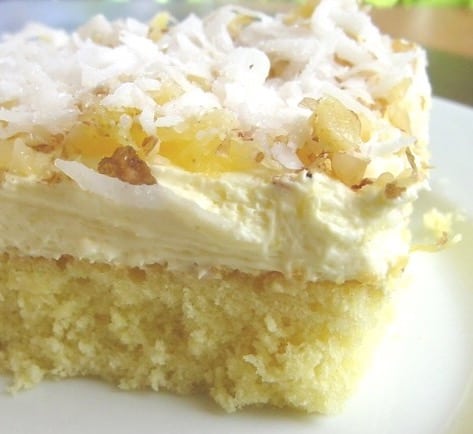 Yum Yum Cake
Yum Yum cake is a retro sheet cake made with a few simple ingredients yet tastes completely homemade. This cake has been showing up at potlucks, church socials and backyard barbecues for decades, always with an empty plate at the end. Everyone loves Yum Yum cake!
Yum Yum Sheet Cake Ingredients:
1 box white cake mix
1 box instant vanilla pudding
1 cup milk
8 ounces cream cheese, room temperature
8 ounces Cool Whip
1 cup drained, crushed pineapple
chopped walnuts and shredded coconut
Directions:
1. Follow directions on cake mix box. Bake in a large pan (10 X 15 inch) for 18 to 25 minutes.
2. Mix together vanilla instant pudding, milk and cream cheese. Fold in Cool Whip and crushed pineapples.
3. Spread over cooled cake. Sprinkle walnuts and coconut over top of cake.