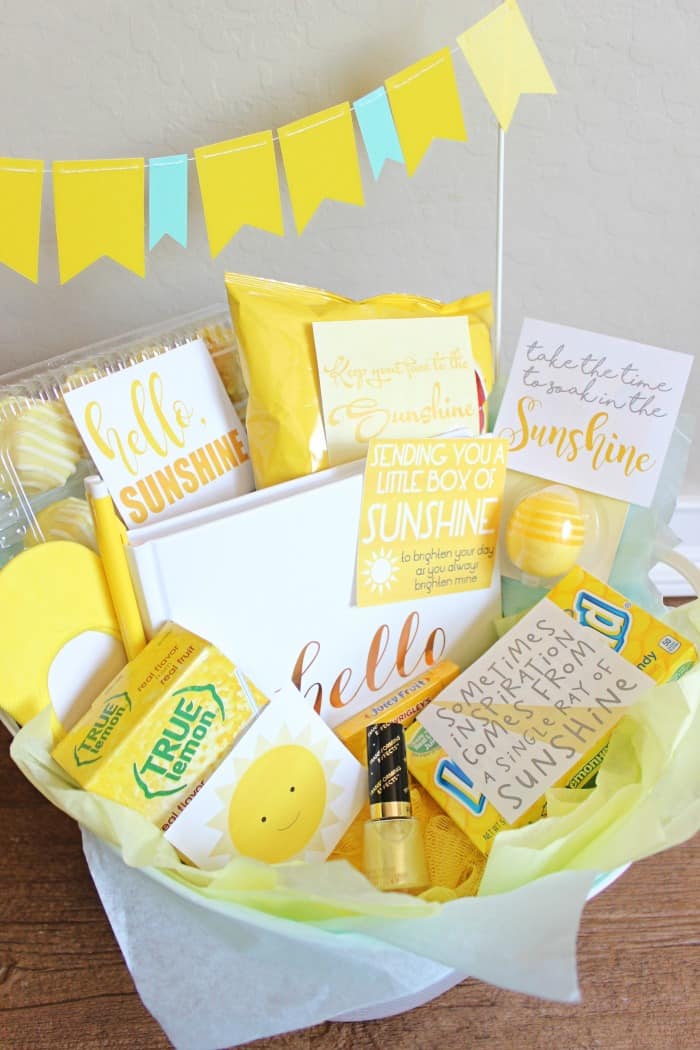 Let's Get Ready for Baby!
Sign up for our monthly pregnancy email series, and you'll get regular updates on your baby's development, helpful timelines to get ready for their arrival, must-have baby needs and so much more! PLUS, you'll get instant access to the MomsWhoThink "Ultimate Guide to Baby Naming in 2022."
CLICK HERE
to get started!
Sometimes it feels like tragedy hits several loved ones at the same time. Near the end of the year last year, we knew a family who lost a child to suicide, a good friend who lost her uncle, and a few other people that needed some extra love in their life. Get the Free Basket of Sunshine Printables below!
Sometimes it can be hard to know what to say in moments like this. This is when I feel like a basket of sunshine says it all!
First, I go on Instagram and search the hashtag "inspirational quote" and find some good ones that match what that person is going through. I then write them on yellow or heart-shaped sticky notes. I then buy a bunch of yellow items and compile them all together into a "Sunshine Basket."
I also like to get a few cute jars from the Dollar Tree to put some of the items and candies in. If you need something low-cost you could just do "jar of sunshine" and fill it with various yellow candies.
I've done large baskets for some huge life events, or smaller baskets just to life someone's day or let them know that they inspire me, or that I'm thinking of them.
Here are some things I have included in the past:
Lays Potato Chips
Pringles
Lemonheads and other yellow candies
M&M's
Carmex
Subway Gift Card
Juicy Fruit
Highlighters
Silly String in a yellow can (got at the Dollar Tree)
Gatorade
Butterfingers
Crackers with a Yellow box (Triscuit, Vanilla Wafers, etc.)
and anything else yellow that catches my eye! The fun thing about using the color of yellow, is that you can also play of the phrase "when life gives you lemons" if it fits the situation.
Want a free Basket of Sunshine Printable tag? Click on the tag below, right click, and "Save As" You can also get all the other free basket of sunshine gift tags by clicking here
IF YOU MAKE A BASKET OF SUNSHINE…I WOULD LOVE TO SEE IT! Let's inspire others to spread kindness. Post to Instagram with hashtag #MothersNicheBasketofSunshine and tag @mothersniche in the pic so I can see it.
And…if you liked this post, you might be the kind of person that likes our "Pay it Forward" Printable too!