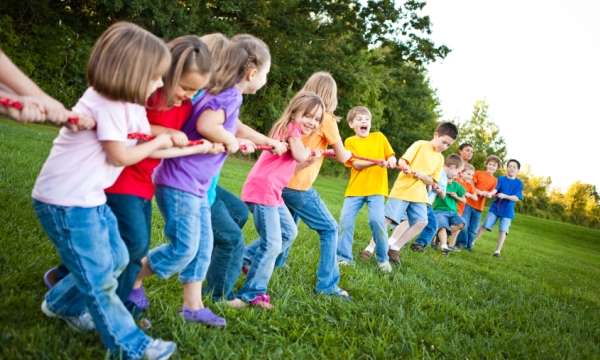 Elephant Tug of War
Let's Get Ready for Baby!
Sign up for our monthly pregnancy email series, and you'll get regular updates on your baby's development, helpful timelines to get ready for their arrival, must-have baby needs and so much more! PLUS, you'll get instant access to the MomsWhoThink "Ultimate Guide to Baby Naming in 2022."
CLICK HERE
to get started!
Try this twist on tug of war at your next birthday party. It can be done inside and involves all the guests equally.
When the Guests arrive:
Step 1:  Divide the guests into two even teams.  Try to make the teams even by size as well.  Don't put all the taller or stronger children on one team.
Step 2:  Tell the teams to each pick one child to be the elephant.
Step 3: Make a line on the floor with a piece of tape, or chalk, or have the children stand on opposite sides of a doorway.
Step 4:  The elephants then hold hands, and try to pull each other across the line, or through the doorway. 
Step 5:  Continue until every guest has had a chance to be the elephant.
Step 6:  The team that pulled their opponents over the line or through the door the most times wins.