Planning a birthday party can be stressful for busy parents because there is always so much to do. Choosing a birthday party theme, finding decorations, sending invitations, and finding the venue can be overwhelming. If you are in the Austin area, we have a helpful list of fun places for birthday parties in Austin to make finding the perfect birthday party venue easy. The list has a little something for everybody, so we are sure you will be able to find someplace your special birthday child will love to spend their birthday.
1. Austin Aquarium
Austin Aquarium is a great place for birthday parties. The interactive aquarium has lots of interesting marine life, reptiles, birds, and mammals for kids to see. Planning a birthday at the Austin Aquarium is as easy as choosing one of their birthday packages and using their custom invitations to get started. Each package includes a private birthday room, admission, and an experienced party host. Some packages include add-ons like pizza, goodie bags, and a group stingray feeding. Kids and adults alike will love celebrating at the Austin Aquarium.
2. Sweet Eats Adventure Farm
Sweet Eats Adventure Farm is a farm located thirty minutes outside of Austin. The farm has everything an excited birthday kid could want. They have pony rides, a hay maze, pig races, a petting zoo, apple cannons, and more. This is a great place to celebrate a birthday outdoors in the fresh country air. The staff can help you plan your birthday party and offer suggestions to make it easy. They can cater the party, or you can bring in your own food. Decorations are permitted, and even pinatas. Partygoers are allowed to stay at the farm all day, but the reserved picnic tables are only held for two-hour blocks. There is so much to do at this exciting farm that kids and adults will be kept busy exploring the farm and seeing all it has to offer.
3. Rockin 'N River Water Park
North of Austin in one of the largest suburbs is Rockin 'N River Water Park. The water park has water slides, a splash zone, a lazy river, a small beach, and more. It is the perfect place for water-loving kids to bring their besties for a special birthday celebration. The birthday packages include admission for guests, and you can choose between bungalows, party pavilions, or cabanas, depending on the size of your party. They have concessions there, but you are also permitted to bring in your own food and drink. The water park has lifeguards on duty, so safety is always a priority while all-day fun in the sun is required.
4. Sky Candy
Instead of visiting the circus for your birthday, why not be part of the circus? At Sky Candy, they can help you and your friends do just that. Sky Candy is a circus training center for kids and adults of all ages and fitness levels. They offer classes and camps throughout the year, and they do birthday parties. All birthday parties get started with an introductory lesson in either trapeze, silks, sling, or Lyra. The lessons are for beginners, so everyone is welcome to try the circus training activities. This is a unique way to celebrate a birthday for kids who love the circus and adults who have always dreamed of running away to join the circus.
5. K1 Speed
K1 Speed is an excellent choice for a birthday party for a birthday child that feels the need for speed. The go-karts center takes care of the pizza, drinks, and private rooms; they have an event planner that will organize the races, and your birthday guests get to race around the track. At K1 Speed, they understand the need for extensive training and safety guidelines so parents can feel confident letting their kids get into the go-karts and blow off some steam while circling the track. Everyone will love celebrating a birthday here.
6. Play Land Skate Center
Play Land Skate Center is a roller skaters paradise. The state-of-the-art roller rink is perfect for skating birthday parties. They offer several packages that include skate rentals for all guests, a private table and party area, and drinks. Parents can bring in their own cake and other snacks. Th party host will facilitate skating games, and the DJ will play music and run the lights and fog machine. Birthday guests can expect to have an amazing time at a birthday party at Play Land Skate Center.
7. Austin Zoo
Animal lovers all over the greater Austin area are invited to throw a wild birthday party with wild animals at the Austin Zoo. They have three different birthday areas to celebrate and include admission for all guests. Parents can bring in their own food and drink while guests can tour the zoo and meet some of the incredible animals like lions and tigers, monkeys, snakes, and lizards, plus domestic animals like pot-bellied pigs and llamas.
8. Austin's
If you are in Austin, why not celebrate your birthday at Austin's? This place is synonymous with fun. They have indoor activities like laser tag, bowling, and an arcade. Plus, they offer lots of outdoor activities like go-karts, roller coasters, bumper boats, mini golf, and more. They have birthday packages that include admission to all rides and activities, plus various food options to make your party a spectacular success.
9. Fannie's Farm Friends
Fannie's Farm Friends is a sweet little mobile petting zoo and farm with pony rides. The folks at Fannie's are experts in all things animals, and they can help you make the most of a trip to the farm. Plan a birthday party here with the bunnies, mini goats, ducks, and chickens, with pony rides to top off the birthday celebration. The friendly helpers at Fannies's can help you plan the perfect farm-inspired birthday celebration.
10. Foodie Kids
Foodie Kids is a place for kids that love food and learning how to make it. They have birthday party packages for little ones ages three and up, plus more extensive birthday packages for older kids. Their hands-on cooking classes are a great way for kids to learn basic culinary skills while spending time with their friends. Check out their birthday options for a tasty birthday celebration.
11. Mt. Playmore
Mt. Playmore is a large playground for active kids to explore. They boast the largest playscape in Texas for kids to climb, explore, and play. And if you have toddlers, they won't be left out of the fun as they have a huge toddler area that is safe for wee ones. Their birthday packages include a private area, a party host, pizza, and drinks. The party host can help your family make the most of their time at the playscape so kids can get all of the wiggles out at this fun playscape.
12. Metaverse Game truck
Metaverse Game Truck brings virtual reality and video games right to your door, so you don't have to go out looking for the party, the party comes to you. Young and old gamers will love the Metaverse Game truck with all of the gaming options and superb setup; this will be a birthday party to remember.
13. Monster Mini Golf and Laser Tag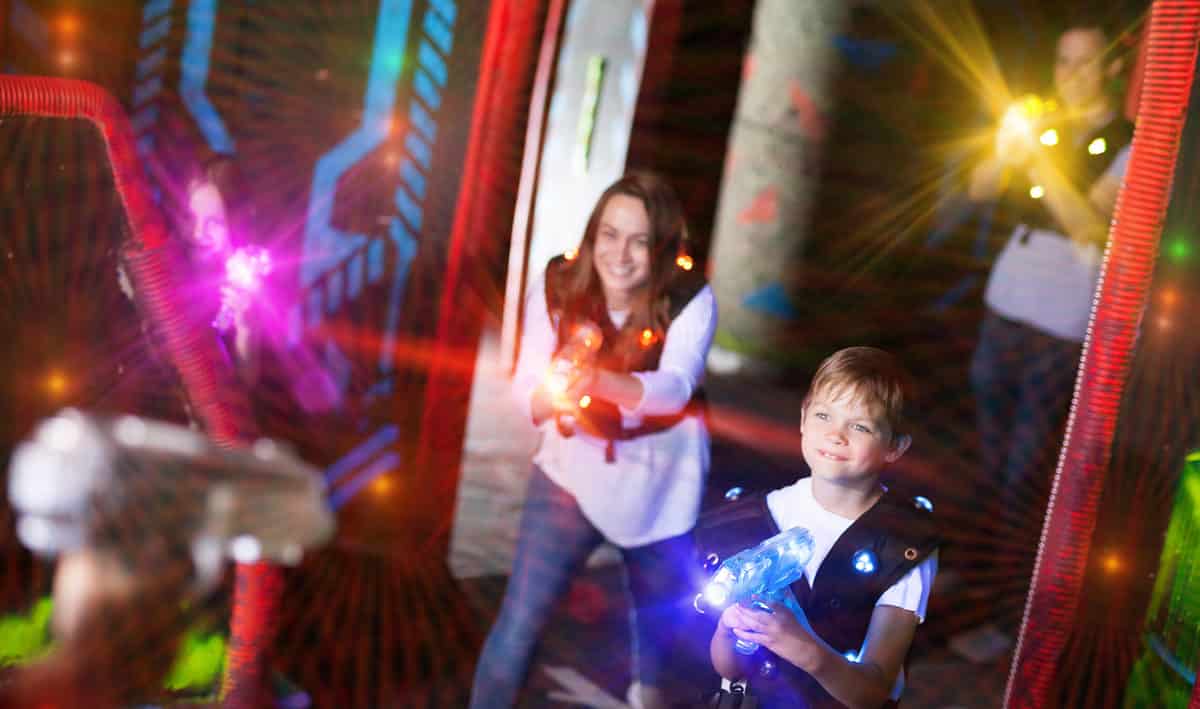 Monster Mini Golf and Laser Tag have everything to make your birthday party special. With an arcade, mini golf, and laser tag birthday, guests will keep busy having fun. Their birthday party packages include a room in the private Haunted Mansion, an experienced party host that facilitates age-appropriate games, and all the arcade and mini golf partygoers can handle. This place is perfect for a scary good time.
14. Art Barn ATX
Art Barn ATX is an excellent choice for a birthday party for your favorite creative kid. They offer birthday parties for kids six and up with special activities like bracelet making, pottery, painting, and more. The studio has a full kitchen that party planners can use to make refreshments while the party gets started with the artists who facilitate the birthday party activities. Plan a dream birthday party for your special artsy someone to celebrate just the way they want.
The image featured at the top of this post is ©New Africa/Shutterstock.com.