Philadelphia is a vibrant city with lots to offer in terms of educational, creative, and downright fun activities. The most fun places for birthday parties in Philadelphia include rock climbing gyms and activity centers galore. There's a butterfly pavilion and many other creative venues where children can play and explore on their special day. As with planning any birthday party, it can be super important to book the right venue so you can decide how many people to invite and when to host this special birthday! Keep on reading to learn more about some of the fun birthday venues that the city of Philadelphia has to offer. Give your child a birthday they'll never forget and a day full of fun with their friends.
Active Birthday Venues
Grand Slam Pavilion
The Grand Slam Pavilion is one of the best places to host a birthday party! The facility is outfitted with lots of fun games including mini-golf, an arcade room, a laser tag arena, and a private party room! Party packages are bookable by phone and include 30 arcade credits, 2 rounds of laser tag, use of the party room for two hours, and utensils and drinks included. There's the option to bring your food and snacks as well as to expand the package to include rounds of the other games available at the center. Located in Malvern, Philadelphia, this venue is a great option to consider for your child's birthday.
Dragon Gym
At the Dragon Martial Arts Gym, in Exton, PA, partygoers will have a unique and ninja-filled birthday experience. Everyone will be able to participate in a mini-martial arts lesson as well as several birthday-themed games and activities. Parties include set up and clean up, full use of the facility for your child and their friends, pizza and drinks, a two-week free trial of classes for the birthday child, and 50% off uniforms for guests.
Jumpers
At Jumpers, kids have the option of multiple party packages. This super fun activity center features bouncy castles, a safari slide, obstacle courses, and more. There are party rooms for pizza and cake. Each party package includes 1.5 hours of free play before moving into the private party room where a dedicated party host will help with presents and cake for the last 30-40 minutes of your child's birthday. Located right in Newtown Square, Philadelphia, Jumpers is one of the most fun places for birthday parties in Philadelphia!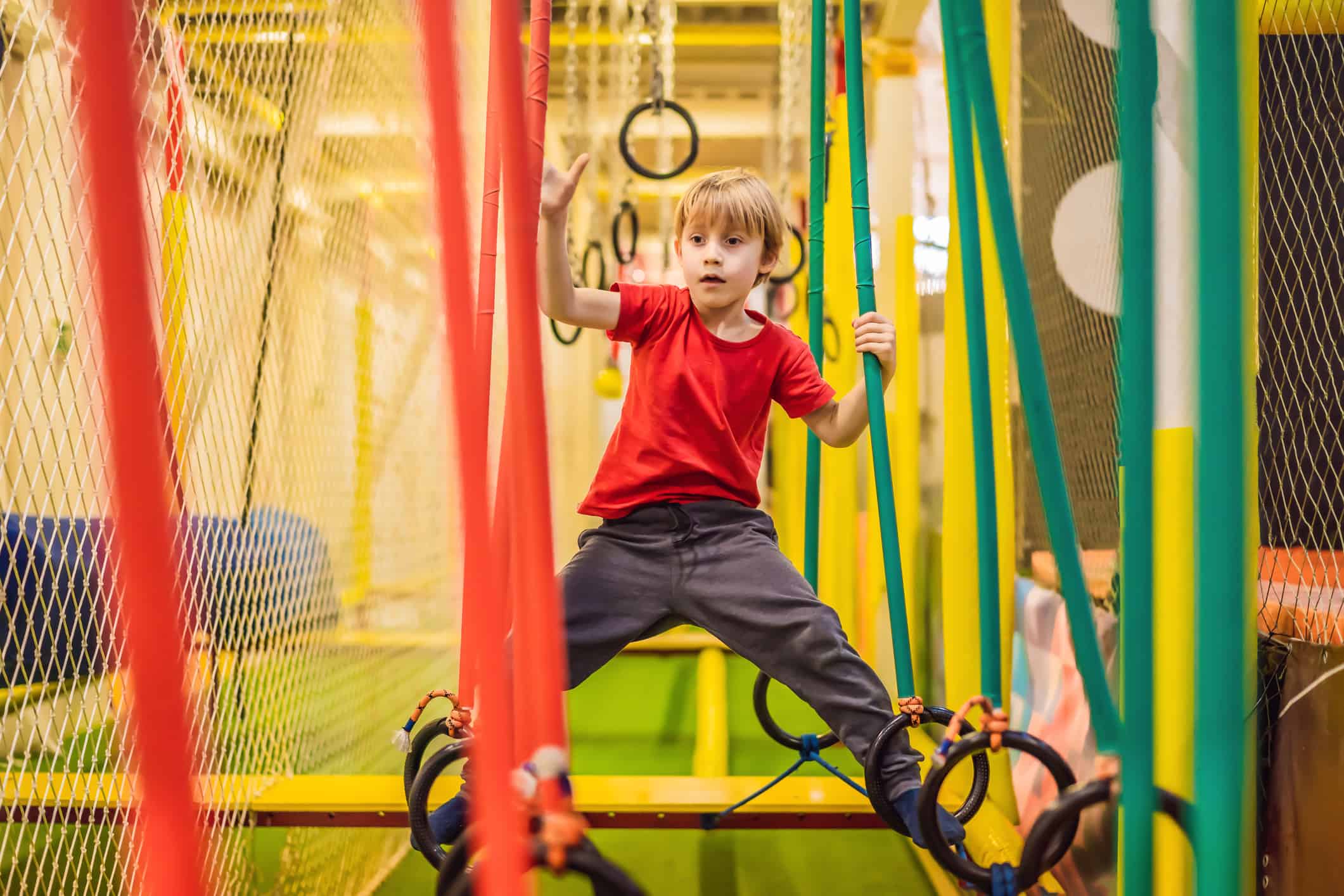 Kids At Play
Pick Kids at Play indoor playground for your next birthday venue! Located right in Philadelphia, this center caters to developmental play, interactive, hands-on activities, and more. There are zip lines, a virtual playground, ball pits, toddler areas, swings, slides and so much more. Staff is on hand for your child's birthday party to guide children in fun activities and support your birthday party. Up to 50 people are allowed to attend this epic and wonderful space for learning and fun.
Downingtown Rock Gym
At the Downingtown Rock Gym, young birthday climbers will be instructed in all areas of climbing. From bouldering to belaying (the kind on the ropes and pulleys), everyone will be instructed on rock-climbing safety with lots of guidance and supervision. Your child and their friends will have the best time climbing about the facility and then move over to the private party room where they can enjoy time for cake, snacks, and presents. The climbing gym provides paper utensils, setup and breakdown, and also downloadable e-vites or printable invitations to send to all your party guests!
Creative Birthday Venues
Musical Theater Philly
At Musical Theater Philly, your child's birthday will be an absolute blast. Take your pick of a couple of party packages that include access to the studio, birthday activities, and guided theater playtime. Some of the activity options are a Broadway dance class, karaoke, princess sing-alongs, and comedy improv. There will be plenty of time for dressing up, with props and lots of costumes! Bring the cake and bring the fun to Musical Theater Philly!
ARTrageous Brush and Flow
Looking for some birthday venues that cater to creativity? Host your next birthday at ARTrageous Brush and Flow. At this venue, your child and their friends will participate in a 2-hour workshop with one of their on-staff artists. The party can be hosted at the studio or in your very own backyard. There are several projects to pick from or you can bring a project of your choice. Parents should plan to provide cake, snacks, and utensils. The studio will help with the supplies, set up, and breakdown of this super fun day at one of the most fun places for birthday parties in Philadelphia!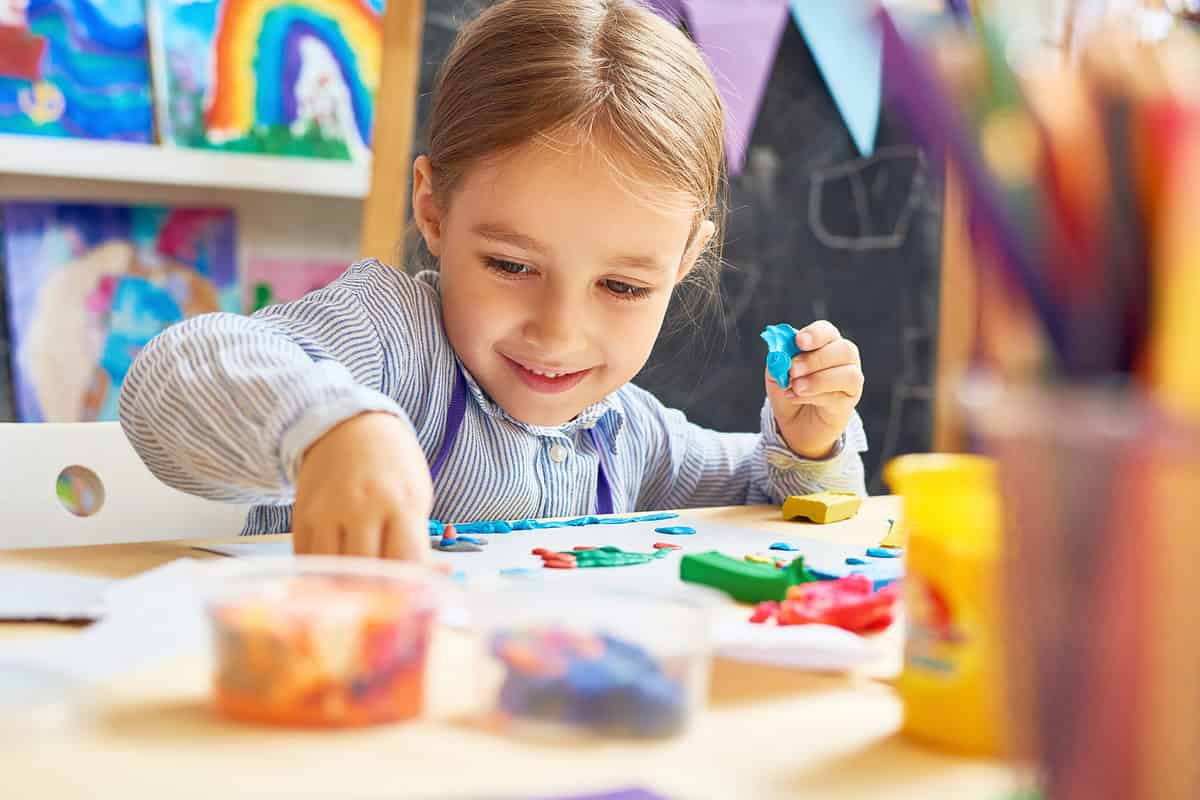 Buddha Bee
At the Buddha Bee sewing center, children can make their cloth creations around their friends, on their birthday! Pick from several different themes that will decide the project your party works on. Children will be led through the basics and have lots of help getting their projects done. The studio will provide snacks and treats from local favorites Evo Brick Oven and the Frosted Fox Cake Shop. Be sure to check out their website to see what theme might be the best fit for your party's age range.
Busy Bees Pottery Art
Paint some pottery at the Busy Bees Pottery Art Center! This studio offers different party packages that can include canvas painting, pottery painting, candle creations, and even mosaics! Packages entail 1.5 hours in the private party room, all the supplies required for your party's project of choice, ice cream and drinks as well as the use of the kiln for all pottery firing. This kind of party can be especially fun since attendees will be able to take home something to remember this special birthday!
Fun and Engaging Birthday Venues
The Candy Laboratory
What's better than sweets on your birthday? Perhaps it's making the sweets yourself! At The Candy Laboratory, your child and their friends will be guided through candy crafts and leave with their very own creations of sugary goodness. Birthday parties are open for children ages 4-12+ years old. There are celiac-friendly choices for candy creation as well as add-ons like pizza and snacks, goodie bags, and lots of time for sugary crafting. Check out their website to learn more about their package options.
Treetop Quest
A birthday party at the Treetop Quest facility is about as cool as it sounds! Your party will be able to enjoy 2.5 uninterrupted hours to explore the park with its zip lines and tree-top obstacle courses. There are add-ons available like a pizza party, treasure hunt, and the use of Go-Pro cameras to capture the wonderful experience of the day. Party participation is open to children ages 7+ and adults are welcome too! The park is located right within Philadelphia, although they have other locations too!
Butterfly Pavilion, Adventure Aquarium, and the Philadelphia Zoo
For some fun with animals and interactive birthday party fun, check out some of these great venues in Philadelphia. First, there's the Philadelphia Insectarium and Butterfly Pavilion! At this sanctuary, party guests get a full-on tour of the museum and a chance to see the butterflies. Then they'll spend in the party room for snacks and cake! At the Adventure Aquarium, your child's party will enjoy admission into the aquarium. Check out all the incredible animals that consider this place their home! Then into the Skyline Room where kids will enjoy the Philadelphia skyline with time for cake and presents. And finally, the Philadelphia Zoo offers the chance to spend a day around the animals with a separate space for cake and presents. Be sure to check out their website for more details on booking your next birthday party!
The image featured at the top of this post is ©Sean Pavone/Shutterstock.com.