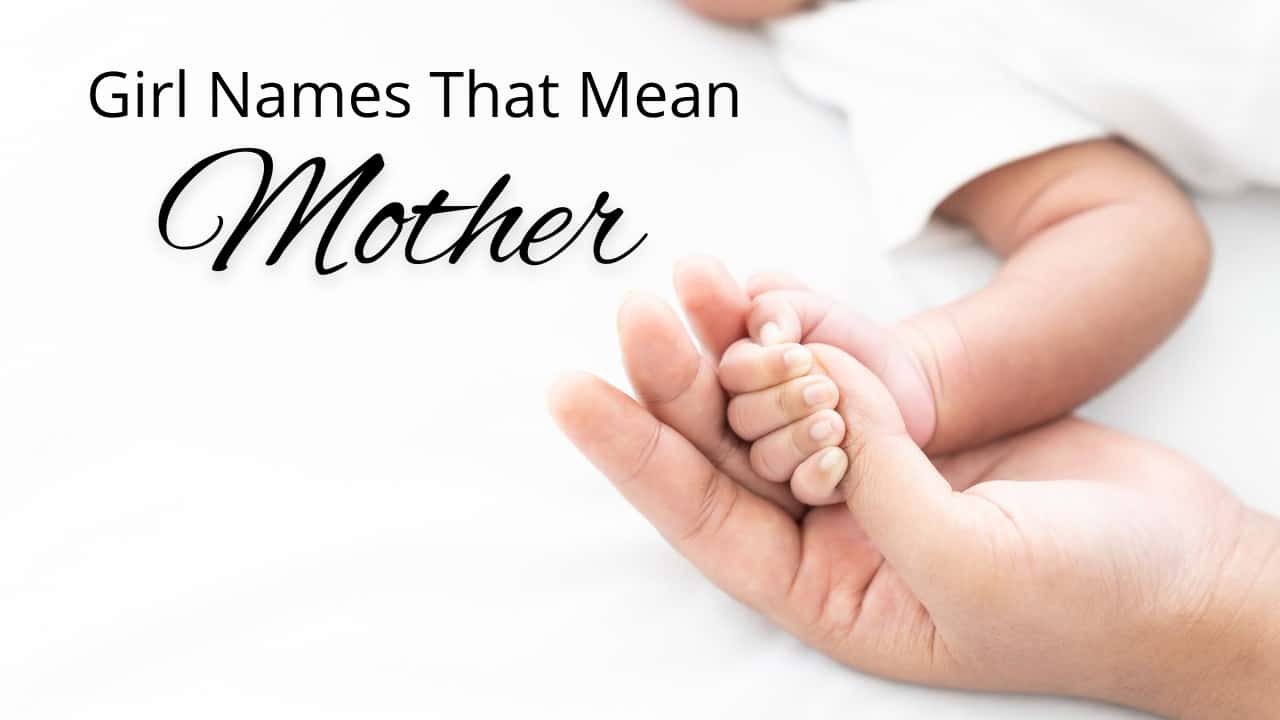 From Maia, which means "beautiful mother," to Adica, which means "the mother's choice," each of these girl names that mean mother is feminine and unique. Explore the list and find the perfect name for your daughter.
RELATED: More Names That Mean Mother
Adica

This sweet name for girls has an American origin. It means "the mother's choice." Angira: Of Indian origin, the name Angira means "Mother of Birhaspati."

Madra

Madra means "mother, one who is motherly." It has Spanish origins and was a name given to Virgin Mary.

Bayarmaa

This unique name for girls means "mother of joy." It has Mongolian origins.

Oma

An African name that sounds meaningful and filled with hope, Oma means "giver of life." The name is a beautiful choice for any little girl.

Anajana

This name definitely ranks as creative and fun. Anajana was the mother of Lord Hanuman. Girls with this name generally are outspoken and loving.

Hahaoya

This unique name is fun to say and very original. It is of Japanese origin and means "mother." People with this name often are serious and ambitious.

Bolormaa

A name meaning "crystal mother" with a sentimental sound, Bolormaa has Mongolian origins. It is most often used as a name for girls.

Lillemore

Girls names Lillemore often have big personalities and lots of charisma. The name itself means "little mother" and comes from Scandinavian origins.

Yejide

This name means "The image of her mother." It has African origins. The name can be difficult to pronounce but has a sweet, smooth flow for a cute modern name for a girl.

Shima

Meaning "She who is a mother," Shima is a great name for a girl since it is unique, simple, and rolls off the tongue. This name has Japanese origins.

Gayati

Gayati was a Greek goddess. This unique name means "Mother of the Vedas.

Candice

Candice means "Queen Mother." There's several spelling variations for the girls' names, including Candyce and Candece. Many people use the nickname Candy for the name Candice. It has Latin and Greek origins.

Maia

This beautiful name for girls means "beautiful mother." It has Greek origins. Spelling variations include Maya and Maiya.

Amba

This short baby name for girls has Indian origins. It means "mother."

Yutunde

The name Yutunde has Origins in Yuruba. The name means "Mother has returned."

Madrona

A three-syllable name for girls, Madrona means "Mother Goddess." The name has Greek origins. Since it is an uncommon name, any girl lucky enough to receive the name is guaranteed originality.

Amma

The name Amma means "mother" or "God-like." It has Hebrew roots and is a popular name in India.

Tina

The name Tina means "follower of Christ." It is also the Samoan word for "mother." Tina is a diminutive name of Augusta.

Amai

The name Amai is the word for "mother" in Shona language. It can be pronounced and spelled in several different ways.

Ema

In the Estonian language, Ema means "mother." The short name is cute and original.

Amonnie

The name Amonnie means "mother of joy, the one who nurtures others." It has a great meaning and an elegant sound, making the name a good pick for a girl. The name comes of English origin.

Mae

The name Mae means "mother" in Portuguese. The name itself means "precious pearl." The name has Old English roots.

Maty

Often used as a nickname for the name Madelyn, Maty is also a name in and of itself. Maty means "mother" in Ukrainian. It is an original name for a little girl.

Adhiti

The name Adhiti has Indian origins. It means "mother of the gods, protection." It is most often used to name a baby girl.

Calyce

This mature name for girls means "Mother of Cycnus." It has Latin origins. It is a cute and modern name.
Peruse thousands of baby names on MomsWhoThink.com! And follow us on Pinterest for more parenting inspiration!