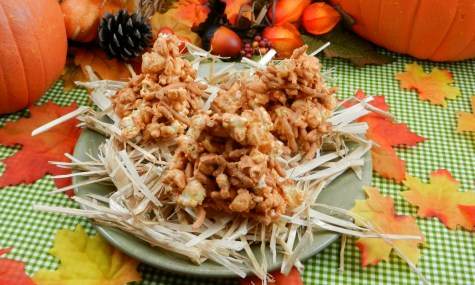 Halloween Haystacks
Ingredients:
1 ½ quarts popped popcorn
1 cup chow mein noodles
1 12-ounce package butterscotch peanut butter pieces
Directions:
1. Combine popcorn and chow mein noodles in a large bowl.
2. In medium saucepan, melt butterscotch peanut butter pieces over low heat, stirring occasionally until smooth.
3. Pour melted candy over popcorn, stir to coat well.
4. Drop by heaping tablespoons onto a wax paper lined pan. Refrigerate until firm. Store in a tightly covered container.