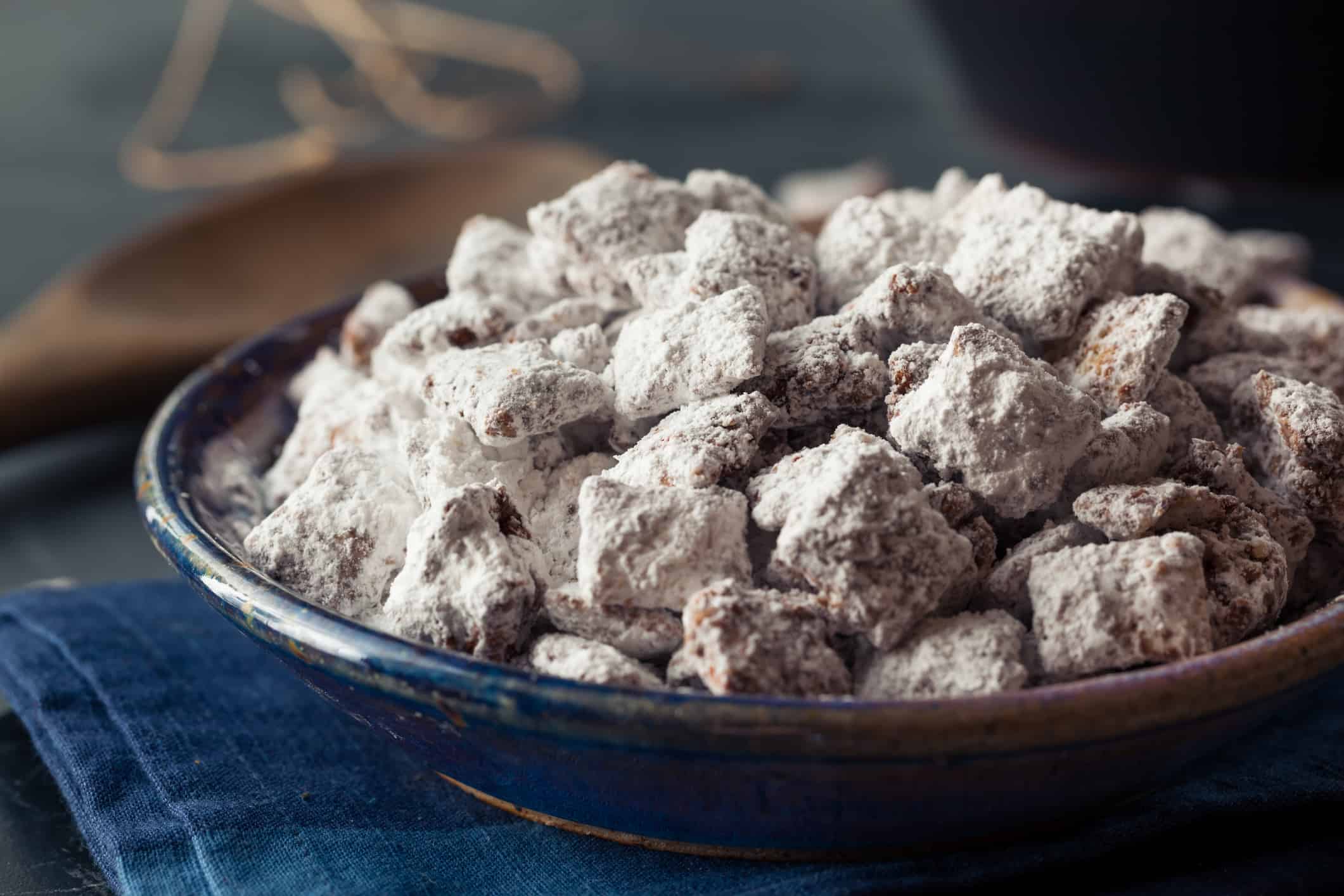 [addtoany]
I know what you may be thinking…we all love our pets but including a recipe for dog food may be a bit ridiculous! But rest assured, the Puppy Chow we are referring to here is not dog food but an easy to make snack you and your kids are guaranteed to love.
Print
Puppy Chow Recipe
---
Author:

Total Time:

15 Minutes
Description
This is the original puppy chow recipe that kids love. It's a tasty sweet snack that's super easy to make.
---
1/2 cup

peanut butter

1/4 cup

butter

1 cup

chocolate chips

1/2 teaspoon

vanilla

9 cups

Crispix cereal (any flavor)

3 cups

powdered sugar
---
Instructions
Combine peanut butter, butter and chocolate chips in a microwave safe bowl.
Microwave for one minute then stir to blend all ingredients thoroughly. Add 1/2 teaspoon vanilla. Stir well.
Place the 9 cups of Crispix cereal in a very large bowl.
Pour the peanut butter-chocolate mixture over the cereal and toss evenly, making sure all the cereal gets a good covering.
Place the powdered sugar in a large zip-lock type plastic bag.
Add the peanut butter-chocolate cereal mixture to the bag, leaving enough room for the puppy chow to be shaken (you may have to divide the mixture into smaller batches, coating one batch at a time).
Shake the bag vigorously to evenly coat each piece of the puppy chow with powdered sugar.
Once the mixture is fully coated, place in a large serving bowl.
Coat any additional pieces by shaking the mixture in the powdered sugar filled bag.  Add powdered sugar to the bag as needed until all the mixture is coated.
Prep Time:

10 Minutes

Cook Time:

5 Minutes

Category:

Dessert

Method:

Baking

Cuisine:

American
Keywords: puppy chow snack, How to make Puppy Chow
Puppy Chow Snack Mix Recipe
If your house is the popular one on the block, the one where all the kids come to hang out, we know how it is! Always a bunch of hungry children looking for food! It is important to come up with a snack that is easy to make and sure to be a crowd pleaser.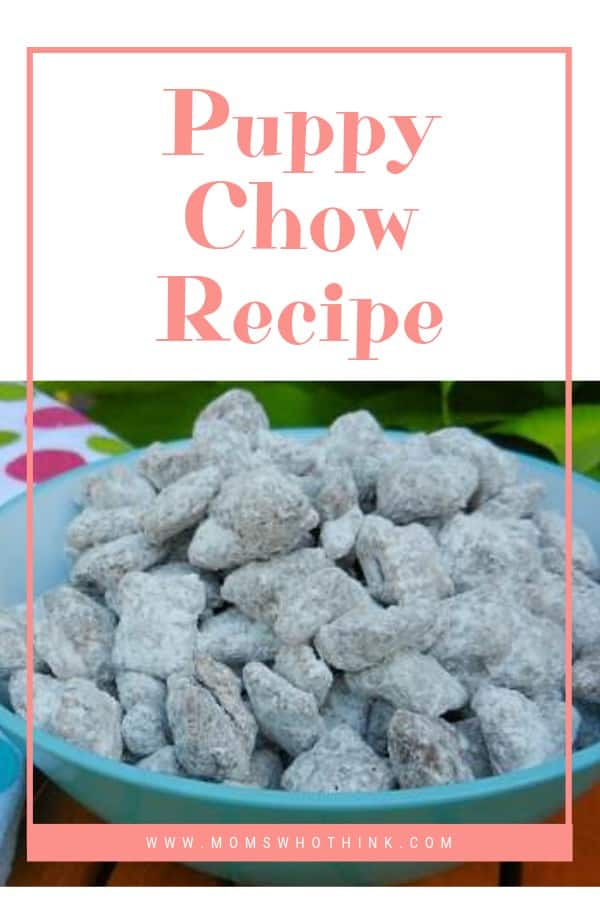 How to Make Puppy Chow
It may look like real puppy chow, but this puppy chow recipe is guaranteed to taste a whole lot better!
To make the puppy chow, you must start with the essential ingredients of peanut butter, chocolate chips and Crispix cereal. If you are not familiar with Crispix, it is described as a sweetened, multi-grain cereal having crispy rice on one side and crunchy corn on the other. It is sold in both original and honey flavor and either flavor will be a delicious addition to the snack.
Other ingredients that are added in the recipe are butter, sugar and vanilla.
The recipe is pretty simple to make. You start by combining the peanut butter, butter and chocolate chips and heating them in a microwave until they have a liquid consistency. Add the vanilla and pour the mixture over the cereal.
Finally, put the entire mixture in a bag with the powdered sugar and shake well to make sure everything is coated and blended. Then serve to your hungry troops.
Of course, the real secret to success here is making sure the cereal is well coated. After all, it would be very disappointing to reach your hand into the bowl for a rich chocolatey treat and come out with only cereal!
To make sure your snacks contain chocolatey goodness in each bite, you may have to coat the cereal in smaller batches. That way you can be sure each batch is getting your undivided attention for an all over well coated and delicious snack.
Remember, this is a humans only recipe because it contains chocolate. Never give any of this puppy chow to your puppy or dog, as chocolate can make them very sick.
A good alternative to puppy chow is the old favorite chex mix recipe that is just as easy, but gives you a salty instead of a sweet treat.
So the next time someone in your house tells you they're hungry, get ready to whip up this easy to make snack. And be sure to make some extra for yourself to! This delicious treat will not be hanging around for long!
If you enjoy this recipe, make sure to check out our Cheesy Stuffed Meatballs Recipe and our Perfectly Fluffy Buttermilk Pancake Recipe