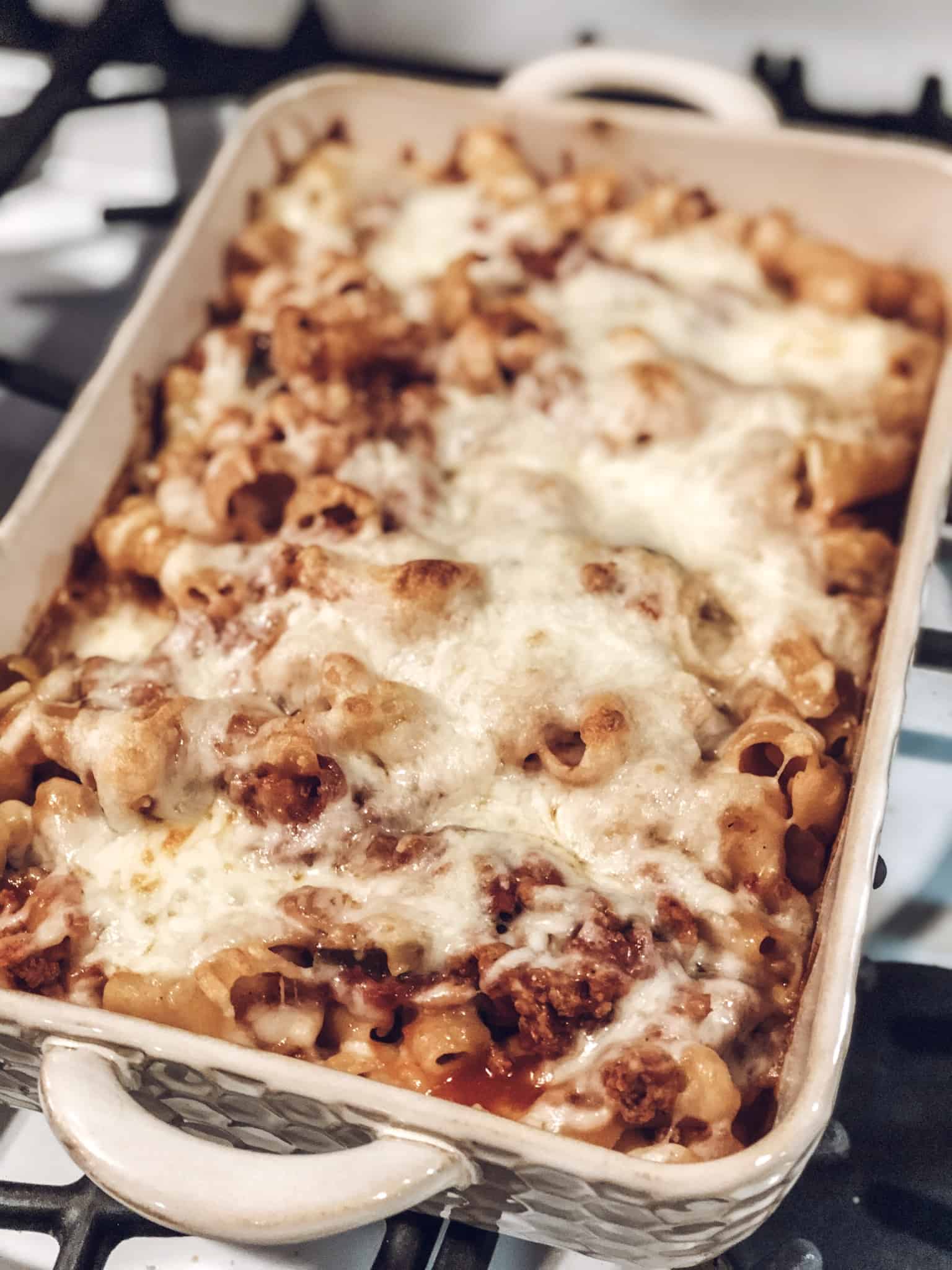 Let's Get Ready for Baby!
Sign up for our monthly pregnancy email series, and you'll get regular updates on your baby's development, helpful timelines to get ready for their arrival, must-have baby needs and so much more! PLUS, you'll get instant access to the MomsWhoThink "Ultimate Guide to Baby Naming in 2022."
CLICK HERE
to get started!
[addtoany]

When you are eating a casserole, you are definitely anticipating something that will fill you up and leave you satisfied with every bite you take. The recipe for Johnny Marzetti casserole is no exception as its myriad ingredients, which include celery, tomato sauce, ground beef, sausage, cheese, and more. It is a harmonious symphony of delicious, delectable flavors that will turn your chewing mouth into an irrepressible smile every time your fork sinks into the incredible dish you have on your plate. When you eat the Johnny Marzetti casserole, you might just find it easy to forget that every other casserole exists.
Johnny Marzetti
But the question almost certainly remains: who exactly is Johnny Marzetti? Is it a casserole that is named after someone or is it just a catch-all title for a casserole that consists largely of many Italian flavors blended together? Well, the answer is not exactly apparent because Johnny Marzetti is not quite a household name by any means. But if you love casseroles, then you definitely have the Marzetti family to thank.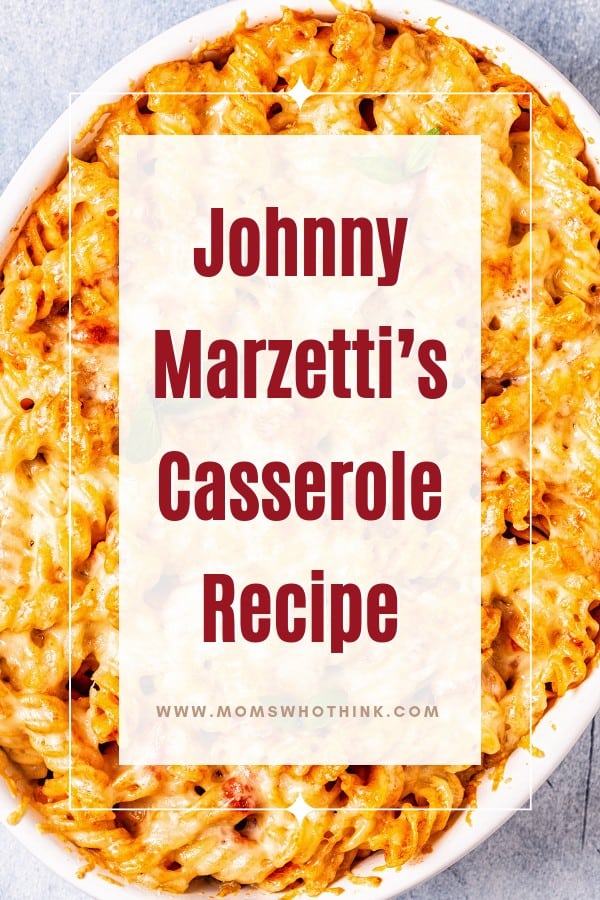 Teresa Marzetti, the sister-in-law of Johnny, first came up with an idea and recipe for the casserole during a period from the late 1890s to the early 1910s and it was so beloved by the customers of the restaurant she opened in Ohio that the popularity was through the roof and now it has become a dish that every family has their own favorite variation on. As for the Marzetti family, especially Johnny, they had their own favorite tweak of Teresa's delicious creations, which is why it was named after Johnny. Based on all accounts, Johnny probably could have eaten this meal every day and never gotten sick of it. And so will you!
The hallmarks of the Johnny Marzetti casserole are bell peppers and onions and, for this recipe, the sausage was added to give the meat an even bigger role to play in the dish. Fortunately, it will be a lot easier to put this dish together than it was during the time of Teresa and Johnny, but gratitude is certainly provided in heaps to the entire Marzetti family for their culinary influence in the United States.
Johnny Marzetti Casserole Recipe
When you cook a casserole, you obviously know that what you see does not necessarily always have to be exactly what you get. By the general concoction of casseroles, they are practically begging you to have some fun by experimenting with what exactly a casserole can consist of. From changing ingredients to something that is more to your or your family's tastes to adding in a slew of vegetables or types of meats, casseroles can really be whatever you want them to be. And this particular casserole, a signature of Johnny Marzetti, allows for as much variation as your heart desires. So go crazy! You never know what divergence from the recipe could end up resulting in an all-time classic of yours that will have you eagerly returning to the kitchen.
Of course, to return to the kitchen to cook a Johnny Marzetti casserole with this recipe, you certainly have to make sure you have some time on your hands. The actual preparation of the meal can be time-consuming at first, but once you get the hang of layering the ingredients, it will go by in a breeze. Be warned, though, that the cooking time is a bit on the long side and the kitchen can get warm. If you are having a nice day in with the family, make the casserole! But it might not be an everyday thing, which only serves to make you look forward to it even more. You'll be counting down the days until you can eat it again.
If you enjoyed this recipe, make sure to check out our Chicken Waikiki Beach and our Onion Soup.
Print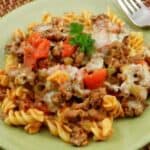 Johnny Marzetti Casserole Recipe
---
Author:

Total Time:

1 Hour, 10 Minutes
Description
Who exactly is Johnny Marzetti? Is it a casserole that is named after someone or is it just a catch-all title for a casserole that consists largely of many Italian flavors blended together? Well, the answer is not exactly apparent because Johnny Marzetti is not quite a household name by any means.
---
12 ounces

rotini pasta (about

4½ cups

)
salt

1 Tablespoon

vegetable oil

2

celery ribs, finely chopped

1

onion, minced

1

green bell pepper, finely chopped

3

cloves garlic, minced

1 teaspoon

dried oregano

⅛ teaspoon

red pepper flakes
pepper

1

pound ground beef

½

pound bulk mild Italian sausage

1

(15 ounce) can tomato sauce

1

(14.5 ounce) can diced tomatoes

2 Tablespoons

fresh parsley, chopped

2½ cups

shredded Italian cheese blend
---
Instructions
Preheat oven to 350 degrees F. Grease a 13×9 inch baking dish.
Bring 4 quarts of lightly salted water to a boil in a large pot.
Add the pasta and cook, stirring often, until just al dente, 6 to 8 minutes. Drain the pasta and transfer to the prepared baking dish.
Meanwhile, heat the oil in a large skillet over medium heat until shimmering.
Add the celery, onion, bell pepper, and 1 teaspoon salt and cook, stirring occasionally, until softened (5 to 7 minutes).
Stir in the garlic, oregano, pepper flakes, and 1 teaspoon pepper and cook until fragrant, about 30 seconds.
Add the beef and sausage, increase the heat to medium-high, and cook, breaking up any large clumps with a wooden spoon until no longer pink, about 5 minutes.
Stir in diced tomatoes and tomato sauce, bring to a simmer, and cook until the flavors are blended, about 3 minutes.
Stir in the parsley and season with salt and pepper to taste. Remove from heat and set aside.
Sprinkle 1¼ cups of the Italian cheese blend evenly over the pasta. Pour the meat mixture over the pasta and cheese. Sprinkle the remaining 1¼ cups of the cheese evenly over the meat mixture.
Place the baking dish on a foil-lined rimmed baking sheet. Cover dish with heavy aluminum foil.
Bake in preheated oven for 45 minutes; until the sauce is bubbling. Remove the foil and bake an additional 8 minutes until the top is slightly browned. Cool for 10 minutes before serving.
Prep Time:

10 Minutes

Cook Time:

1 Hour

Category:

Main Course

Method:

Baking

Cuisine:

American
Keywords: johnny marzetti, johnny marzetti casserole recipe