Vermont, known as the Green Mountain State is located in New England, USA, and has a population of 647,064; it is famous for its gorgeous forests and natural beauty. The 4 oldest schools in Vermont are ancient and have played a significant role in educating our youth. Besides that, during the autumn season, the leaves turn beautiful shades of yellow, red, and orange. Many tourists drive to Vermont to go hiking, skiing, kayaking, snowboarding, and exploring the local boutiques and fabulous restaurants, and they are welcomed by the friendly community.
The state is well known for its organic farming, and craft breweries such as Hill Farmstead Brewery, Beer Naked Brewery, and 14th Star Brewing Co., as well as popular cheese makers. However, Vermont is also well known for its rich educational history and historic landmarks. In this article, we are going to discover the 4 oldest schools in Vermont and see if they still exist today.
Burr and Burton Academy
57 Seminary Avenue, P.O.Box 498 Manchester, VT 05254
Founded in 1829 by local business Joseph Burr. Burr and Burton Academy is a co-educational private high school, boarding school, day school, and non-profit organization serving approximately 775 students from sending towns, non-sending towns, and international students in grades 9-12. The school offers a wide range of programs and extracurricular activities.
Free Education
Free education is available to high school students who live in the following sending towns:
Winhall
Manchester
Dorset
Londonderry
Danby
Dover
Landgrove
Peru
Mt. Tabor
Stratton
Weston
Sunderland
Wardsboro
International Program
Moreover, Burr and Burton offer an international program to approximately 70 students annually allowing teachers to give students personal attention and an opportunity to improve their English from the following countries:
China
Taiwan
South Korea
Japan
Thailand
Switzerland
Spain
Vietnam
Germany
Austria
Bolivia
Brazil
Mexico
Academics
There are over 170 academic programs to choose from at Burr and Burton. Let's take a look at some of their departments.
English
Math
Media & Performing Arts
Physical Education
Science
Social Studies
Visual Arts & Design
World Languages
Farm & Food Studies
Mountain Campus Semester
ACCESS
English Language Development
Special Services
Student Success Program
Target Program
Duel Enrollment
Independent Study
Southwest Tech Programs
Teachers are dedicated to providing quality education at Burr and Burton Academy and encourage students to challenge themselves to the best of their ability.
Notable Alumni
Jacob Benton: Congressman
Sarah Norcliffe Cleghorn: Poet, author, and educator
Richard Erdman: Artist
Kevin Hand: Planetary scientist and astrobiologist
Carroll William Dodge: Lichenologist and mycologist
John B Page: Governor of Vermont
Fred A Field: U.S. marshal for Vermont
Betsy Shaw: American snowboarder
Bill Wilson: Co-founder of Alcoholics Anonymous
Stephan A Walker: U.S. attorney for the Southern District of New York
St. Johnsbury Academy
1000 Main Street, St. Johnsbury, Vermont, 05819
Public schooling was not standard in the 1800s St. Johnsbury Academy was founded in 1842 by Joseph Fairbanks, Thaddeus, and Erastus. These three gentlemen wanted to provide ethical and spiritual morals for their children and children within their community.
Furthermore, the South Hall was built in 1870 to house teachers and students. However, in 1873 a new school was incorporated to provide educational opportunities to a wider range of students. North Hall, one of the original buildings donated by the Fairbanks burned down in March 1956. They worked quickly to replace it with Ranger Hall. Today St. Johnsbury Academy is a renowned coeducational, independent boarding, and day school serving students in grades 9-12 and postgraduate year.
Facts About St. Johnsbury Academy
30 AP courses
Student-to-faculty ratio 8:1
Average class size: 12
40 Fine arts courses
48 Division 1 athletics teams
12K+ Global alumni network
25+ Number of countries students come from each year
40+ Clubs and after-school activities available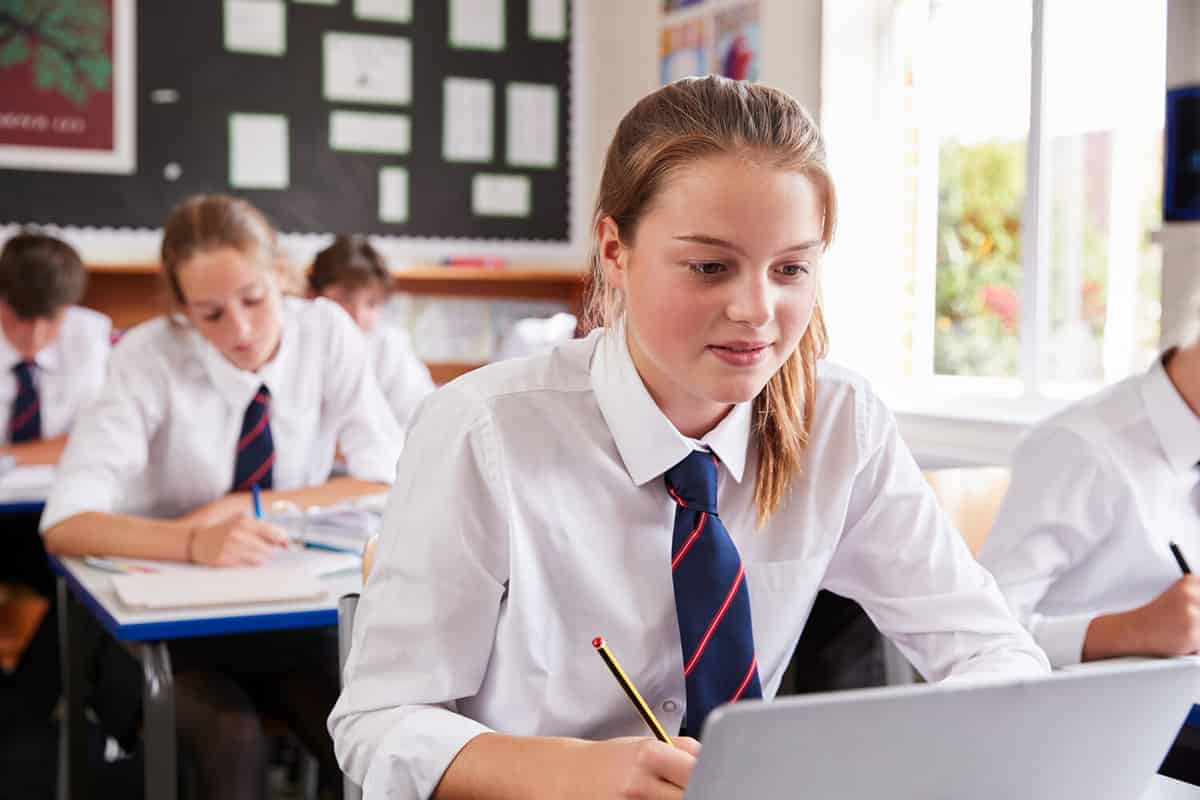 Thetford Academy
304 Academy Road, Thetford Center, VT 05075
Founded in February 1819 by Rev. Asa Burton, Lyman Fitch, Judge Simeon Short, Joseph Reed, Elijah Hammond, Timothy Bartholomew, Thomas Kendrick, Jedediah Buckingham, and William Heaton. Thetford Academy is the state's oldest independent coeducational secondary school serving grades 7-12. In November 1942 the original 1818 building burnt down.
The campus is 295 acres and has seven athletic fields and trails for Nordic skiing, running, walking, hiking, and mountain biking. The main buildings include the Arts and Science Building, White Building, Vaughan Alumni Gymnasium, and Anderson Hall. Furthermore, in 2010 they expanded and added athletic team amenities, a greenhouse, a theatre for performing arts, and a new science lab.
What Courses Does Thetford Academy Offer?
Unified Arts
Visual Arts
Design Technology
Drame
Music
Culinary Arts
Humanities
Social Studies
World Languages
English
STEM
Mathematics
Science
Engineering and Technology
Wellness
Physical Education & Health
Outdoor Learning and Leadership
Independent Study
Challenge Course
Athletics
Meanwhile, participating in athletics can be a wonderful experience for the students at Thetford Academy. It encourages physical fitness, and determination and inspires students to work as a team. As a Division III school, Thetford Academy competes in most sports. Let's take a look at the sports offered.
Fall
Bass Fishing
Robotics
Cross country
Soccer
Winter
Alpine skiing
Basketball
Indoor track and field
Spring
Baseball
Outdoor track and field
Softball
Woods Trail and EC Meets
Since 1991, Thetford has held a unique cross-country competition, bringing thousands of runners in middle and high school to compete in the Dan Grossman Woods trail course. This day-long event attracts about 55 Vermont schools that participate in the championship. It takes hundreds of volunteers and countless hours of labor to maintain the beautiful wood trails and host this amazing scenic event.
Notable Alumni
Thomas Angell: Educator at Bates College and paster
Sherburne Wesley Burnham: Astronomer
William Closson: Artist
E. Florence Barker: President of the Woman's Relief Corps
Thomas Morris Chester: Union Army soldier, African American journalist, and lawyer
George N. Dale: Lieutenant Governor of Vermont
John Eaton: United States Commissioner of Education
Anson S. Marshall: U.S. Attorney for New Hampshire
John B. Sanborn: Civil War general, and negotiator of treaties with Plains tribes
Mary Greenleaf Clement Leavitt: Temperance movement missionary
Middlebury College
Middlebury, VT, 05753
Founded by Gamaliel Painter as an extension of the Addison County Grammar School in 1797, Middlebury College is a private institution and received its founding charter in November 1800. Jerimiah Atwater was the first president. Alexander Twilight was the first black person to earn a degree from a US college or university in 1823. Further, he was also the first African American elected to public office, serving in the Vermont House of Representatives in 1836.
The campus is 350 acres located in Champlain Valley and serves approximately 2900 students per year and is known as one of the best National Liberal Arts Colleges in the state. Popular majors include Econometrics and Quantitative Economics, Political Science and Government, General, Computer Science, Environmental Studies, and Neuroscience.
Notable Alumni at One of the Oldest Schools in Vermont
Alexander Twilight: First African-American graduate
Samuel Nelson: Associate Justice of the US Supreme Court
Eve Ensler: Tony Award-winning playwright
Ari Fleischer: White House Press Secretary for President George W. Bush
Jim Douglas: 80th Governor of Vermont
Brian Deese: Director of the National Economic Council under President Joe Biden
Ting Cui: 2019 World Junior Figure Skating Championships
Conclusion
Finally, Vermont offers a scenic landscape with various recreational activities. The 4 oldest schools in Vermont are ancient, Burr and Burton Academy has been providing quality education for almost two centuries. Thetford offers a supportive atmosphere where students can pursue their interests and achieve academic success. Each of these schools has a privileged history of educating leaders from our past. As a result, these institutions are continuing their legacy to prepare the leaders of our future.
Related Articles
The image featured at the top of this post is ©Katherine Welles/Shutterstock.com.