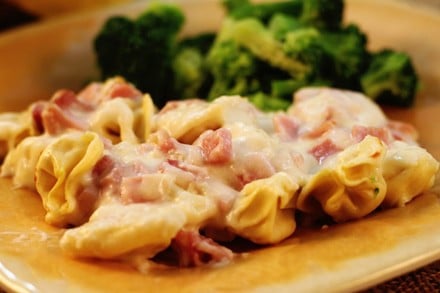 3-Cheese Baked Ham and Tortellini
Let's Get Ready for Baby!
Sign up for our monthly pregnancy email series, and you'll get regular updates on your baby's development, helpful timelines to get ready for their arrival, must-have baby needs and so much more! PLUS, you'll get instant access to the MomsWhoThink "Ultimate Guide to Baby Naming in 2022."
CLICK HERE
to get started!
Ingredients:
2 Tablespoons minced onion
2 cloves garlic, minced
1-1/2 Tablespoons butter or margarine
2 Tablespoons all-purpose flour
1-1/2 cups milk
1/4 cup shredded mozzarella cheese
1/4 cup shredded Parmesan cheese
1/4 cup shredded Swiss cheese
1 cup finely chopped cooked ham
1/4 teaspoon white pepper
4 cups cooked cheese-filled tortellini
4 cups steamed broccoli
Directions:
1. In small saucepan over medium-low heat, cook onion and garlic in butter until tender.
2. Stir in flour. Cook 2 minutes, stirring constantly. Gradually stir in milk.
3. Simmer 10 to 15 minutes or until thickened, stirring frequently.
4. While sauce is cooking, cook tortellini according to package directions. Drain and spoon pasta into a 9×13 baking dish.
5. When sauce is thickened, add the cheeses. Stir until melted.
6. Stir in ham and white pepper.
7. Spoon sauce over pasta.
8. Broil 4 inches from heat source 3 to 5 minutes or until topping is slightly golden. Serve with steamed buttered broccoli.