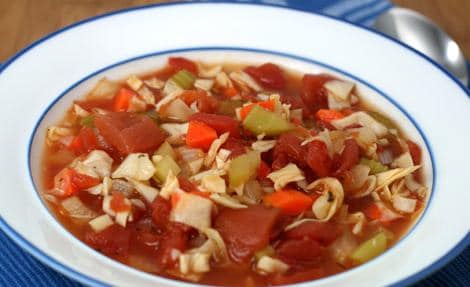 Cabbage Soup Recipe
This cabbage soup recipe is a great way to incorporate cabbage into your diet. Cabbage is one of those "miracle foods". Native to the Mediterranean region, ancient Romans and Greeks used cabbage for food and medicinal purposes.
It is packed with vitamins K and C. The phytonutrients found in vegetables such as cabbage, actually send messages to our genes to produce enzymes that help our cells detox.
Readily available (although best in late fall and winter) inexpensive, healthy and lo-cal, it is no wonder that cabbage soup is popular with dieters and health conscious eaters as well.
Cabbage Soup
Ingredients:
6 cups water
2 beef bouillon cubes
2 cups tomatoes
1 teaspoon sugar
1/2 cup chopped onion
2 cups chopped celery
2 cups diced carrots
2 cups shredded cabbage
Salt and pepper
Directions:
1. Mix all ingredients in large stock pot.
2. Cook on medium heat until boiling.
3. Reduce heat and simmer until vegetables are tender.