Summer is a great time to build out skills and take chances. The best art and performance camps in the U.S. will help your child strengthen their relationship with performance art. Just think of all the wonderful directions the arts can take them! These camps happen all across the states and each has its varying specialties. Whether your child is interested in media arts, studio arts, or performing arts, there are so many opportunities to explore. Keep on reading to learn more about these wonderful performing arts camps that will change your child's summer.
RISD Summer Program
The Rhode Island School of Design offers an incredible chance for K-12 students to take part in life on campus. They'll also take courses with the university's esteemed professors. They have several programs available for different age ranges. The Pre-College program is a 6-week residential camp. It is eligible for rising high school juniors and seniors. They'll work directly with faculty and current RISD students in the beautiful studios. Your blossoming artist will be able to build out their portfolio and immerse themselves in the art world. Not to mention the friends they'll make along the way. Kids Vacation camps cater to artists ages 6-12. They'll learn the fundamentals of drawing, some stop-animation, and even set design. These camps take place on the RISD campus as well as the beachside grounds in Barrington, Rhode Island.
University of Michigan Musical Theater Workshop
The University of Michigan hosts a phenomenal musical theater workshop. Open for rising high school seniors who are considering pursuing a degree in Musical Theater. The University of Michigan is renowned for its theater department. Acceptance into this program means face time with some of the best in the teaching business. They also host industry guests and hold some incredible workshops. It is open to 40 students who will get to experience vocal lessons and dance classes. They'll learn memorization techniques, audition training, and the history of musical theater. Your child will thrive at one of the best art and performing arts camps in the U.S.
Berklee Summer Programs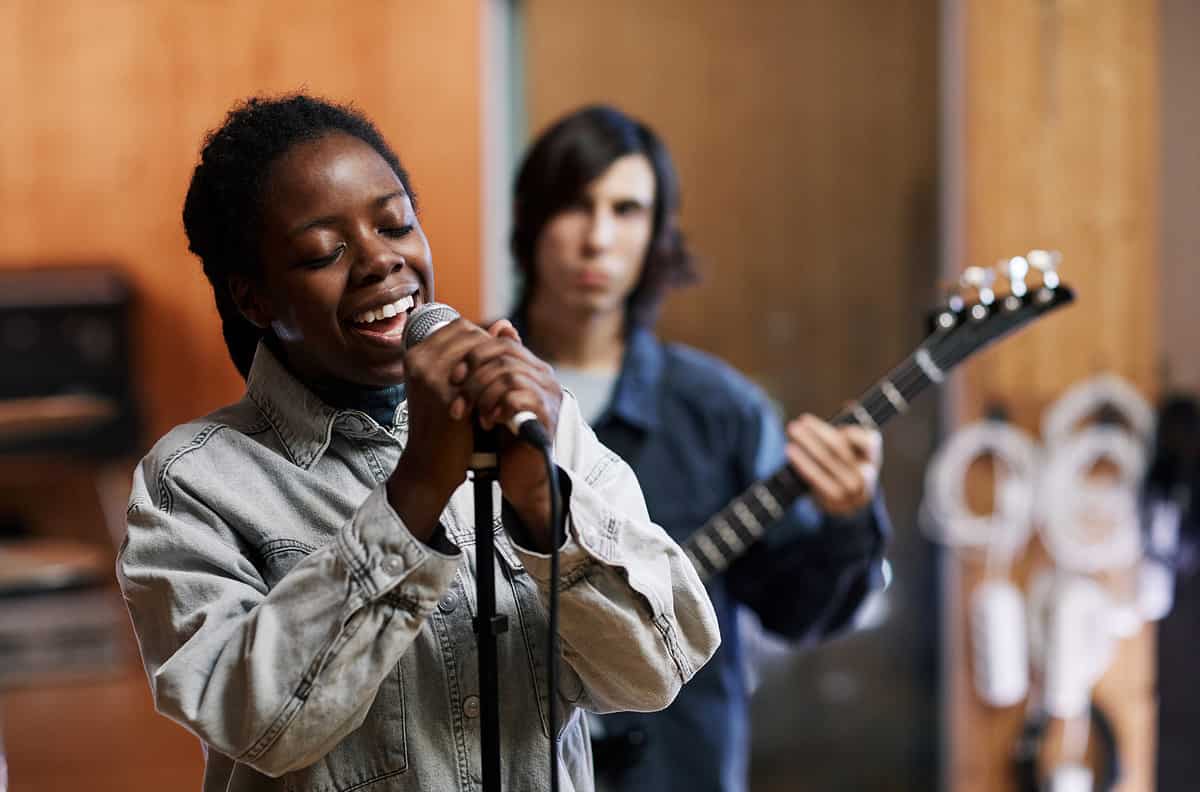 Berklee College of Music's Summer Program includes five weeks of immersive time at the musical college. Your child will get the chance to work with highly qualified faculty at one of the top-performing arts colleges in the United States. Students will live near campus and work in the Berklee facilities. They can focus their intensives on music performance, theater, dance, music production, songwriting, or music business. Nestled in the heart of Boston, Massachusetts, this five-week program will make their summer something really special. Sign them up today and grow your child's love of the arts.
Interlochen Summer Arts Camp
The Interlochen Summer Arts Camp is hosted at the Interlochen Center for the Arts in Interlochen, Michigan. This camp is open to all ages artists and performers. Students will have a nice balance of summer fun alongside their practice and performance sessions in their chosen art. Pick from music, theater, dance, visual arts, creative writing, and more. There's simply so much to do at Interlochen Summer Camp. And, not to fear, there are session lengths to match up with your scheduling needs. Choose from 6-week, 4-week, or 2-week sessions. There is also a 1-week intensive program available for high school students. These are a great fit for students who may have more going on over their summer vacation.
Idyllwild Arts Summer & Auxiliary Programs
Send your child to the beautiful mountainscape of Idyllwild, California for a summer of arts-inspired learning. At Idyllwild Arts Summer Program, there are sessions open for both kids and teenagers. Residential housing is available for children 10 and up. This camp has been working with blossoming musicians, painters, writers, and fine arts performers for some seven decades. Your young artist will work with top-notch faculty where they'll receive instruction in the fundamentals of their art form. Throughout the summer, students of all ages will grow in confidence and build their portfolios. They'll have the experience of a lifetime and make lasting friendships with peers who share their love and interests.
Ringling College Pre-College Program
The Ringling College Pre-College Program is hosted in Sarasota, Florida. This camp offers young artists four weeks to become immersed in the design culture of Ringling College. Campers will live on campus and take core classes in skill building and fundamentals of design. Courses include brandy strategy and marketing, 3-D design, painting and print-making, film directing and so many more. Upon completion of the program, students will receive three college credits that may be transferrable to another art institution.
Otis College Summer of Art
Each year the Otis College campus in Los Angeles, California, welcomes students to its Summer Arts Programs. Open to aspiring students who are 14.5+, this program will help to develop their skills, encourage their confidence and define their drive. Take courses in animation, drawing, ceramics, fashion design, painting, and photography. This iconic arts college has been around since 1918 and educated numerous creatives who have gone on to lead top art programs, become the heads of museums, and design at top brands the likes of Apple, Pixar, and DreamWorks Animation. Send your child to one of the best art and performance camps in the U.S.
Perry-Mansfield Summer Programs
Perry-Mansfield, the esteemed performing arts school hosts summer programs that offer an intensive training sessions for areas of the arts. At the Perry-Mansfield Summer Programs, pick from dance or musical theater, in several ability levels. Located in Steamboat, Colorado, this camp is a fantastic place for your child or teen to grow into themselves and their artistry. Sessions include an "Emerging Artists Intensive" for children ages 10 to 12, as well as a "Young Artists Intensive" for more advanced dancers, ages 12-15. The Musical Theater sessions offer a similar experience for all ability levels. What a great place to build confidence and make lasting friendships during a summer of fun.
French Woods Festival of the Performing Arts
The esteemed French Woods Performing Arts Camp takes place in the Catskill Mountains of New York State. This co-ed overnight performing arts summer camp is open to children from ages 7-17. Campers have the opportunity to participate in classes and instruction around music, art, theater, and dance as well as circus, and even magic performances. There is a curriculum that will help to develop your child's personal art form as well as more recreational summer camp activities. Older campers participate in community service through performance as well as helping with the younger camper's training. It's a great and inclusive community that also happens to be one of the best art and performance camps in the U.S.
StageDoor Manor Performing Arts Training Center
At StageDoor Manor, your child will receive top-level training in the performing arts. With iconic alumni, this summer camp offers sessions available for all levels of performers (ages 10-18). Your child will participate in acting classes, dance classes, and vocal classes to train their mind, body, and spirit in the magic of the theater. Each session ends with a final performance, of which your child will very much be a part. Students have meals and accommodations throughout their time at StageDoor Manor and plenty of space for more classic summer camp recreational activities. Send your child to camp where their love for the theater is nurtured and they'll meet peers who share their values.
The image featured at the top of this post is ©iStock.com/Caiaimage/Robert Daly.