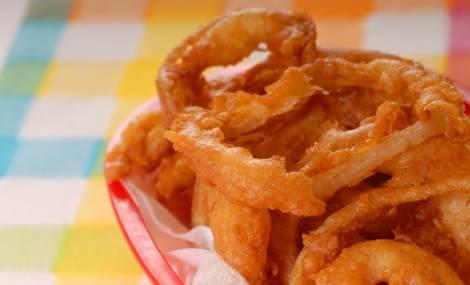 Onion Ring Recipe
Let's Get Ready for Baby!
Sign up for our monthly pregnancy email series, and you'll get regular updates on your baby's development, helpful timelines to get ready for their arrival, must-have baby needs and so much more! PLUS, you'll get instant access to the MomsWhoThink "Ultimate Guide to Baby Naming in 2022."
CLICK HERE
to get started!
This onion ring recipeis so popular because onion rings are found on nearly every chain restaurant's menu, and people love them.
Not only is this appetizer popular in America, it's also enjoyed around the world in places such as Canada, Australia, Europe and parts of Asia. The crispy beer batter adds crunch and flavor that coats the onion. The onion in turn, almost melts in the batter and subsequently in your mouth.
These onion rings will go fast, so you may want to double-up or triple-up if you're cooking for a large crowd.
Onion Rings Ingredients:
2 large white onions
1 cup beer
1/4 tsp salt
1 tsp baking powder
1 1/4 cup flour
1 tbsp oil
1 beaten egg
Directions:
1. Slice onions into ¼ inch slices.
2. Separate into rings.
3. In a large bowl combine flour, baking powder, salt, egg, beer and oil.
4. Blend until smooth.
5. Dip onion rings into batter to coat well, fry in hot oil at 375 degrees until golden brown.
6. Drain on paper towels, serve hot.