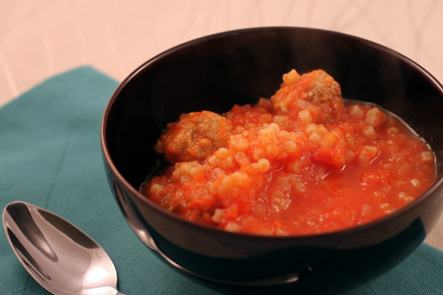 Pasta Os with Meatballs
Let's Get Ready for Baby!
Sign up for our monthly pregnancy email series, and you'll get regular updates on your baby's development, helpful timelines to get ready for their arrival, must-have baby needs and so much more! PLUS, you'll get instant access to the MomsWhoThink "Ultimate Guide to Baby Naming in 2022."
CLICK HERE
to get started!
Great for picky eaters because you get to hide the vegetables in this look-a-like dinner that's fresher and more flavorful so even mom and dad will enjoy it.
Ingredients:
6 ounces ground chicken
3 tablespoons pesto
3 tablespoons plain dried breadcrumbs
Salt and pepper
1 tablespoon olive oil
1 onion, chopped coarse
1 carrot, peeled and chopped medium
1 small celery rib, chopped coarse
3 garlic cloves, minced
2½ cups low-sodium chicken broth
1 (28 ounce) can diced tomatoes
4 ounces ditalini pasta (about 1 cup)
Directions:
1. Combine the chicken, pesto, breadcrumbs, ⅛ teaspoon salt, and pinch pepper in a bowl and mix with your hands until uniform. Use a heaping teaspoon to gently form the mixture into ¾-inch round meatballs (about 28 meatballs), place on a plate, cover with plastic wrap, and refrigerate until needed.
2. Heat the oil in a large Dutch oven over medium heat until shimmering. Add the onion, carrot, and celery and cook until the onion is softened, about 5 minutes. Stir in the garlic and cook until fragrant, about 30 seconds. Stir in the broth and tomatoes with their juice, scraping up any browned bits. Bring to a simmer, then reduce heat to medium-low, cover, and cook until the carrot is softened, about 15 to 20 minutes.
3. Transfer the soup to a blender and process until very smooth, 1 to 2 minutes. Return the pureed soup to a clean pot, cover, and return to a simmer over medium heat.
4. Stir in the pasta and reserved meatballs and continue to simmer until the pasta and meatballs are cooked through, 12 to 15 minutes. Season with salt and pepper to taste and serve.
Serves 4
Serving size: 1½ cups
Per serving
Calories 330
Fat 13g
Saturated 2.5g
Cholesterol 30mg
Sodium 680mg
Carb 38g
Fiber 4g
Protein 15g
Try one of our fan-favorite Healthy Meals: