What's more fun than some soccer in the sun? The best soccer camps in the U.S. will train your young athlete while ensuring that their summer is full of fun. Hosted all over the States, these camps work to empower and build up your child's athleticism, focusing on training drills, scrimmage games, and defensive and offensive tactics. Campers will work with coaches and trainers in a setting that's safe, fun, educational, and immersive. They'll come through the summer with a newfound appreciation for the sport and a deeper love for the game.
Did you know that soccer was originally called "football" because you use your feet to kick the ball? It originated in the 19th century in Britain, among locals who all had their own rules and styles of playing. Eventually, several of the local public schools for boys adapted the game for play (via Brittanica). And thus the game of modern football, which would eventually be called soccer in the States, was born. Keep on reading to learn about some of the best soccer camps in the U.S.
Nike Soccer Camps (USSC)
Nike hosts several athletics camps all over the States during the summer. One of these focuses is soccer. Pick from United States Soccer Camps in any number of places where your child will have thorough guided training, time with their peers, fun pick-up games, and more. Campers get grouped by age and skill level, and therefore all ages are welcome to sign up for training. These camps include the opportunity to train with highly qualified international and U.S. trainers as well as a curriculum of new soccer skills and technique sessions. Your child will come away with new skills and lots of gameplay experience, along with some new friends and lots of fun summer soccer camp memories.
Future 500 Soccer Camps
Check out the Future 500 Soccer Camps where coaches from D1, D2, and D3 schools will watch your young player in matches to give them a shot at athletics scholarships in the future. There are boys' camps and girls' camps that specialize in training different age groups and skill ranges. The Future 500 Camps cater to high school students who are looking to play at a high level. The coaching staff is highly trained. At this camp, they focus on drills, defensive and offensive skill training, scrimmage organization, and gameplay techniques. Be sure to check out their website as you're signing up for the camp to see what head and assistant coaches from certain colleges will be in attendance. What a great opportunity for your child to pursue their love of the game at one of the best soccer camps in the U.S.
Exact Sports Camp
Another top soccer camp with the opportunity for collegiate scholarships is the Exact Sports Camp. This camp happens in numerous U.S. cities and focuses on skill training and athlete development. A huge part of this camp involves physical conditioning, mental fitness, and technical skills. The camp scrimmages and official games happen to show college head and assistant coaches. These professionals advise and hopefully identify potential collegiate athlete material. Exact Sports hosts camps for both boys and girls who are hoping to train at a high level in the game.
IMG Academy
The IMG Soccer Academy is one of the best soccer camps in the U.S. At IMG, your young athlete will get the chance to train with highly qualified coaches and staff, working directly on position-specific plays, overall technique, and athletic development. This camp is open to players ages 10-18. Sessions get grouped by age and skill set. Alumni of IMG have gone on to play for Major League Soccer teams around the world. IMG is unique in that it hosts camps during multiple seasons of the year. Check out their programs for off-season training and 3-day, 5-day, or longer camp sessions that may be available at different times during the year.

New York Red Bulls Soccer Camps
The New York Red Bulls, the MLS American professional soccer club, hosts a couple of soccer camp options for young and developing athletes. Day Camps are open to children ages 4-16. Sessions are grouped by age and skill level and all training takes place at soccer clubs across New York State, New Jersey, and Pennsylvania. The Regional Development School is open to residents close to the clubs and is open for more advanced soccer players looking to train five days a week and hone their technical soccer skills. And finally, the Residential Camps are an option for residents of nearby New York and New Jersey areas. For five days, your young athlete will participate in an immersive training program that focused on player development. Check out the location options below:
Berkshire Soccer Academy
The Berkshire Soccer Academy for Girls offers the chance to train in an immersive, safe, and very fun setting. At the start of the week-long development program, campers are grouped into one of five training groups by skill level. Each group has between 25-30 players and is trained directly by 4-5 master coaches. These coaches help develop each player's sense of confidence and skill set. Your child will come away with a new understanding of technique and hopefully some new friends to boot! According to the BSA website, 98% of their camp alumni credit this program as seriously improving their soccer skills by the end of the week. This camp is open for 4th-12th graders who want a seriously fun soccer summer camp experience.
Paris Saint Germaine Academy
Train with some of the best at the Paris Saint Germaine Soccer Academy. With locations in Miami and Fort Lauderdale, Florida, these camps operate at three-tier levels. Pick from full-day camps or half-day camps happening either in the spring or the summer. Throughout all the sessions, campers will receive training in the fundamentals of the sport with the official Paris Saint-Germain training program and methodology! There will be one on one gameplay, position-specific coaching, and lots of time for fun! There's a reason this is one of the best soccer camps in the U.S.
FC Barcelona Soccer Camp
For another top soccer club camp, check out FC Barcelona's Soccer Camp. Want to play like some of the greatest soccer players in the world? Messi, Xavi, and Iniesta are all soccer greats who perfected their skills using this methodology! Learn what the pros call "Barça style" soccer at a camp centered around the values of respect, effort, ambition, teamwork, and humility. Your young athlete will learn from top-level coaches, with special guests and lots of technical training. Open to athletes ages 6-17 years old, these camps take place all over the United States. From California to Texas, Ohio to Massachusetts, there are so many opportunities to include the FC Barcelona Soccer Camp in your child's summer. Check out their website for more dates and information today!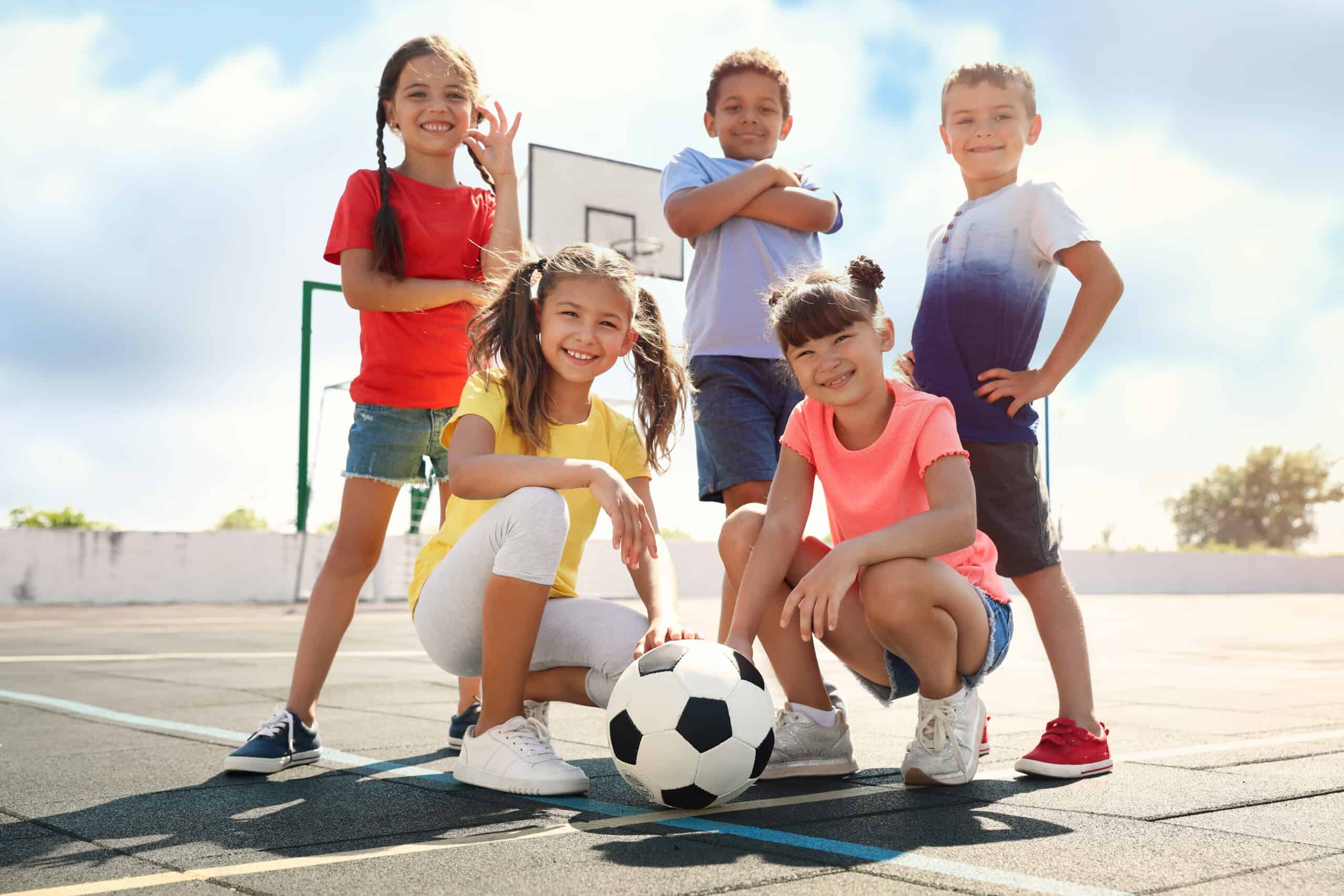 United Soccer Academy
The United Soccer Academy offers programs for kids as young as 2 (with parent involvement) and up to the age of 19. Each camp session offers different training options, from the fundamentals of the game to more advanced techniques and skills training workshops. The United Soccer Academy hosts hundreds of camps across 9 different states. Hosting backyard sessions or park rentals is also an option.
The image featured at the top of this post is ©iStock.com/matimix.