Irish Baby Girl Names
This list includes the most popular baby girl names from Ireland, the land of soft skies and rich tradition. If you have Irish ancestry, an Irish name is the perfect way to recognize your cultural heritage. Popularity is according to the Irish Central Office for National Statistics.
Abbie
Abigail
Ailbhe
Aimee
Aine
Aisling
Alannah
Alexandra
Alice
Amber
Amelia
Amelie
Amy
Anna
Aoibhe
Aoibheann
Aoibhinn
Aoife
Ava
Brooke
Caitlin
Caoimhe
Cara
Charlotte
Chloe
Ciara
Clara
Clodagh
Daisy
Eabha
Eimear
Elizabeth
Ella
Ellen
Ellie
Emilia
Emily
Emma
Erin
Eva
Eve
Evie
Faye
Fiadh
Freya
Grace
Hanna
Hannah
Hollie
Holly
Isabel
Isabella
Isabelle
Jessica
Julia
Kate
Katelyn
Katie
Kayla
Kayleigh
Laoise
Lara
Laura
Lauren
Layla
Leah
Lena
Lexi
Lilly
Lily
Lucy
Madison
Maeve
Maisie
Maja
Maria
Mary
Maya
Meabh
Megan
Mia
Millie
Molly
Natalia
Niamh
Nicole
Olivia
Orla
Poppy
Rachel
Rebecca
Robyn
Roisin
Rose
Ruby
Ruth
Sadhbh
Sadie
Saoirse
Sara
Sarah
Sienna
Sofia
Sophia
Sophie
Tara
Victoria
Zara
Zoe
Zuzanna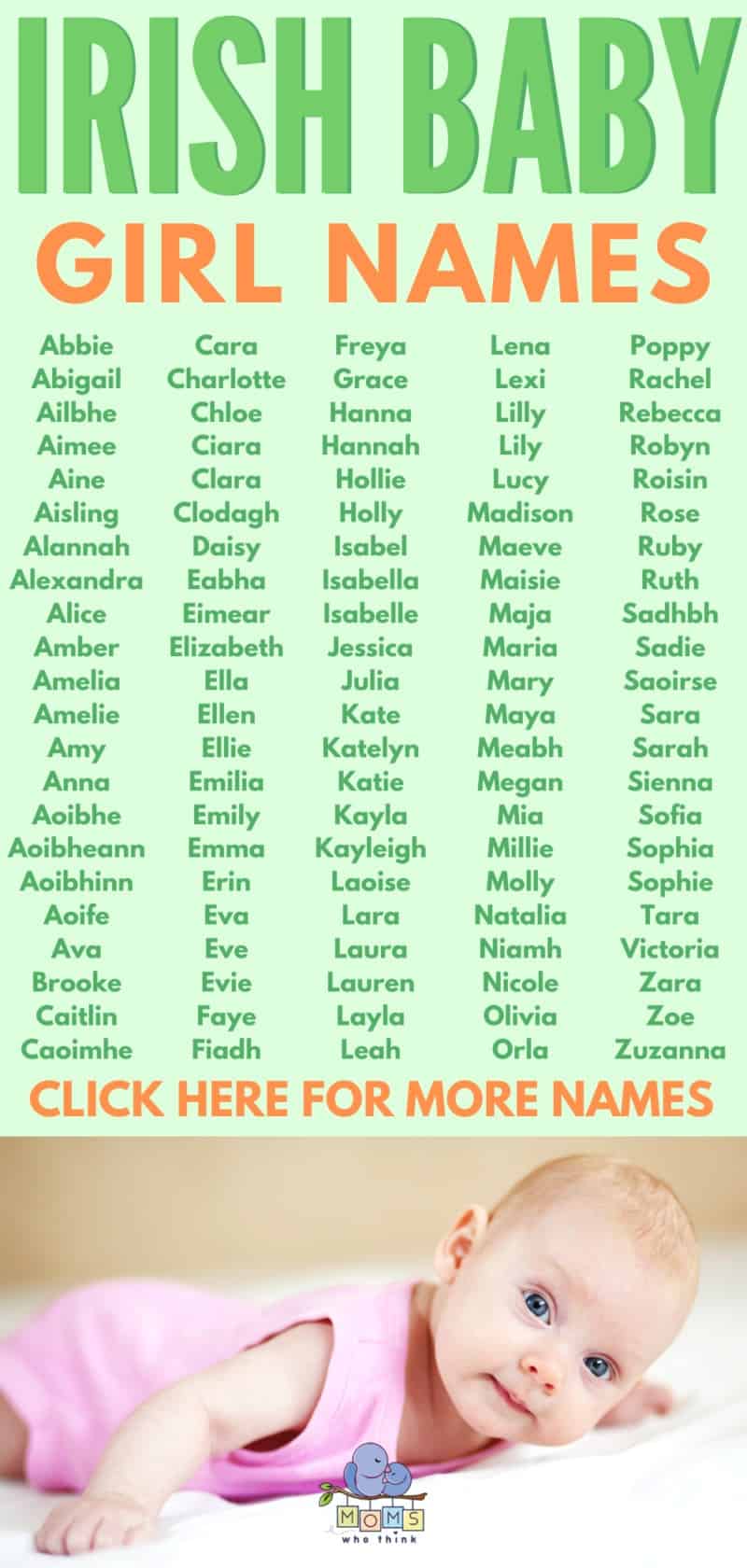 The image featured at the top of this post is ©iStock.com/kc1212.