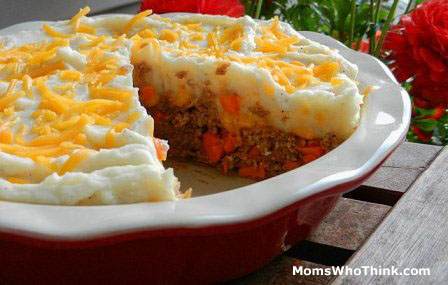 Shepherds Pie Recipe
Let's Get Ready for Baby!
Sign up for our monthly pregnancy email series, and you'll get regular updates on your baby's development, helpful timelines to get ready for their arrival, must-have baby needs and so much more! PLUS, you'll get instant access to the MomsWhoThink "Ultimate Guide to Baby Naming in 2022."
CLICK HERE
to get started!
This Shepherds Pie Recipe uses ground beef instead of lamb, it is the recipe most people think of when they are making Shepherd's Pie. Filled with beef, wonderful vegetable flavors, spices, and mashed potatoes it is truly a hearty meal in one dish.
It's easy to prepare and is no fuss cooking at it's best. While it bakes you can unwind from your busy day knowing there's a belly filling rib-sticking dish your family will love bubbling away in the oven. Shepherds Pie is one of the all time classic home-cooked comfort foods. Enjoy!
Shepherds Pie
Ingredients:
1 cup quick cooking oats
3/4 cup milk
1 Tablespoon crushed beef bouillon
1 egg
2 teaspoons parsley
1 Tablespoon onion flakes
1/4 teaspoon thyme
1/4 teaspoon pepper
1 pound lean ground beef
1 cup diced, cooked carrots
4 cups hot mashed potatoes
1/4 teaspoon black pepper
1 teaspoon onion powder
8 oz. shredded cheese
Directions:
1. Preheat oven to 350 degrees F.
2. In a large bowl, mix together the oats, milk, egg and bouillon. Add the parsley, onion flakes, pepper, thyme, beef and carrots. Mix well.
3. Place this mixture into a pie plate and bake for 45 minutes.
4. While the beef mixture is baking, mix the onion powder and 1/4 teaspoon of black pepper with the mashed potatoes.
5. Remove the meat pie from the oven and drain the fat. Sprinkle the meat crust with 6 oz. of the cheese.
6. Spread the mashed potatoes on top, sprinkle remaining cheese on top of them.
7. Broil until the potatoes are lightly browned and the cheese is melted.
Easy Recipes Main Page