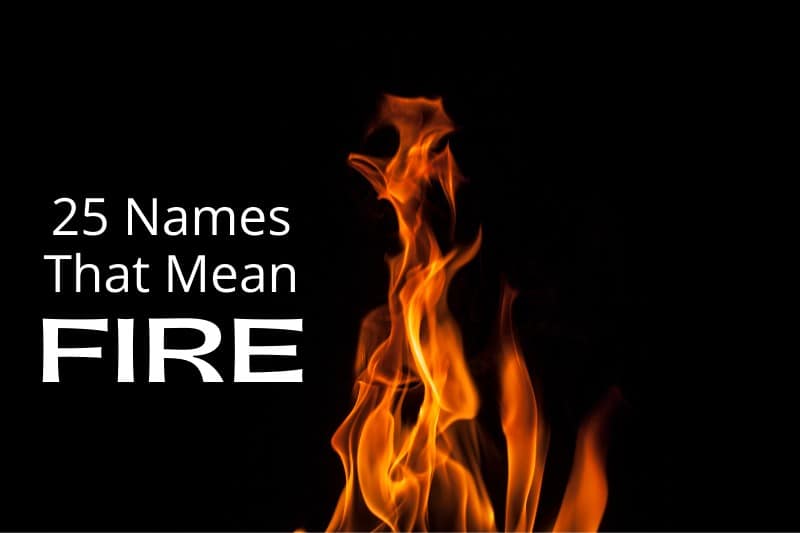 When selecting the perfect name for their newborn, parents often look for baby names that are impactful, memorable and have greater meaning. Perhaps they are looking for a name that conveys intensity and drive and passion. If so, then they'll likely want opt for a baby name that means "fire." Whether you're looking for a name for your boy or your girl that means fire, here are some options to get your wheels turning.
Alev

A Turkish name, Alev means "fire". Alev is a good choice as an alternative to the more common name Alex.

Azar

Azar is an Iranian name that means "fire". While primarily a feminine name in Iran the name has become unisex in other countries.

Blaze

A blaze is a fire that is burning out of control. Blaze is not related to the French name Blaise but the two names are sometimes conflated.

Cinaed

Pronounced KIN-ahj, Cinaed is an Irish and Scottish name that means "born of fire". This was the name of the first king of the Scots and Picts in the 9th century.

Cole

The name Cole means "swarthy, black" but also refers to charcoal or the coals of a fire.

Cymbeline

Cymbeline is a name best known as the title of a play by William Shakespear. It is also a Celtic name that means "sun, fire lord".

Eate

Eate is a Basque god of storms who also held dominion over fire and ice. Eate is pronounced EE-aht-uh.

Ember

Ember refers to a glowing coal or piece of wood left in a dying fire. Ember is a beautiful fire name that is also closely related to the name Amber.

Fintan

Fintan means either "white flame" or "white bull" and is a name from Irish mythology. The name has also been borne by many Irish saints.

Flaka

Flaka is a common Albanian name that means "flame". Flaka is a high energy name with a strong creative spirit.

Helios

Helios is the Roman equivalent to the Greek god Apollo. Helios is the god of sunlight, fire, beauty, and poetry. Helia is sometimes used as a feminine version of the name.

Hurik

Hurik is an Armenian name that means "little fire". Hurik may be an uncommon name but a nickname like Ricki makes the name more accessible.

Kai

Kai has been a popular name since 2000 both alone and as a nickname for variations of Kaden. Kai is a Scottish name meaning "fire".

Keahi

Keahi is a Hawaiian name meaning "the fire". Keahi is also the name of a berry producing tree that is native to most of the Hawaiian islands.

Loki

Loki is the Norse god of mischief, trickery, and thought. The name is thought to derive from the Norse term logi meaning "fire".

Mishal

Mishal is an Arabic name meaning "torchbearer". With a nickname like Misha this name is suitable for both boys and girls.

Nuri

Nuri is a Hebrew name that means "flames" or "my light". It is a gender neutral version of the name Nuria.

Phoenix

A phoenix is an everlasting bird found in Egyptian and Greek mythology. According to the legend, the phoenix lives in the desert and self-combusts every 500 years, hence the fire association. The bird then attains new life by rising from the ashes of its predecessor.

Reese

Reese, also often spelled Rhys, is a Welsh name that means "ardent, fiery". The Rhys spelling is usually masculine while Reese is more unisex.

Sule

Sule is a Turkish name meaning "flame". Pronounced SOO-leh, Sule also has etymological roots in northern Africa, China, Indonesia, and India.

Tanguy

A unique Breton French name, Tanguy means "fire dog". Relatively unknown in the US, Tanguy was in the top 500 names in France as recently as 2010.

Tanwen

Tanwen is a Welsh name meaning "white, holy fire". Tanwen is not popular outside of Welsh speaking countries but it is an alternative to Bronwen.

Ugne

Ugne is a Lithuanian name that means "fire" and comes from the term "ugnis".

Uri

Uri is a Hebrew name that means "my flame, my light". A short and sweet name, Uri is a good alternative to more traditional names Uriah and Uriel.

Uriah

Uriah is a Biblical Hebrew name meaning "God is my light, flame". In the Bible, Uriah was a warrior in King David's army and husband to Bathsheba.
Find more names that mean fire: