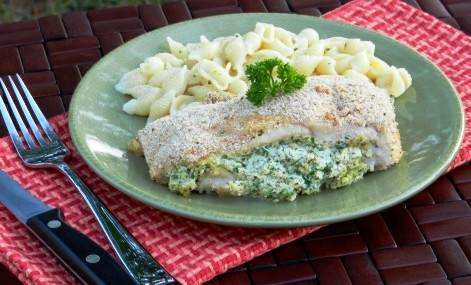 Pesto Chicken Breast Recipe
Perfectly palatial is an understatement when describing this recipe for pesto chicken. Pesto itself is an amazing ingredient, but paired with chicken…it just shines.
It takes an ordinary baked chicken breast to luscious new heights, unimaginable until you take a bite of this pesto stuffed chicken. Don't reserve this for special dinners only, enjoy any day!
Pesto Stuffed Chicken Breast
Ingredients:
2/3 cup ricotta cheese
4 Tablespoons chopped fresh parsley
3 Tablespoons prepared pesto (from your grocer)
2 Tablespoons grated Parmesan cheese
6 boneless, skinless chicken breast halves (2 3/4 pounds)
wooden toothpicks
1 egg
3/4 cup Italian seasoned dry breadcrumbs
Directions:
1. Preheat oven to 400 degrees F. Spray jelly roll pan with cooking spray.
2. In bowl, combine ricotta, 3 Tbs. of the parsley, pesto and Parmesan.
3. Transfer mixture to plastic food storage bag, snip a hole in one corner, set aside.
4. Cut a 2″ deep horizontal pocket into each chicken breast.
5. Dividing evenly, pipe ricotta mixture into pockets. Secure with toothpicks.
6. In a shallow bowl, lightly beat egg. Spread breadcrumbs on wax paper.
7. Dip each piece of chicken into the egg, then coat with breadcrumbs.
8. Place on pan, coat chicken with cooking spray.
9. Bake chicken until no longer pink inside, about 20 minutes.
10. Sprinkle remaining parsley evenly over chicken pieces, serve hot.
Try one of our fan-favorite chicken recipes:
Click for more Chicken recipes