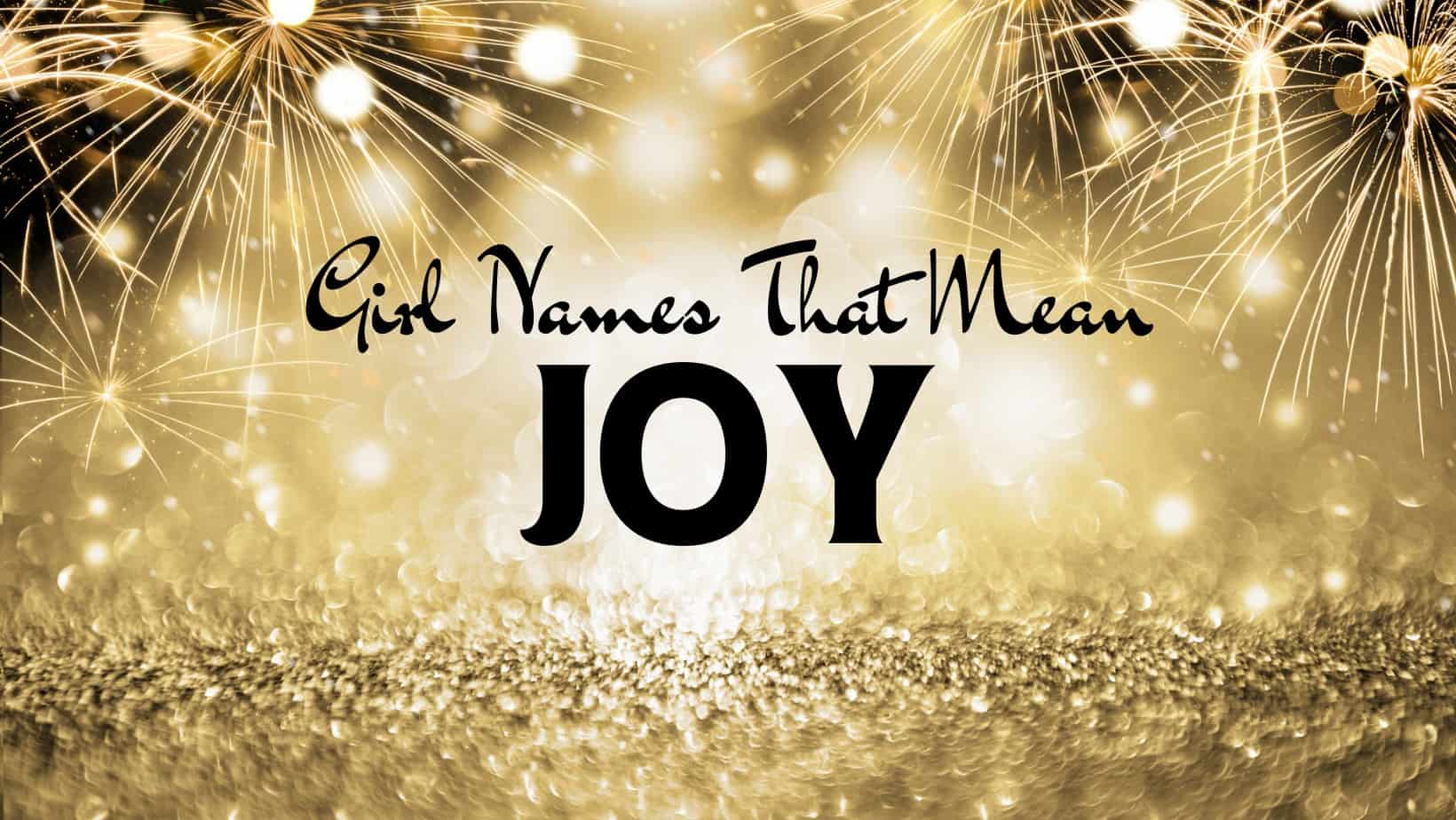 From Geila to Allegra to Merry and beyond, this list of girl names that mean joy is filled with a vast collection of feminine and fun baby names. Explore the names, complete with meanings, and find the perfect name for your daughter.
RELATED: More Baby Names That Mean Joy
Abigail

Abigail has a long history dating back to Biblical times. According to the Hebrew Bible, Abigail, the wife of King David, was a prophetess. She is described as beautiful and intelligent. The name itself means 'father's joy.'

Aleeza

The moniker Aleeza is a Jewish name. It comes from the Hebrew language, meaning joyful. Spelling variations of the female moniker include Aliza and Eliza.

Allegra-

comes from the Latin adjective alacer, which translates to jaunty or joyful. It is the feminine version of the name Allegro.

Caia

The name Caia is a Latin name that means rejoice. In Roman mythology, Caia refers to the 'Goddess of women and fire.' It is also the name of a river in Portugal.

Carol

Although the name Carol means free person or song, many find the name suitable for girls born around Christmas time. The name is of English origin and includes several variant spellings.

Duscha

Duscha is a feminine moniker. It is of Russian origin and pronounced DYOO-sha.

Eda

Eda is an Old Germanic name. It refers to someone who is 'happy and wealthy.'

Etsuko

Etsuko is a beautiful Japanese female name, meaning 'joyful child.'

Farrah

Farrah is a female name of Arabic origin. It is common in Arabic, American, and Asian countries. But it became popular in the late 70s when American actress and model Farrah Fawcett's face came across televisions and magazines.

Freyda-

name Freyda is a female moniker that originated from the Ancient Germanic word that means peace. In Yiddish, however, the name translates to joy.

Geila

Geila is a girl's name of Hebrew origin. Pronounced GEE-lah, this two-syllable, which means 'joy of the Lord' includes the variants Gila and two other variants: Gila and Geela.

Hillary/Hilary

The name Hillary is derived from the Ancient Greek hilarós, meaning joyful. It was once considered a gender-neutral name. But after Hillary Clinton became the first lady, it seems the moniker is used exclusively for girls.

Halona

Halona originates from the Native American language. Pronounced hah-LO-nah, the name means 'happy fortune.'

Jovie

The moniker Jovie seems to roll off the tongue. This jovial name is perfect for little girls.

Joy

The name Joy will never lose its appeal. Although it's a short form of the monikers Joyce and Joycelynn, this American name stands well on its own.

Keisha

Keisha is an Ancient African moniker. The feminine name expresses 'great joy.'

Letitia

The name Letitia has peaked and plateaued multiple times since the 1880s. It derives from the Latin word letizia, meaning 'a reason for joy.'

Makaira

Beautiful and melodious, Makaira means 'one who brings happiness. It is of Japanese origin and pronounced m-ah-k-ay-r-ah.

Makenna

Makenna is a feminine name of African and Irish origin. It symbolizes joy.

Merry

The female moniker Merry comes from the Old English word myrige. It was once used as a term of endearment but has evolved to mean pleasure or enjoyment.

Priti

The name Priti comes from the Sanskrit language. It is a classic feminine moniker in India. Not only is it a pretty-sounding option, but it also translates to pleasure or joy.

Rena

Rena is rooted in Greek, Hebrew, and Russian origins. It is a feminine moniker that describes a 'joyous melody.'

Ronia

Ronia is a female name of Hebrew origin that means 'joyous child.' Other variants of the name include Ronja and Ronya.

Sachi

Sachi is a Japanese name given to girls. It means 'child of joy.'

Trixie

Trixie is a spirited name for a little girl. It is of English origin and refers to 'someone who brings joy.'
Peruse thousands of baby names on MomsWhoThink.com! And follow us on Pinterest for more parenting inspiration!