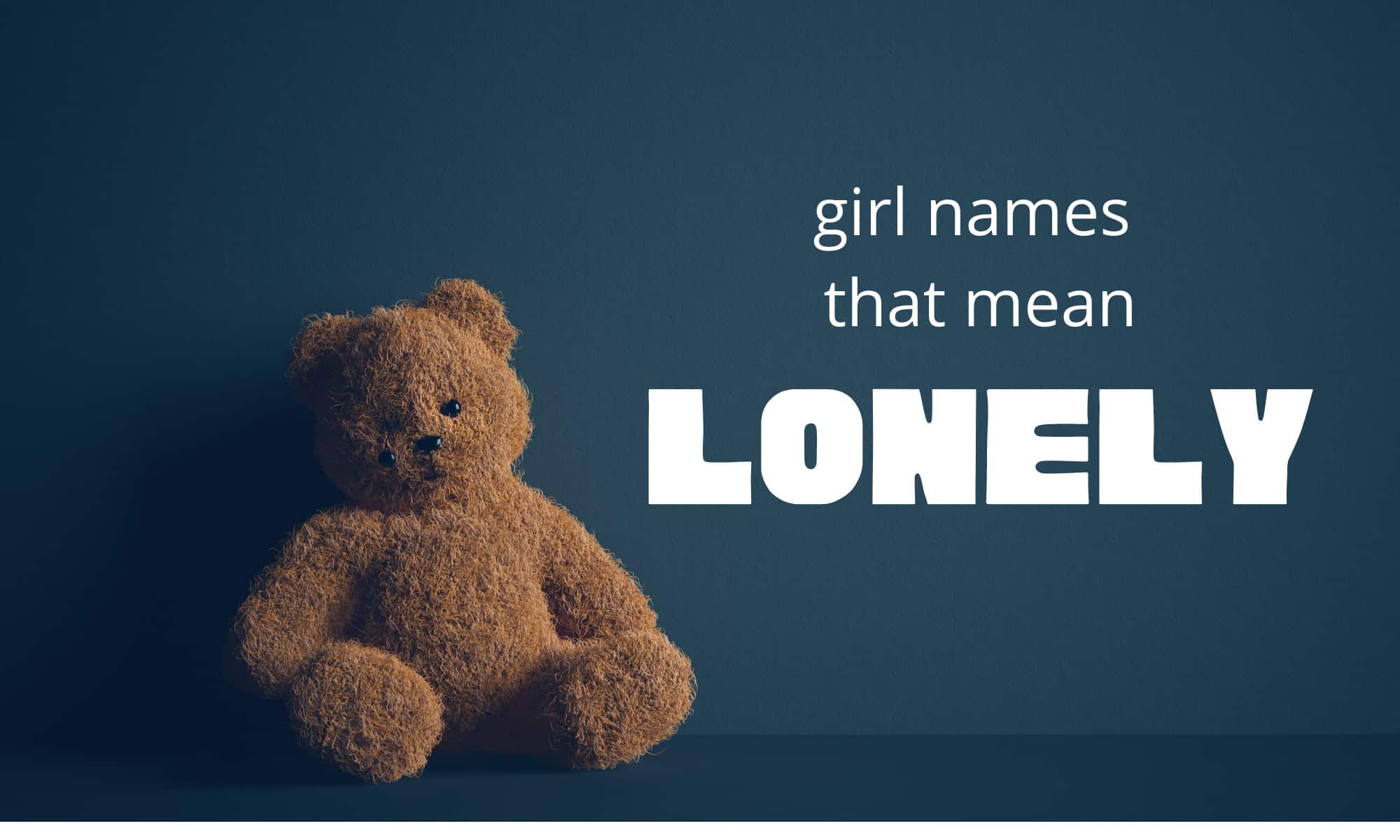 From Soledad to Ajea and beyond, each of these girl names that mean lonely give nod to solitude and the emotions it brings. Explore these baby names, including meaning and origin, and find the ideal name for your little girl.
RELATED: Girl Names That Mean Misfortune
Isolabella – A variation of Isabella, this name starts with the prefix "iso-" just like "isolation." Combined with the word bella meaning "beautiful," it could be taken to mean "lonely and beautiful."
Leto – Leto comes from the Greek word letho meaning "hidden" or "forgotten." In Greek mythology, she was also one of the female titans and the mother of twins Artemis and Apollo.

Aino

Meaning "the only one," Aino is a Finnish girl's name that suggests solitude in a powerful way.

Loni

Pronounced LOH-knee, this is a cute and charming baby name that comes from the word "lonely," but it isn't as obvious. It'll have hidden meaning even though it looks deceptively simple.

Uki

Uki is an Inuit name meaning "survivor." It could be a meaningful name for a preemie or any other baby that spent time isolated in the NICU.

Deirdre

Deirdre is a beautiful name with an equally sad meaning: It stems from the root words for "sorrowful" or "broken-hearted" in Irish.

Soledad

Soledad is a little-known baby name outside of Spanish-speaking communities, but it's associated with the word "solitude" and with the Virgin Mary. A few actresses and artists have had it, too.

Eindis

You can probably tell that this is a Scandinavian name because of all the vowels! It means "one," "alone," and occasionally "warrior."

Aud

Short and sweet, this Norwegian baby name means "empty" or "deserted." It'll definitely invoke the same kinds of feelings as "lonely."

Desdemona – Meaning "ill-starred," Desdemona is a Shakespearean name that comes from the play Othello. She was the doomed wife of the titular character. This could be a good name for fans of dark or tragic literature.

Sana

It's lonely at the top, and Sana is an Arabic name that means "mountaintop." It's another name that's more symbolic than literal.

Dolores

Dolores means "pain" or "sorrow" in Spanish. If it sounds a little too old-fashioned for you, consider a more modern nickname like Lola.

Ajea

Ajea is an Arabic name that means "alone." A somewhat similar name is Ajay or Ajai which means "unconquered" or "unsurpassed."

Dubiwe

Dubiwe means "left alone" among the Ngoni people of Tanzania, Malawi, Mozambique, Tanzania, and Zimbabwe. It can speak to the rich cultural heritage of your baby girl while also having a cool and unique meaning.

Lenore

If you're the literary sort, you might consider naming your daughter after the lost Lenore of Edgar Allan Poe's works. It has a kind of gothic glamor to complement themes of loneliness, sadness, and tragedy.

Guadalupe

A Spanish name, Guadalupe literally means "valley of the wolves," which gives it symbolic value through wolves, cliffs, and hidden places.

Kevala

Hailing from Sanskrit, Kevala is baby name for girls that means "alone" or "isolated." However, it doesn't have negative connotations. It's used in reference to things like liberation, rebirth, and enlightenment.

Aakifa

Aakifa comes from the Basque language. It means "she who worships God in solitude."

Ekdha

A rare but memorable name, Ekdha comes from Telugu and means "alone" or "lonesome."

Mallory

Meaning "unlucky" or "ill-favored," Mallory is a surprisingly dark baby name, but it could do the trick if you're looking for something sad, lonely, or tragic.

Thulile

Pronounced too-LEE-lay, this is a lyrical baby name that comes from the Zulu language of Africa. It means "quiet," which could be a prayer for a solitary or self-contained daughter.

Fasila

A popular girl's name in Saudi Arabia, Fasila means "distance." Another spelling is Faseela.

Suha

Suha means "forgotten" or "overlooked" in Arabic. It's also the name of a star in the Ursa Major constellation, giving it celestial as well as earthly origins.

Eileen

Eileen is a Gaelic Scottish name with multiple meanings, including "island." Alternatives include Evelyn and Aveline as well as nicknames Isla, Lina, and Lee.

Solay

Solay is a name that invokes the double powers of "sun" and "solitude." It also sounds a bit like "solo," so it's perfect as a lonely baby name on all fronts.
Peruse thousands of baby names on MomsWhoThink.com! And follow us on Pinterest for more parenting inspiration!