Everyone has heard of meatloaf. It is one of the oldest, most classic meals in the book that has been treasured by generations of families who wanted to cook something everyone at the table could derive joy and nutrients from in an expedient manner.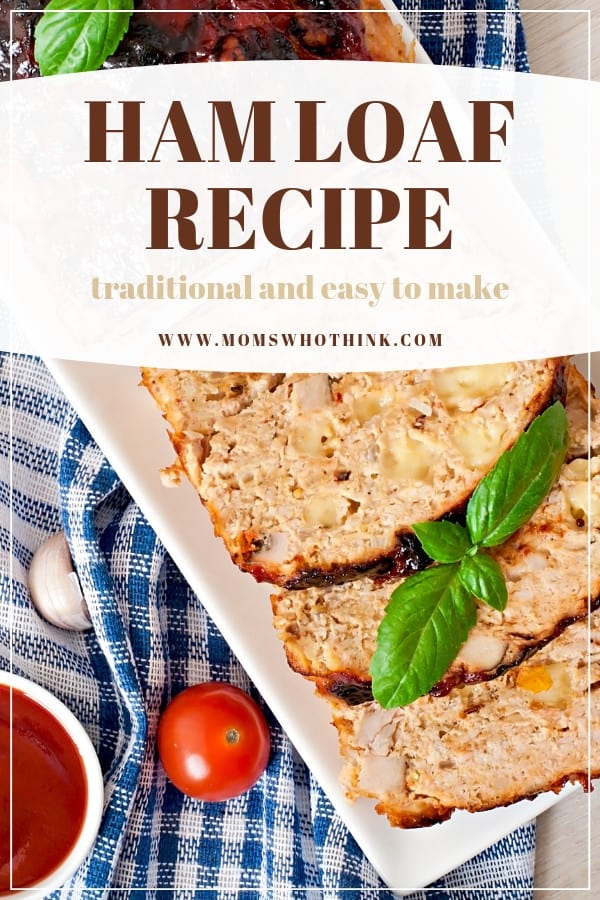 Go to any homestyle-themed restaurant and you are sure to find something on the menu along the lines of "Mom's Meatloaf" because of its popularity. Ham loaf is slightly different from meatloaf, but you are going to love the taste of it just as much as you found yourself connected to meatloaf back in the day.
Did you ever take a home economics course when you were conducting your initial education? Unfortunately, it is a subject that has fallen by the wayside in recent years and with popularity waning, many of the most valuable skills you can learn in a home economics course are not really that present in people anymore.
Ham Loaf
Obviously, home economics teaches people a lot of skills, but chief among them is the skill of cooking. The ability to put together and create a home-cooked meal on the daily is definitely more challenging than it may seem, but home economics sought to curb that hang-up.
One of the meals taught to students in home economics initially is the creation of meatloaf and, as already mentioned, ham loaves are in the same general meat family as meatloaf. By following this recipe, you could find yourself thriving with a crucial building block of the cooking process. The ability to cook a ham loaf does not necessarily teach you how to make any meal (you will always need recipes like ours) you want, but it does give you a lot of the crucial bits of general know-how to make your way around the kitchen.
On top of all of that, it tastes delicious and proves that you should not judge a book by its cover. Ham loaves are the product of a very scrumptious, albeit unconventional, way of cooking a ham dinner for your family. For a dish that originates from Pennsylvania, there are many other states that would love to have it become a newfound type of staple.
Ham Loaf Pineapple
Thanks to the culture of Hawaii, it has become pretty popular for people to align their taste and love for ham with the taste of pineapple. The savory accessibility of the pieces of ham you receive will always match up deliciously with the sweetness of the pineapple. Pineapple and ham are just another one of the great combinations of food that many would have never predicted to match up so well. Peanut butter and jelly, cereal and milk, and ham and pineapple. It is a time-tested tradition of the culinary arts, and once you combine this delicious ham loaf recipe with some unconventional add-ons, like the pineapple, for example, you may never want to go back to basics again.
The standard recipe itself is pretty easy to make and it does call for pineapple juice, but do not be afraid to add some pineapple to the mix, whether it is in the form of pieces or of juice. As long as you do not mind the juicy, tangy sweetness of the pineapples taking on more of a dominant position in the meal, then you are absolutely going to adore the meal as it is accentuated by one of the top Hawaiian fruits around.
The fresher the ingredients you choose, the better the meal will taste, as well. This is true for all foods, but it is especially true for the ham loaf and doubly so when you put the emphasis on the quality of the ham and the quality of the pineapple.
Sides to Serve With This Ham Loaf
This ham loaf is a scrumptious way to cap off a long day. Any main course needs a great side to go with it, and this ham loaf is certainly no exception. Let's go over a few ideas for great sides for this dinner!
If you're going to be using pineapples or pineapple juice in this recipe, you might as well provide a fruit salad on the side! Fruit salads are sweet, meaning that kids will likely enjoy them. They come packed with a lot of nutrition thanks to the variety of fruits present. You can even include some pineapple to really fit with the ham loaf!
Some corn is always a good option. There is disagreement over whether corn is worth eating, but we think it is. Corn, like pretty much any other vegetable, can provide the body with critical nutrients. It may not be the most nutritious option out there, but it's often a vegetable even pickier eaters will eat.
Finally, you can't go wrong with good old mashed potatoes. Sure, it might get boring once in a while, but it's a classic side for a reason. Make sure you make some good gravy to go over top. Don't bother with any of that store-bought mix unless you're really low on time or energy!
If you enjoyed this recipe, make sure to check out our Meatballs Recipe and our Smothered Pork Chops.
Print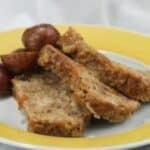 Ham Loaf Recipe
---
Author:

Total Time:

1 hour 15 minutes
Description
Ham loaf is slightly different from meatloaf, but you are going to love the taste of it just as much as you found yourself connected to meatloaf back in the day.
---
1

pound ground ham

½

pound fresh ground pork

2

eggs

½ cup

milk

1 cup

fine bread crumbs

⅛ teaspoon

ground black pepper

2 Tablespoons

prepared mustard

½ cup

pineapple juice

½ cup

brown sugar
---
Instructions
Preheat oven to 350 degrees F.
In a large bowl, combine the meats, eggs, milk, bread crumbs, and pepper.
Mix well and form into a loaf. Place loaf into a loaf pan.
Mix mustard, pineapple juice and brown sugar. Pour over loaf in pan.
Bake at 350° F for about 1 hour. Baste several times during baking.
Prep Time:

15 Minutes

Cook Time:

1 Hour

Category:

Main Course

Method:

Baking

Cuisine:

American
Keywords: hamloaf, ham loaf pineapple