Let's Get Ready for Baby!
Sign up for our monthly pregnancy email series, and you'll get regular updates on your baby's development, helpful timelines to get ready for their arrival, must-have baby needs and so much more! PLUS, you'll get instant access to the MomsWhoThink "Ultimate Guide to Baby Naming in 2022."
CLICK HERE
to get started!
Angus is an English name with Gaelic and Celtic roots. It also dates back to Irish mythology and was the name of some Irish royalty many centuries ago. It hasn't been common in the United States since the early 20th century, but it appears to be on the rise again and could easily make a comeback. We like the way it pairs with traditional middle American names like Michael and Matthew.
Meaning of the name Angus:
English: One strength, one choice
Origin of the name Angus:
Angus is the English version of the Gaelic name Aonghus, which is a name that is especially popular in Scotland. It is made up of the elements "oyno," which means "one" and "gustu," which can translate to "strength" or "choice."
Symbolism of the name Angus:
Because of its meaning, the baby name Angus could symbolize strength after a difficult pregnancy, or it could be a name assigned to an only child.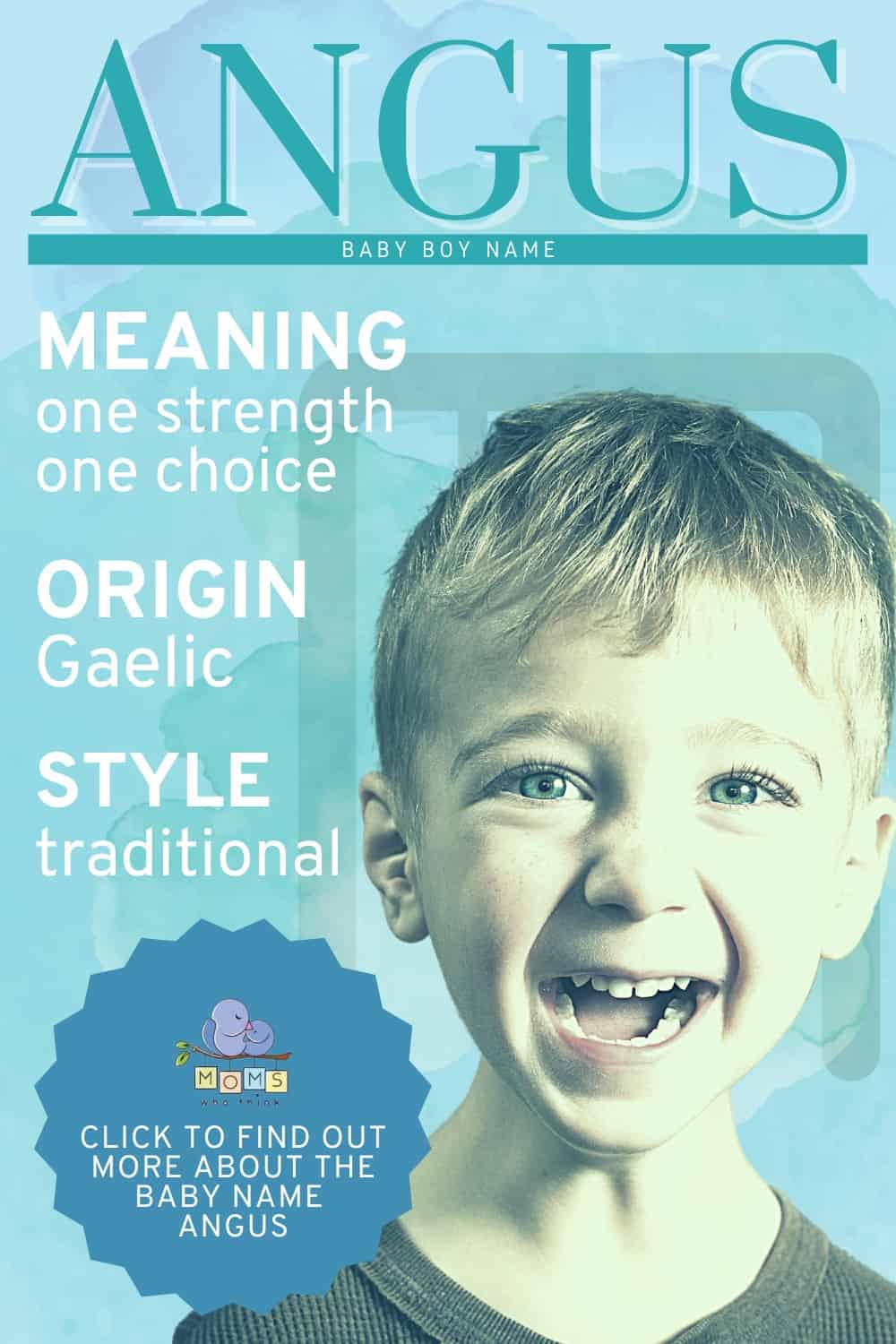 Style of the name Angus:
Traditional
Gender of the name Angus:
Angus is a boy's name.
Pronunciation of the name Angus:
ANG-guss
Number of syllables in the name Angus:
Two
Emotion evoked from the name Angus:
The baby name Angus evokes images of someone who is intelligent and inquisitive.
Alternative spellings for the name Angus:
Nicknames for the name Angus:
Popularity of the name Angus:
According to the Social Security Administration, Angus was a top 1,000 baby name for boys in the United States on and off until 1948. It was most popular in 1904 when it ranked at number 540. It last ranked at number 989 in 1948.
Related names for the name Angus:
Great middle names for Angus and their meanings:
Famous people with the name Angus:
Anguss in popular culture: