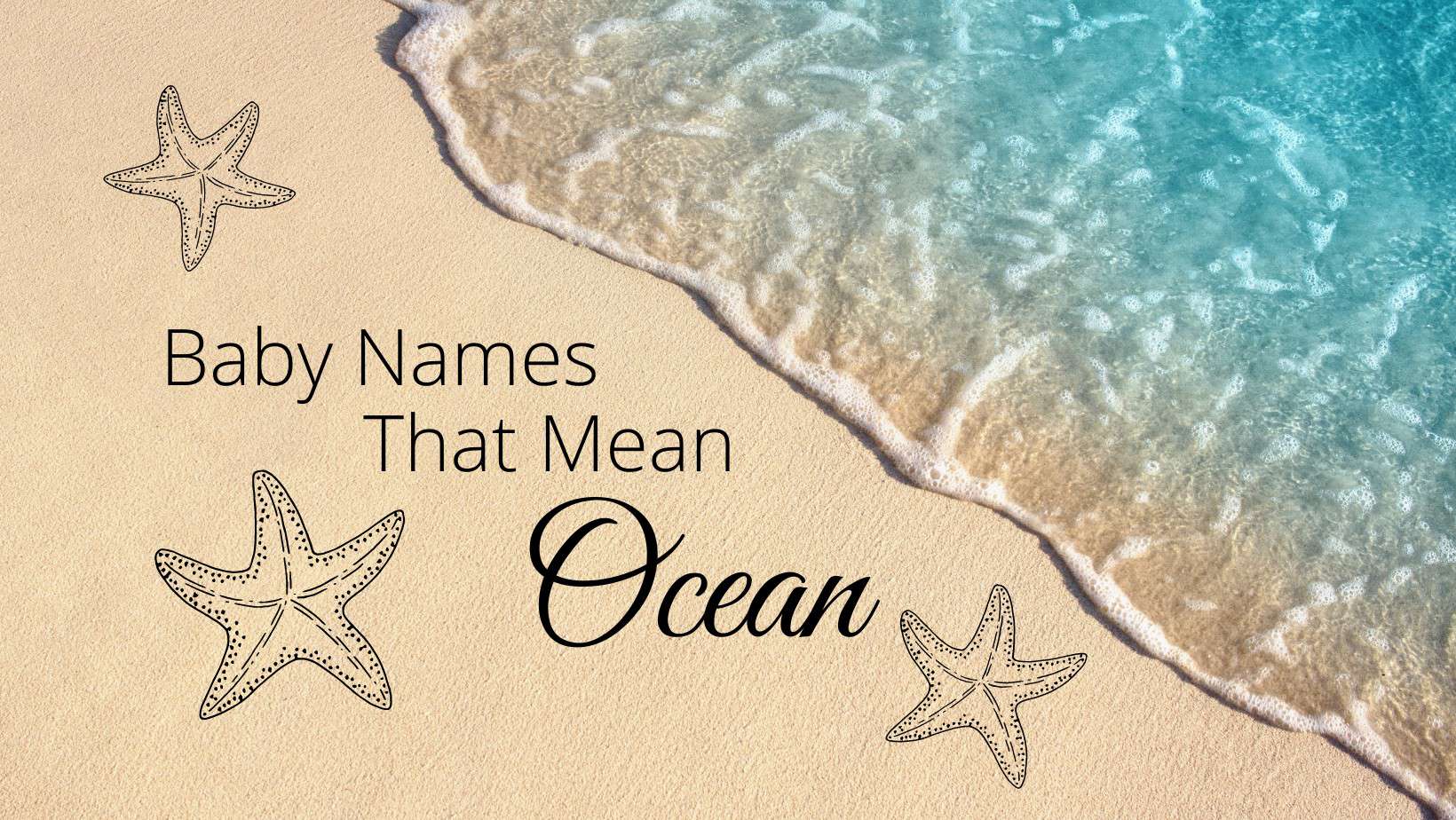 The ocean is known for its beauty, its calming effects, its fluidity … so many beautiful qualities come to mind when you think about the sea. Here is a list of baby names that mean ocean, with options for both boys and girls. Take a look and consider one of these names for your little one!
RELATED: Boy Names That Mean Ocean AND Girl Names That Mean Ocean
Asherah

Asherah is an ancient name for a Sumerian goddess. Meaning "she who treads on the sea", it is a perfect name for a baby girl born under a water sign.

Avisa

Avisa is a pretty name backed by Sanskrit origins. It has powerful meanings such as "sky; ocean; king; life giving".

Bahari

Bahari is a strong African name. It fits a future water-loving baby thanks to its meaning of "sea man".

Caspian

Caspian is a unique name choice for parents that want an ocean-based name and also a place name. It's the name of the large sea that rests between Europe and Asia.

Coast

Coast is a bold unisex name choice if you want a place name. It fits a baby destined to grow up by the beach as it means "land near the sea".

Deniz

Deniz is a Turkish gender-neutral name that works as a fashionable, popular option. The name simply means "sea".

Edmar

Edmar is a boy's name that comes from Old English origins. This works as a cool, vintage choice that means "wealthy sea".

Firth

Firth is a cool Scottish name that works for both boys and girls. It's a distinctive option for a given name that means "estuary or arm of the sea".

Hafthor

Hafthor offers a completely unique and stylish option that comes from Old Norse origin. It's a powerful option that means "one who thunders in the ocean".

Hali

Hali comes from Greek culture and is used for boys and girls alike. Meaning "the sea", it's a simple, yet attractive, choice.

Heimoana

Heimoana is a unisex name found in Tahitian and Maori cultures. It means "crown of the ocean; of the ocean".

Kai

Kai is a popular Hawaiian name that easily crosses the culture boundaries as well as being a gender-neutral option. Meaning "sea", this name takes simplicity and elevates it wonderfully.

Kaimana

Kaimana is a graceful unisex Hawaiian name. This unique choice means "the power of the ocean".

Lir

Lir is a strong Irish name. It works for those seeking a mythological name as it's the name of the Irish sea god.

Marinell

Marinell is a Latin name that works with boys and girls. It means "knight of the sea; from the sea".

Meryl

Meryl is typically used for girls, but it can fit boys as well. Backed by English origins, it means "shining sea".

Morgan

Morgan is a stylish unisex name with Welsh origins. It means "sea-born, sea strong, or sea circle".

Morwenna

Morwenna is a classic and strong Welsh name for girls. This is a good vintage option that means "waves of the sea".

Neri

Neri is a beautiful name with both Hebrew and Greek origins. Meaning "burning light or ocean spirit", this name has a nice modern feel to it even with its classic roots.

Ocean

Ocean is a nature name that has a gender-neutral feel to it. This has a great amount of depth to it, and given the name, it is fitting for parents who want their baby to represent the tremendous body of water.

Oki

Oki is an appealing name with Japanese origins. It's a good straightforward name choice that means "ocean centered".

Samudra

Samudra is a Hindu name used mainly for boys. It is a handsome option that means "ocean".

Tasi

Tasi is of Chamoru origins that is used as a gender-neutral option. This name means "sea or ocean".

Umiko

Umiko is a pleasant Japanese name. This is a great option for parents who hope for a baby that loves the beach and the ocean as it means "child of the sea".

Zealand

Zealand is an English place name that sounds cool when used for boys and girls. It means "sea land".
Peruse thousands of baby names on MomsWhoThink.com! And follow us on Pinterest for more parenting inspiration!