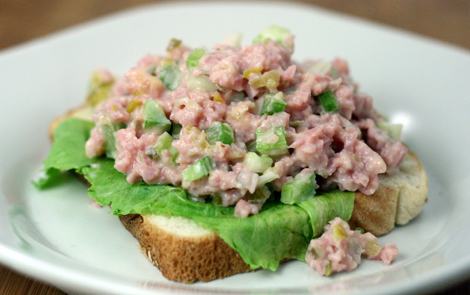 Ham Salad Recipe
Let's Get Ready for Baby!
Sign up for our monthly pregnancy email series, and you'll get regular updates on your baby's development, helpful timelines to get ready for their arrival, must-have baby needs and so much more! PLUS, you'll get instant access to the MomsWhoThink "Ultimate Guide to Baby Naming in 2022."
CLICK HERE
to get started!
This ham salad recipe sure brings back memories. The unmistakable taste of the smoked ham combined with the crunch of the pickle relish has that classic salty and sweet combination we frequently crave.
The bell pepper, celery and onion add even more flavor and color, and make it chunky so it can be served on a bed of lettuce, if desired, to have that "bite. Ham salad is a great use of leftovers from your ham recipes and a great salad to bring to a picnic.
Ham Salad
Ingredients:
2 cups mayonnaise
1 cup sweet pickle relish
2 teaspoons salt
1/2 teaspoon ground black pepper
2 pounds ham, smoked boneless (about 6 cups), finely diced
1 medium onion, finely diced (about 1/2 cup)
1 small green bell pepper, cored seeded (about 1 cup), finely diced
2 stalks celery, finely diced (about 1 cup)
Directions:
1. Stir the mayonnaise, relish, salt, and pepper in a large mixing bowl until blended.
2. Add the remaining ingredients and toss until coated.
3. Store the salad, covered, in the refrigerator.