Prepare to head to the Great Smoky Mountains and into the magical fall season at Dollywood. This is the time to enjoy the festivities of the Harvest Festival, featuring the best fall events, entertainment, and fun family activities. Dollywood and its stunning natural surroundings offer an incredible range of activities, so there's a lot to plan. But don't worry; this article will tell you everything you need to know to enjoy the perfect fall break at Dollywood.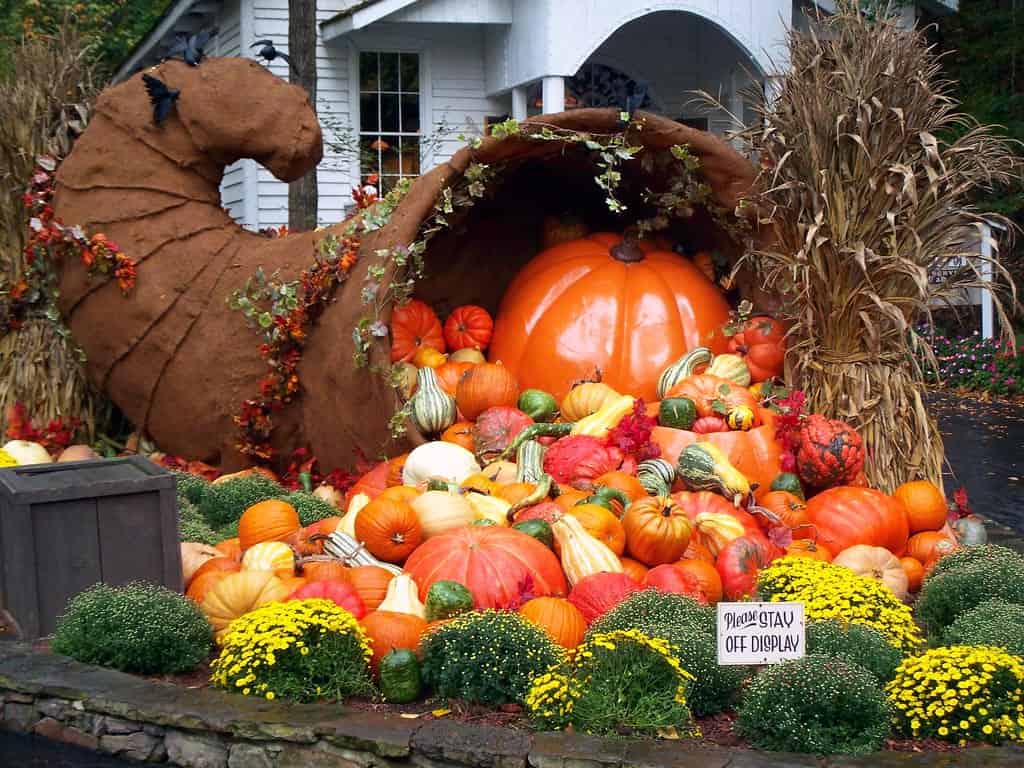 Special Events
The Harvest Festival spectacle set against the grandeur of the Smoky Mountains should not be missed. Plus, there's an array of other fun family events on offer during fall:
Harvest Festival
The Harvest Festival is a famous event popular with families from all over the country. It is an occasion where your family can take in the majesty of the mountains as the scenery comes to life with vivid colors and the fragrances of apple and pumpkin delights wafting through the streets. As the sun goes down, the park becomes an exquisite display of illuminated carved pumpkins. Shimmering pumpkin emblems will envelop your kids in a warm glow and make them feel like they're in a fairytale.
Great Pumpkin Luminights
When the sun goes down over the Smoky Mountains, the park is transformed into a display of autumn magnificence as larger-than-life pumpkin icons, and thousands of carved pumpkins light up the night. Your children will love strolling through a field of glistening sunflowers or observing a colony of illuminating frogs. And you can get a great family holiday snapshot in front of the towering pumpkin tree. The Great Pumpkin LumiNights is Dollywood's most anticipated event of the Harvest season. It is fun for guests of all ages.
Dreamland Drive-In
The Dreamland Drive-In event is held in Pines Theater. Parents will love the enthralling musical journey, which revives many classic tunes through the fantastic performances of a talented cast. Twelve fantastic performers, four live musicians, and skilled production staff bring the hits of the 1950s and 1960s to life.
Wings of America Birds of Prey
As these incredible birds of prey are displayed, your family will get the opportunity to look closely at them, learn some fascinating facts, and even witness some of them take flight. The American Eagle Foundation is responsible for caring for all of the birds of prey on display at Dollywood. Plan a fall visit to the Craftsman's Valley to see this delightful show.
Wild Roots Band
This ensemble pulls from the diverse musical history of the Smoky Mountains, allowing your family to immerse themselves in the traditional music of the region. Wild Roots will perform songs about faith, love, and celebration that have been passed down the generations. The event is located in the Show street Gazebo.
Smoky Mountain String Band
The Market Square Stage is the place to be to experience bluegrass music at its finest. You will be delighted by these amazing musicians. They entertain crowds with some of the most popular hits in bluegrass music.
Getting There
Dollywood is located at the entrance to the Great Smoky Mountains National Park. Therefore, driving is the most economical way to travel if you are in Nashville.
If you prefer to fly, Allegiant Air, United Airlines, Delta Airlines, and American Airlines are the airlines that provide service between Nashville International Airport and Knoxville International Airport. The shortest flight has one stoppage and takes 2 hours, 58 minutes.
Where to Stay
When traveling to Dollywood, you don't need to worry about where your family will find accommodation. Plenty of hotels are available, starting at around $100 per night.
Here are our favorites:
Dollywood's DreamMore Resort & Spa
To get the full Dollywood experience, plan to stay at Dollywood's DreamMore Resort. Pools, a fitness center, game rooms, storytime and so much more make this option a no-brainer. Not to mention, everything with Dolly's touch is gold! Plus it's near Dollywood and there are packages galore, making for great savings.
Twin Mountain Inn & Suites
The recently refurbished Twin Mountain & Suites in Pigeon Forge, Tennessee, provides an excellent standard of accommodation for an affordable price.
The hotel overlooks the Little Pigeon River. It features private river view balconies from which to enjoy the breathtaking surroundings. There's also free parking and an outdoor pool if you want to brave the fall conditions.
Twin Mountain Inn & Suites is conveniently close to Dolly Parton's Stampede. In addition, Hatfield and McCoy's Dinner Theater, Wonderworks, the Great Smoky Mountains National Park, and numerous well-known stores and restaurants are nearby.
RiverStone Resort & Spa
Your family will have a wonderful time discovering the natural beauty of the Smoky Mountains while staying in one of these luxurious one- to four-bedroom condos located only one mile from Dollywood. The open floor plan accommodation features fireplaces, flat-screen TVs, and fully equipped kitchens. RiverStone Resort & Spa also has a children's playground if your children are not yet exhausted after their day at Dollywood.
All Season Suites
All Season Suites is another option in the hub of Pigeon Forge. It is noted for its tranquil atmosphere and proximity to restaurants and entertainment. The All Season Suites is a non-smoking hotel popular with families. Its family-friendly facilities include a game room to keep your kids entertained. Plus, there is an option of a complimentary 'grab-and-go' breakfast so you can head off to Dollywood without delay. All Season Suites amenities include flat-screen TVs, kitchenettes, air conditioning, onsite laundry, and free WiFi.
Where to Eat
When dining at one of the eateries in the park offering table service, you don't need to make reservations in advance. Instead, you can visit the Front Porch Café or Aunt Granny's Restaurant early in the day to place your name on a list to dine there later. But be warned, there is limited capacity.
Besides the many park eateries, there are many restaurant options outside Dollywood. These range from high-quality seafood establishments to delicious comfort food specialties.
These are three of the best dining options to put on your list:
Chesapeake's Restaurant
Chesapeake serves mouth-watering seafood of excellent quality. Freshness is guaranteed with seafood flown in every day. Choose a spot on the heated patio to suitably savor your seafood feast. Pick out a live Maine lobster, crab cakes, and other ocean delights. Of course, if you'd rather eat land-based food than seafood, you can try a filet mignon or a prime-grade New York strip steak.
The Old Mill Restaurant
Visit a Pigeon Forge institution by getting along to the Old Mill. It serves delicious Southern-style comfort food perfect for warming up in the cool fall temperatures. Additionally, your kids can enjoy the spectacle of the 200-year-old mill and water wheel while enjoying their meals. At Old Mill, you can order a hot breakfast right off the grill, a tasty lunch or dinner with corn chowder and fritters, or a snack between meals. Kids are well catered for with their set menu options, including drinks and dessert.
Special Discounts
To be well prepared, you can buy your tickets online. Alternatively, purchase directly at the park after checking the discount rates available. Here are some extra tips about choosing your tickets to Dollywood:
Children under the age of 3 do not need a ticket to enter Dollywood or Dollywood's Splash Country
Tickets for adults are available to anyone aged 10 to 61.
Seniors are categorized as 62 years and over.
Military Discount is available.
You can buy 1-day to 3-day theme park tickets, with packages that also include Splash Country.
Access tickets can be bundled with on-site hotel reservations.
You can check all ticket options here.
Conclusion
Dollywood has become one of the world's most loved and awarded theme parks, thanks to its unique combination of relaxed ambiance, exciting rides, and talent-filled shows. With the bonus of plenty of fun family activities and its stunning natural beauty, it is an experience not to be missed.
If your kids are at the right age to appreciate Dollywood and its surrounding natural attractions, fall is the perfect opportunity to plan your trip. You can fast-track your adventure to Dollywood by using the provided links throughout this article to book your tickets and start planning your dream family getaway this fall.
RELATED LINKS:
Fall Break at Hersheypark
Fall Break at Legoland
Fall Break at Kentucky Kingdom
The image featured at the top of this post is ©Jim R Rogers / CC BY-SA 2.0, Flickr.