Cookie Recipes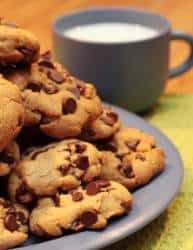 Everyone loves cookies and has a favorite cookie recipe that brings back fond memories of their favorite; warm and soft right out of the oven. With our yummy cookie recipes, you can bake your favorites or try new ones; we have over 40 of the best and popular cookie recipes to choose from.
Whether for holiday cookie baking or a homemade treat for filling the cookie jar, we have the cookie recipes for you. From the old-fashioned, to the tried and true favorites, to the quick and easy recipes, they're all here!
Be sure to check out our special Christmas Cookies recipe section with hundreds of the best Christmas cookie recipes. It doesn't have to be Christmas to make special cookies!