Arizona is a unique baby name suitable for girls and boys. Lyrical in expression, Arizona originated as a regional term and later became the name of the 48th U.S. state. The name also has a recognizable role in popular culture. Arizona Robbins is the name of the pediatric surgeon on Grey's Anatomy, and Arizona Annie is a heroine in the Marvel Comics universe. Keep reading to learn more about this name.
Meaning of the name Arizona:
Basque: Good oak
O'odham: Little springs
Origin of the name Arizona:
Arizona is a place name with two possible origins. The first origin is from the Basque expression haritz ona (meaning "good oak"). This phrase referred to pastures that supported Basque sheepherders in the area. A second possible origin is from the O'odham phrase alĭ ṣonak (meaning "small spring").
Symbolism of the name Arizona:
Arizona is a state name that became a popular given name during the first decade of the 20th century. Some experts believe that Arizona will undergo a revival similar to other state names like Carolina, Virginia, and Dakota. The major symbol of Arizona is the sun ray (emblematic of the state's picturesque sunsets). Other symbols include copper and silver (representative of the Arizona's notable mining industries).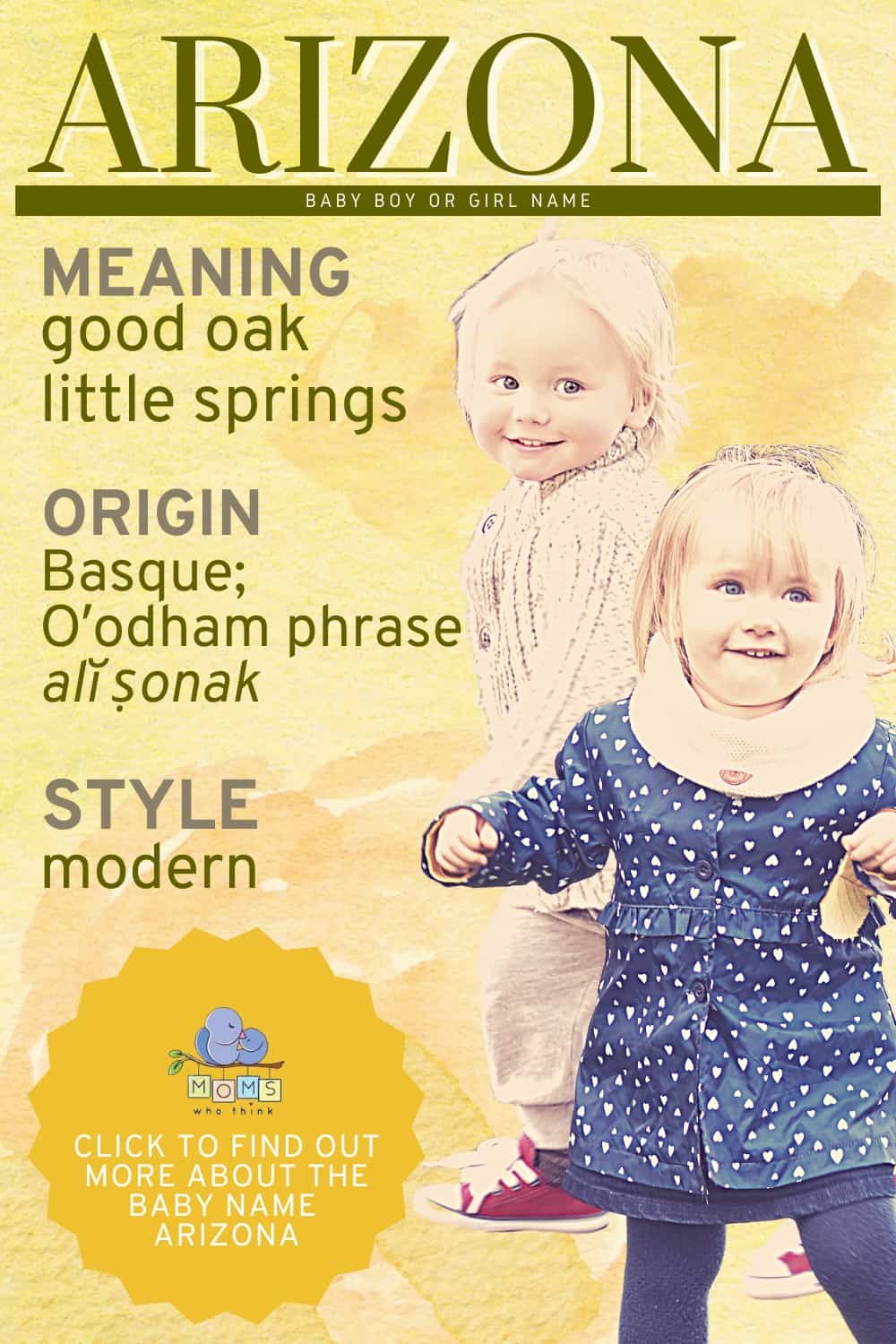 Style of the name Arizona:
Modern
Gender of the name Arizona:
Arizona is a name for both boys and girls.
Pronunciation of the name Arizona:
air-eh-ZOH-nah
Number of syllables in the name Arizona:
Four
Emotion evoked from the name Arizona:
The name Arizona evokes feelings of idealism and independence.
Alternative spellings for the name Arizona:
Nicknames for the name Arizona:
Popularity of the name Arizona:
According to the Social Security Administration index, Arizona was the 1,428th most popular baby name for girls in 2020.
Related names for the name Arizona:
Great middle names for Arizona and their meanings:
Adair (happy spear)
Brooks (freshwater streams)
Cove (sheltered bay)
Daphne (laurel tree)
Dian (divine, candle)
Hailey (hay meadow)
Langley (long meadow)
Madison (gift of God, tower, mighty in battle)
Meredith (great ruler)
Pilar (column, pillar)
Raven (blackbird)
Raven (blackbird)
Reign (royal power, sovereignty)
Wade (ford, cross)
Famous people with the name Arizona:
Arizona in popular culture:
Arizona Annie (heroine in the Marvel Comics universe)
Arizona Beverage Company (beverage company headquartered in Woodbury, New York)
Arizona Robbins (pediatric surgeon on Grey's Anatomy)