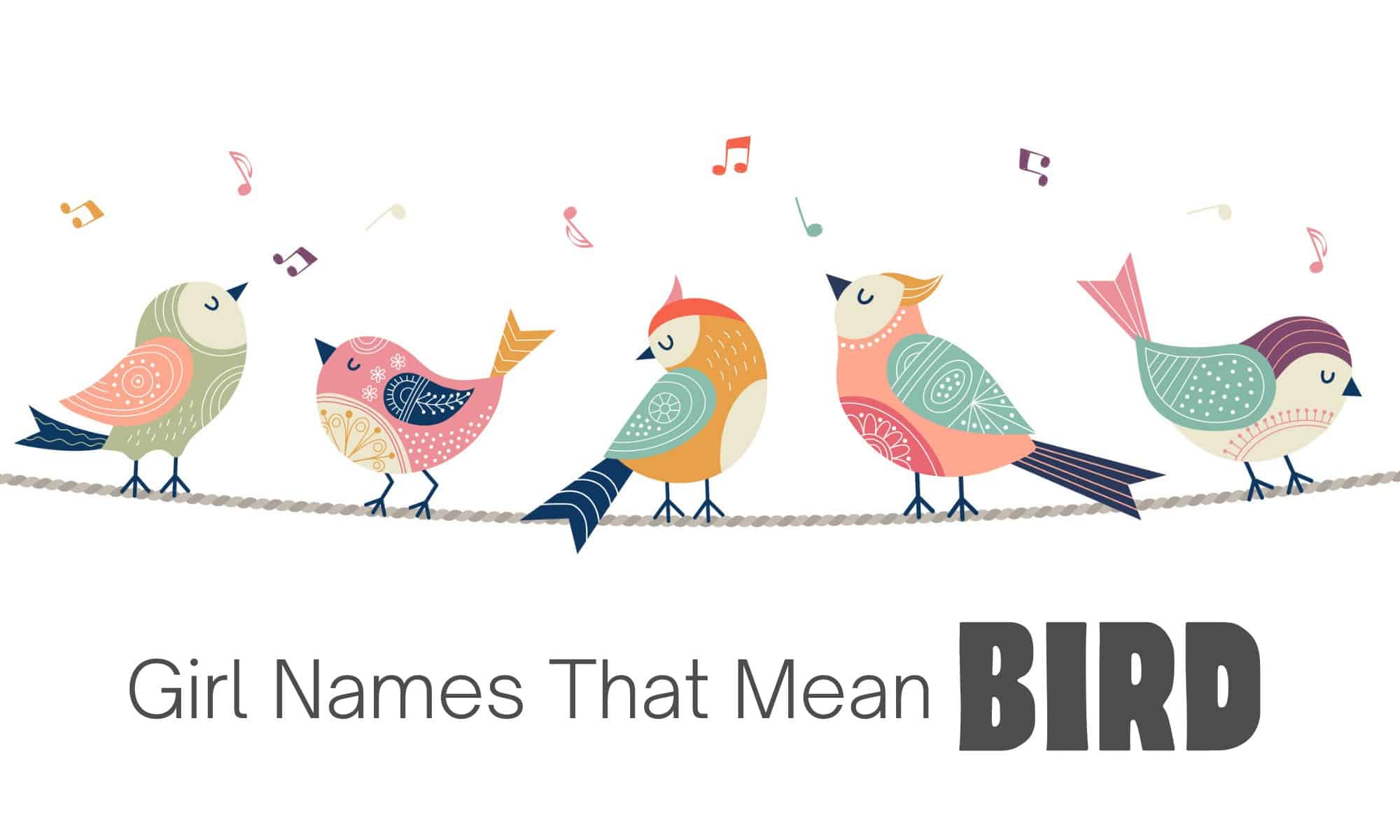 This list of girl names that mean bird captures the essence of these beautiful creatures and all of their fascinating features. From Cholena, which simply means "bird," to Rosella, which refers to a species of parrot," each of these baby names are delightful and feminine. Take a look and find the perfect name for your daughter.
RELATED: More Baby Names That Mean Bird
Aghavni

Aghavni is an Armenian name for 'dove.' The name is uncommon in the U.S. and is pronounced ah-gahv-nee.

Alouette

Alouette is an adorable name that will make you smile each time you say it. It's a French name meaning lark.

Andlib

Andlib is a feminine name of Indian origin. It means 'bird' or 'one who is always happy.'

Aviana

The name Aviana combines the vintage feel of Ava with the trendy vibe of Ariana. It is the Latin version of Avis, which means bird. Actress Amy Adams and artist Darren Le Gallo gave this name to their daughter.

Birdena

A close contender to Birdie, Birdena means 'little bird.' It is a female moniker with German and American roots. Birdene is a variant of this name.

Cholena

Cholena is a Native American name. It's a perfect girl's name, meaning 'bird.'

Dayah

The name Dayah is of Hebrew origin and means 'bird of prey.' Daya is an alternate spelling.

Derora

Derora refers to a graceful songbird called the 'swallow.' It is of Hebrew origin and also means 'free.'

Doli

is a Native American Navajo name, meaning 'bluebird.' It also means 'gift from God.'

Eilley

The name Eilley is practically made for a cute little girl. It is of Irish origin and defines a 'beautiful bird.'

Jarita

Jarita is a beautiful name of Sanskrit origin. The name refers to a 'mythical bird' known for her devotion to her children.

Jailene

Jailene comprises the names Jay and Ailene. It's an American name that describes a 'gorgeous bird.'

Linnet

Linnet is a small bird belonging to the finch family. It's also a female name of Welsh origin.

Loa

Loa is a Scandinavian name. Pronounced LOO-ah, it means 'spring bird.'

Luscinia

Luscinia is a small bird related to the nightingale. It has German, Italian, and Latin roots. In Roman mythology, Luscinia is the goddess who gives newborns their first light.

Mavis

Mavis refers to a songbird that makes loud calls. It is of French origin. The name also has Welsh roots and has remained a Top 1000 name in the U.S. since 2016.

Nydia

Nydia is a Latin name, meaning nest. The name also belongs to Nydia Velazquez, the first female Puerto Rican member of Congress.

Palila

Palila is a cute name with wings. It means bird in the Hawaiian language.

Paloma

If you want to pay homage to your Spanish roots, Paloma is a sweet-sounding name, meaning dove. It's also a symbol of peace.

Rosella

Rosella is a parrot species found in Australia. The name also refers to a 'rose' and has Latin and French roots.

Sarika

Sarika is an Indian name that means 'talking bird.' It's also the Hungarian version of the name Sarah.

Starling

Starling is a bird known for its spotted plumage with a metallic sheen. Variants of the name include Starlyn and Starlin.

Sephora

Sephora is a simplified version of the Hebrew tzipporah, which means 'bird.' The name also has Biblical significance as it belonged to Moses' wife.

Suzume

Suzume is a Japanese name meaning, 'sparrow.' It's a great alternative to Susan.

Usoa

Usoa is a Basque name, meaning 'dove.' It also has African roots and is pronounced yu-so-ah.
Peruse thousands of baby names on MomsWhoThink.com! And follow us on Pinterest for more parenting inspiration!