The Appalachian state of West Virginia is known for its natural beauty, low cost of living, and friendly communities. The state offers plenty of outdoor fun with its stunning mountain ranges, dense forests, and flowing rivers. Moreover, the city offers vast business and work opportunities, making it one of the best US states to live, work, and visit.
West Virginia also boasts a comprehensive education reform plan that has significantly improved student outcomes and raised the overall quality of education in the state. The 57 WV school districts have some of the best, highest-ranking schools serving PK-12. Thus, you have vast options when looking for the right institution to maximize your young learner's social, academic, and extracurricular potential.
This detailed review simplifies your search by covering the ten best schools in West Virginia today.
Best Elementary Schools
Kenna Elementary School
198 Eureka Rd, Charleston, West Virginia 25314
Kenna Elementary School has been a vital part of the Charleston community since opening its doors for the first time. The top-ranking public institution caters to 158 scholars from prekindergarten to fifth grade. This population comprises 59% males and 41% females, while 19% of students are members of minority communities. Moreover, economically disadvantaged scholars form 26%.
This diverse and talented student body thrives on the guidance of 10 board-licensed tutors and one full-time counselor. As a result, the teacher-student ratio is 1:16, higher than the district's percentage.
Regardless, the dedicated tutors provide young students with a robust foundation in core subjects, including math, language, and social studies. They also ensure an ideal environment for students to navigate the rigorous curriculum and come out as responsible citizens skilled in solving societal problems.
Performance-wise, Kenna Elementary excels in state-required assessments and student graduation levels. The institution ranks in the fourth position among 364 schools ranked in the state and is the best elementary school in Kanawha County. It's also the third best for math proficiency, and 82% of learners attained the proficiency level.
Besides academics, Kenna Elementary students thrive in extracurricular activities that stimulate collaboration and help them explore their talents.
Rock Branch Elementary
4616 1St Ave, Nitro, West Virginia 25143
If you reside in West Virginia's Nitro suburb, Rock Branch Elementary can make a perfect pick for a primary education center. Locals consider it Putnam County's hidden gem, and the faculty communicates to students the significance of taking pride in all their actions. These include academic excellence, collaboration, and providing each other with social-emotional support.
Rock Branch serves 207 students from prekindergarten to fifth grade with a 6% minority student enrollment. Female students dominate the populace, forming 54%, while boys constitute 46%. Moreover, financially limited learners form 57%.
These students are in the safe and able hands of 19 seasoned instructors, translating to a 1:11 teacher-student ratio. In addition, tutors offer vast enrichment programs, including art, music, and physical education. Thus, students can nurture their talents and explore their interests in a conducive environment.
Rock Branch Elementary School's Professional Learning Communities have become a crucial facility component. The school's culture of sharing ideas and experiences has influenced the facility's performance in statewide assessments and graduation levels.
Rock Branch ranks third-best in the state and has a GreatSchools.org 8/10 summary rating. The school also tops its peers in Putnam County and ranks #3 for math proficiency. In addition, 82% of students attained the math proficiency level.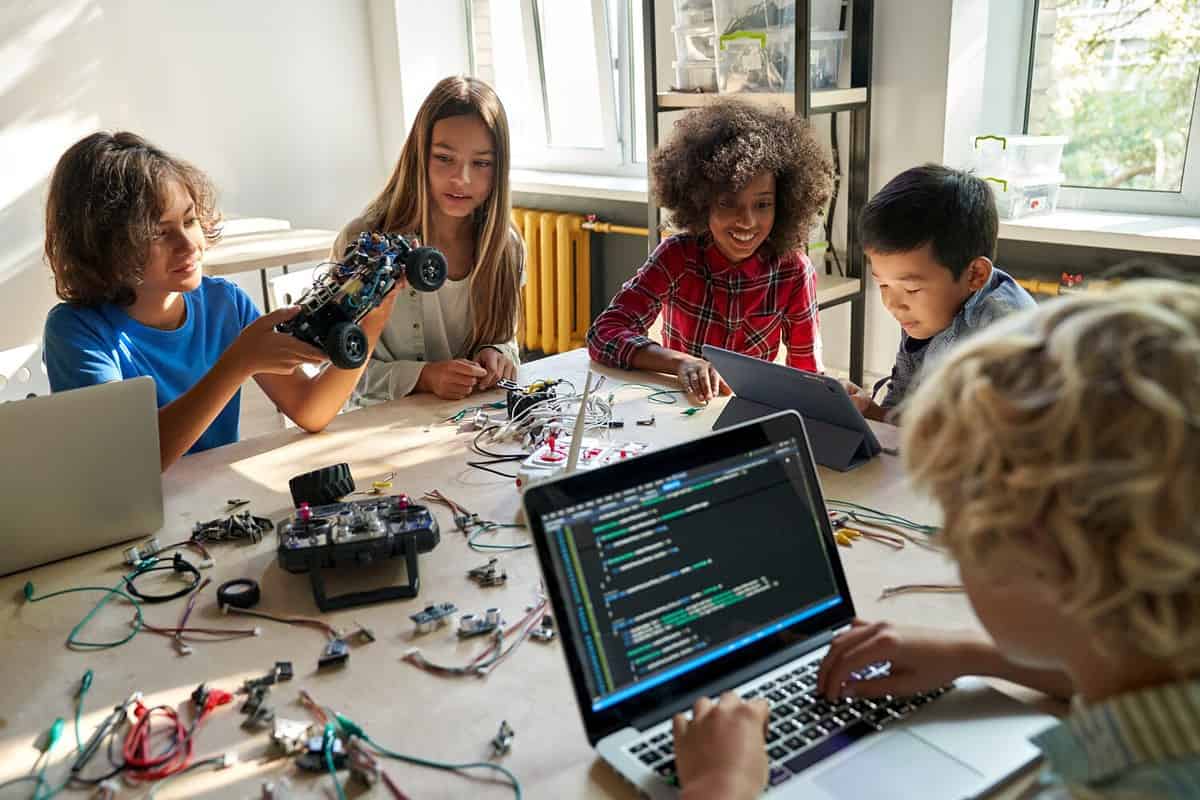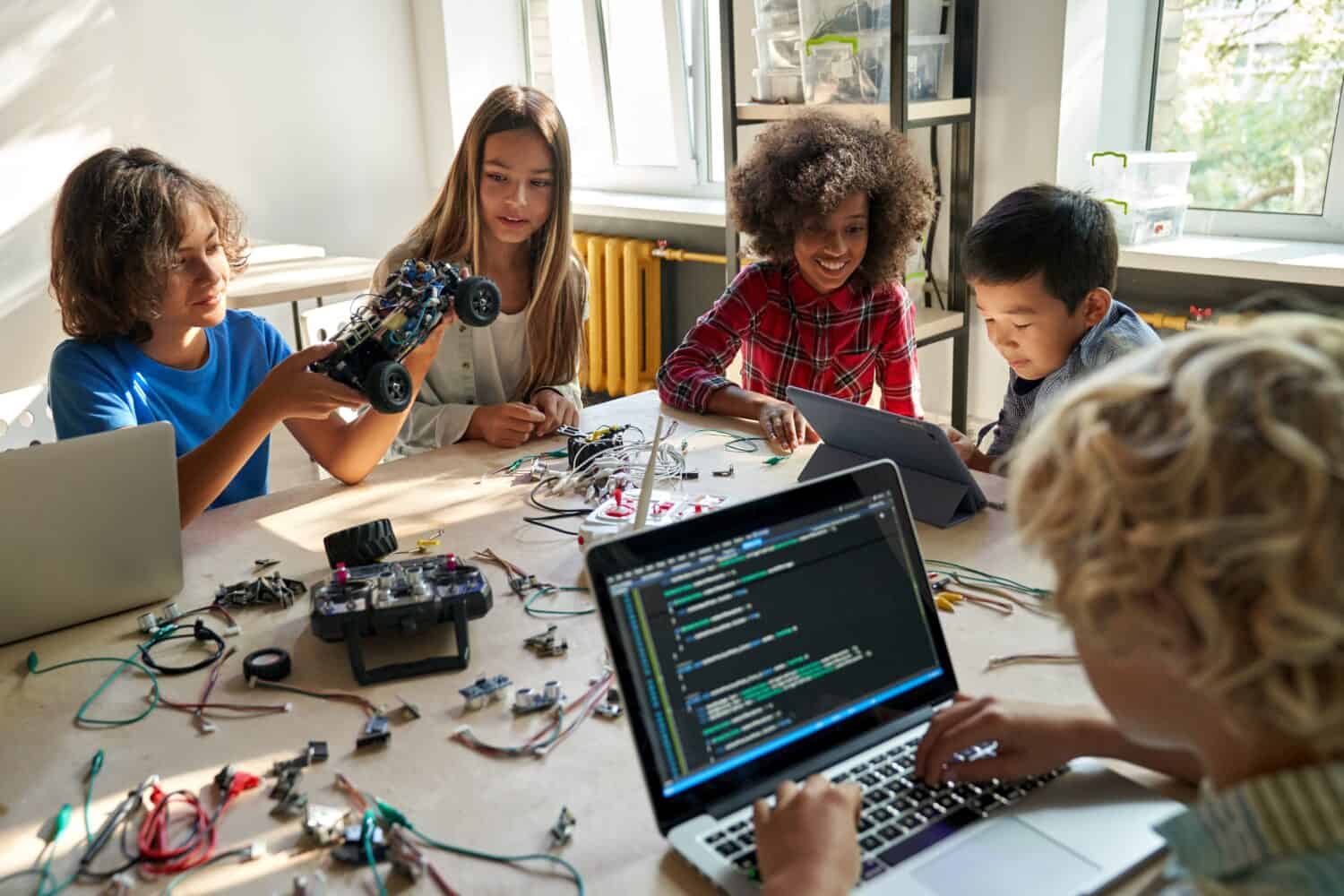 Junior Elementary
49 West 1St Street, Junior, West Virginia 26250
Junior Elementary School is in the distant rural setting of Junior, WV, and is part of the Barbour County School District. The facility serves 102 students between kindergarten and fourth grade, a population that's primarily female. Girls compose 53% of the population, while boys comprise 47%. Moreover, financially disadvantaged students comprise 54%.
One of the notable aspects of Junior Elementary is the dedicated staff team and school administration. The school has nine board-licensed tutors working alongside one counselor. As a result, the school boasts one of the most flexible tutor-student ratios of 1:12.
These teachers guide students through the school's demanding curriculum to ensure they reach their full potential. Tutors also strive to nurture independent thinkers and visionary leaders of the future. Looking at how students perform in state-mandated assessment and graduation levels, the efforts of this dedicated team are paying off.
Junior Elementary ranks second best in West Virginia state rankings and is the top elementary school under the Barbour County Board of Education. Moreover, students exhibited prowess in math, as 85% attained or surpassed the subject's proficiency level. All these notable results have earned the facility a GreatSchools.org 9/10 summary rating.
Evans Elementary School
205 School House Drive, Evans, West Virginia 25241
Evans Elementary School is in the distant town setting of Evans and is part of the Mason County School District. The school has been a vital hub for the community, providing quality education to the region's brightest students from prekindergarten to fifth grade.
The facility serves 143 students, comprising 55% female learners and 55% males. In addition, 3% of this population are minority students, while 25% come from needy families.
Besides its diverse student body, the institution boasts a seasoned staff team comprising ten full-time teachers. This results in a teacher-student ratio of 1:14. While the ratio is slightly lower than the Jackson County School District's average, tutors still deliver one of the best instruction structures in the country.
The curriculum at Evans Elementary emphasizes a well-rounded education focusing on core subjects such as mathematics, science, social studies, and English language arts. Furthermore, the institution offers various extracurricular activities, including music, art, and physical education. Therefore, your child will access diverse collaboration and learning opportunities.
Evans Elementary is among the best performing in the nation, ranking at the top in state rankings and among its peers in Jackson County. The facility ranks #1 for math proficiency, with 87% of students attaining or surpassing the subject's proficiency level. Moreover, the school has a 9/10 GreatSchools.org summary rating.
Best Middle Schools
John Adams Middle School
2002 Presidential Drive, Charleston, West Virginia 25314
John Adams Middle School should top your priority list if you're a Charleston resident. Besides ranking among the state's top performers, the school tailors its curriculum and instruction schedules to equip your child with the necessary skills to succeed in their future endeavors. Moreover, collaboration is part and parcel of the school's culture, and the faculty guides all stakeholders toward the vision of academic excellence and whole growth.
The school serves 762 talented learners from sixth to eighth grade with a 17% minority student enrollment. Girls are 51% of the population, while boys comprise 49%. In addition, 28% of enrollment vacancies are available to students with financial hardships.
The staff team at John Adams comprises 43 seasoned instructors and a counselor. This number translates to a tutor-student ratio of 1:18. Together, these dedicated members work around the clock to maintain the school's welcoming and secure learning environment, meet instruction goals, and nurture students' all-around growth.
John Adams middle school performed exceptionally in the latest statewide assessments and student high school preparation. Out of the 163 ranked middle schools in the state, the facility takes up the third position overall and is the third best in math proficiency. It also ranks #1 among its equivalents in Kanawha County.
Williamstown Middle School
219 W 5Th St, Williamstown, West Virginia 26187
Williamstown Middle School is another great option for West Virginia parents, particularly those residing in the Williamston mid-sized city. The institution boasts a rich history and a proud academic excellence tradition and has maintained this reputation since its opening in 1905. Its mission is to provide an environment that nurtures self-discipline and helps learners reach their full potential.
Williamstown Middle serves 667 students between seventh and twelfth grade with a 3% minority student enrollment rate. Female students are more populous in this facility, making up 52% of the population, while the boys make up 48%. Moreover, learners from financially limited homes form 30%.
The faculty boasts a seasoned team of 43 certified tutors and two counselors. As a result, the teacher-student ratio is 1:16, which is pretty stretched compared to the district's average. The tutors guide students through the institution's rigorous curriculum and strive to ensure a conducive learning environment.
Williamstown High School performs exceptionally in statewide examinations, and graduates are usually sufficiently prepared for high school. Compared to other high schools in the state, the facility ranks at #2. Moreover, it's the top middle school in Wood County and has an 8/10 GreatSchool.org summary rating.
Students also triumphed in math, with 53% passing the subject's proficiency threshold, earning the facility a #2 math proficiency rank.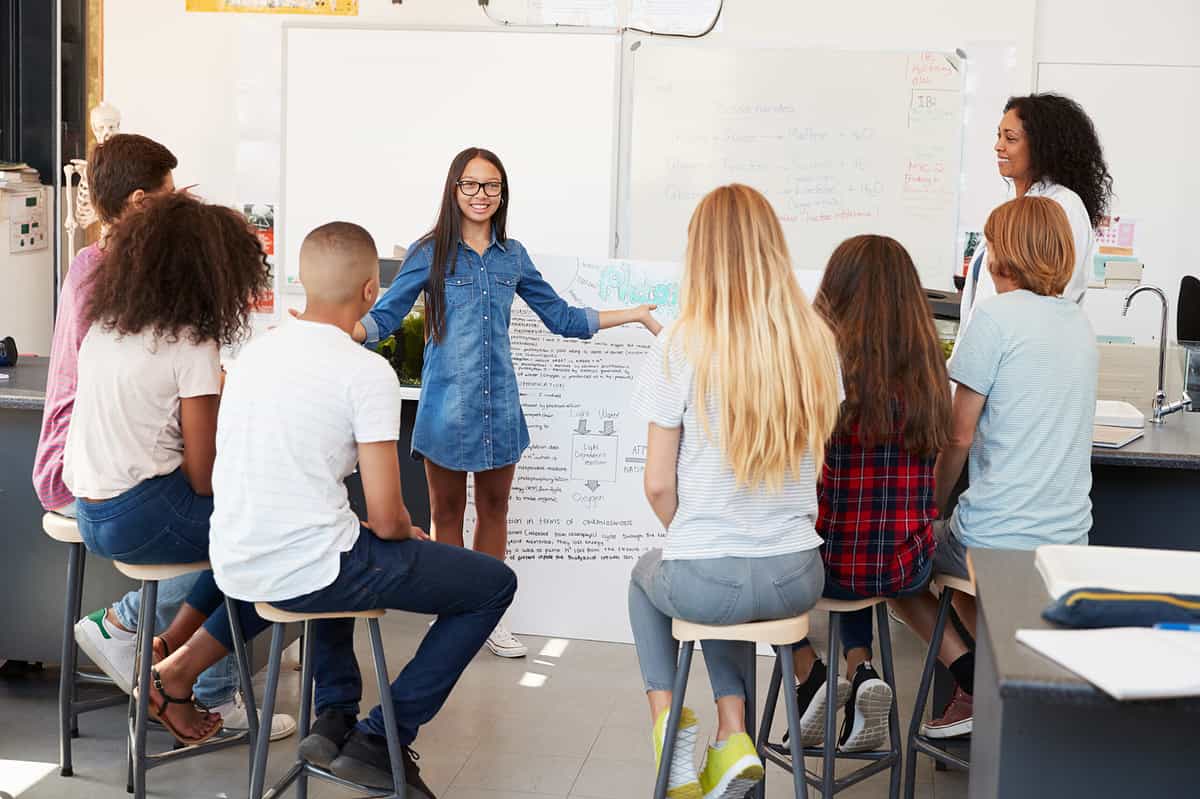 Fairview Middle School
17 Jesses Run Road, Fairview, West Virginia 26570
It's fair to say that Fairview Middle School put Marion County on the academic map. The institution serves 202 students between the fourth and eighth grades. Of this population, 51% are male, while 49% are female. In addition, the facility's minority enrollment rate is 2%, and students from financially limited families form 51% of the masses.
A dedicated and caring staff team addresses these talented students' academic and growth needs. The full-time crew comprises 15 tutors and one counselor, forming a 1:13 teacher-student ratio. This composition is better than the Fairview Public School District's average.
Fairview's curriculum goes beyond solidifying students' foundation in core subjects to introduce young students to technology. The institution leverages advanced educational resources and tools to ensure students experience learning in the way they understand best. Furthermore, the tutors leverage research-based instruction material and strategies to prepare learners adequately for the future. The school's latest rankings will tell you just how effective this system is.
Fairview Middle School ranks top among Western Virginia's middle schools. It also ranks as the best in Marion County and leads the state in math proficiency, with 64% of students exceeding the math-proficient level. In addition, the school has a 7/10 GreatSchools.org summary rating.
Best High Schools
Morgantown High School
109 Wilson Avenue, Morgantown, West Virginia 26501
Morgantown High School must always feature in any review covering the best high schools in West Virginia. The facility has maintained its excellent tradition for over a century, which reflects in its students, facilities, and faculty. Moreover, the institution provides an exemplary learning environment nurturing students' personal development, intellectual advancement, and responsible global citizenship.
The institution serves 1,847 scholars with a 19% minority enrollment. These learners collaborate with 100 tutors to navigate the difficult yet rewarding curriculum. The entire population translates to a tutor-student ratio of 1:18.
Besides adequately preparing learners for college, the facility also prioritizes and grants the necessary educational background for students seeking to join the workforce without going to college. Thus, your student can still achieve their dream career without attending college first. The facility combines computer technology capabilities with innovative teaching strategies to achieve this.
This high school is ranked #1,289 in the national rankings and is the third-best high school in West Virginia. It is also the top-ranked high school in the Morgantown metro area and the Monongalia County Schools district. Finally, GreatSchools.org awards Morgantown High School a 6/10 summary rating.
Academics aside, the institution offers vast extracurricular activities and clubs that allow students to grow in other aspects of their life.
Wesley G. Bush – Former CEO of Northrop Grumman
Joseph E. Antonini – Former CEO of K-mart
Tommy Bowden – Former head football coach at Clemson University
Thomas W. Bennett – Second conscientious objector to receive the Medal of Honor
Chaim Gingold – Game designer known for Spore
Don Knotts – Actor
David Newbold – Comic book artist
David Selby – Actor
Charles M. Vest – Former president of MIT
Bridgeport High School
515 Johnson Ave, Bridgeport, West Virginia 26330
Bridgeport High School is in the city of Bridgeport, West Virginia, within the Harrison County School District. The school was founded in 1969 and has since been a prominent institution in the community, providing education to students from ninth through twelfth grade. Bridgeport is among the six high schools in Harrison County.
The student population at Bridgeport High School is 825, with an 8% minority enrollment. The students are all under the guidance and care of 51 board-licensed tutors. Consequently, the school's teacher-student ratio is 1:16.
The faculty prides itself on modeling equity and excellence in every child's education. Whatever grade you enroll your child in, the school guarantees quality education, efficient structures and systems, and a success-focused culture.
Besides the standard high school program, the facility offers advanced placement programs and examinations at an AP participation rate of 45%.
This school ranks #933 in the United States and is the second-best high school in West Virginia. It's also the best high school in the Clarksburg, West Virginia Metro Area, and among Harrison County Schools. Finally, GreatSchools.org awards the facility a 9/10 summary rating.
Nancy Jacobs – Former Maryland State Senator
Tim Lindsey – Former long snapper for the Seattle Seahawks
Babe Barna – Retired Major League outfielder
Harrison Musgrave – Former pitcher for the Colorado Rockies
Kelli Ward – Former Arizona Republican Party Chairwoman
George Washington High School
1522 Tennis Club Rd, Charleston, West Virginia 25314
Charleston's George Washington High School stands out in performance and school culture. The institution believes that all community members, including tutors, students, the administration, and parents, should have mutual respect. The school also prioritizes quality instruction, self-direction, support, and a challenging curriculum.
George Washington High caters to 1,134 students, and the minority enrollment rate is 15%. The facility also boasts a dedicated and seasoned staff team comprising 49 tutors. Thus, the teacher-student ratio is 1:23.
These tutors provide an enabling environment for academic excellence and personal growth and guide learners through a rigorous academic experience to prepare them for successful educational and career progression. Moreover, students can take advanced placement programs; George Washington High has a 38% AP participation rate.
This high school is the #1 school in West Virginia, the Charleston metro area, and the district. Nationally, it is ranked #812, and GreatSchools.org awards the school an 8/10 summary rating.
The impressive rankings at the county, state, and national levels demonstrate the George Washington high school's commitment to providing quality education focused on academic excellence and whole growth.
Ann Magnuson – Actress
Jennifer Garner – Actress
Bob Wise – 33rd Governor of West Virginia
Sam Trammell – Actor
Ryan Switzer – Former wide receiver and punt returner for the Cleveland Browns
Danny Jones – Former mayor of Charleston, West Virginia
Conor Knighton – Actor and television host
Anne White – Former professional tennis player
So, How Do You Finally Settle At the Right School?
The above highlights have simplified your search. But choosing the perfect fit from any of the above categories is still difficult. All the above options offer a learning environment of serenity, unique school cultures, and all-inclusive curriculums to nurture responsible and valuable global citizens.
You must prioritize multiple factors to get a school that your child will appreciate. First, consider the facility's academic performance and how it fairs in extracurricular activities. You should also consider a school you can easily access via public transport.
It's also important to ensure that the school's values and culture match your family's goals, beliefs, and priorities. Finally, consider an institution's teacher-student ratio, resources, and learning facilities.
The image featured at the top of this post is ©Sakura Image Inc/Shutterstock.com.