Let's Get Ready for Baby!
Sign up for our monthly pregnancy email series, and you'll get regular updates on your baby's development, helpful timelines to get ready for their arrival, must-have baby needs and so much more! PLUS, you'll get instant access to the MomsWhoThink "Ultimate Guide to Baby Naming in 2022."
CLICK HERE
to get started!
The name Sidney is a multicultural name with origins in both France and England. It originated as a surname in each of these countries for families from certain towns. Now, the unisex first name was once a top 300 option in America.
Meaning of the name Sidney:
French: Saint-Denis
English: wide island
Origin of the name Sidney:
Sidney began as a surname in England for individuals from certain places in England. These places typically at least had the prefix, "sid." Some also believe that the name came as a surname for individuals from a town in France called Saint-Denis.
Symbolism of the name Sidney:
Sidney means Saint-Denis in France as it is literally the name of the town where those with the surname come from. In English, it means "wide island" because "sid" means "wide" and "eg" means "island."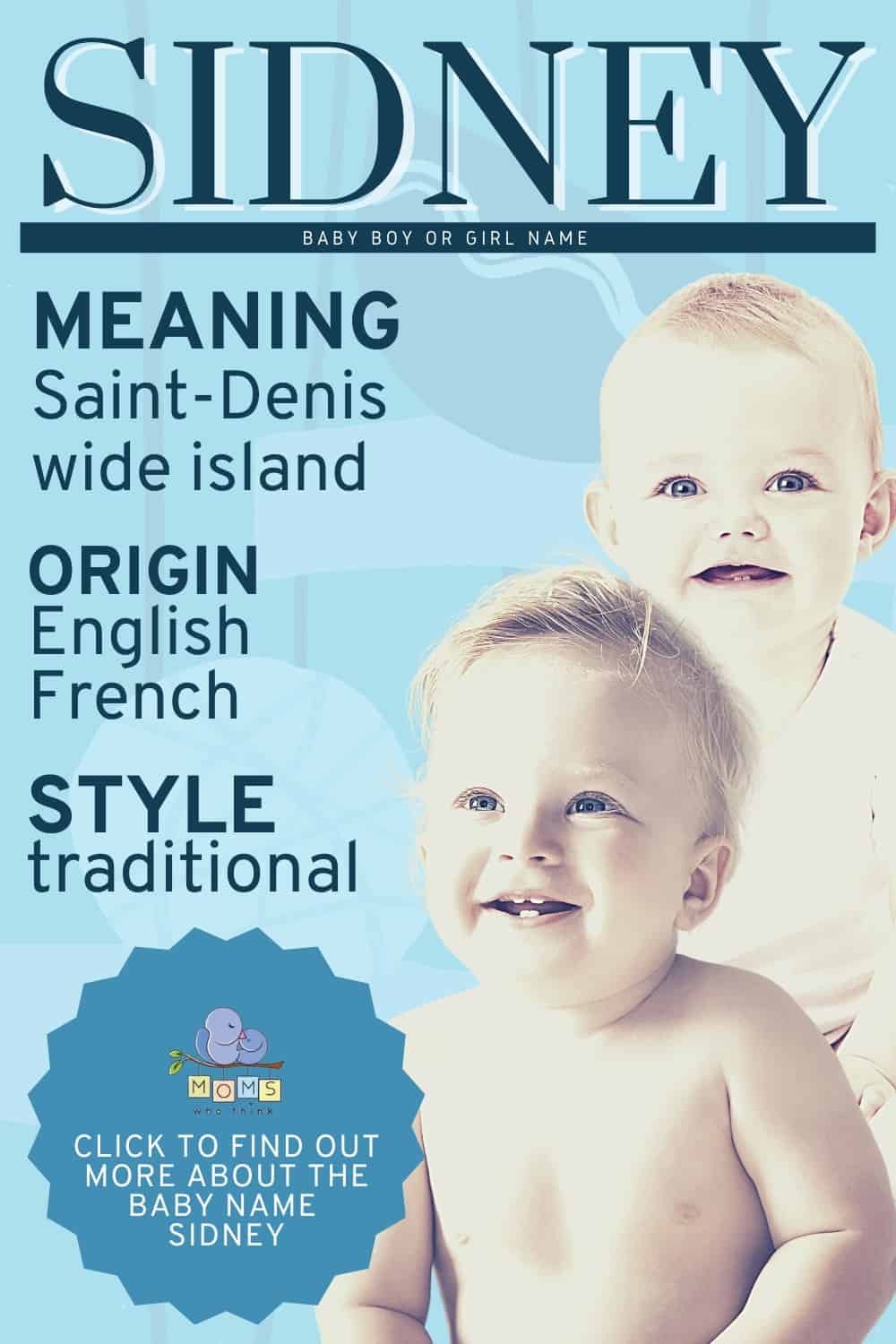 Style of the name Sidney:
Traditional
Gender of the name Aden:
Sidney is a unisex baby name that is slightly more popular for girls.
Pronunciation of the name Sidney:
SID-nee
Number of syllables in the name Sidney:
Two
Emotion evoked from the name Sidney:
Sidney is a strong baby name for girls or boys. It has a serious side to it while maintaining kindness.
Alternative spellings for the name Sidney:
Sidnee
Sydnee
Sidneigh
Sydneigh
Sydnei
Sidnei
Nicknames for the name Sidney:
Sid
Sids
Nee
Siddie
Nee Nee
Siddy
Sinnie
Sinny
Popularity of the name Sidney:
Sidney was the most popular from 1997 to 2001 on the top 300 list. In 1999, it was rank 258. The name has not been a top 1,000 name since the year 2014 in recent years, however, when it was rank 916. It was also not a top 1,000 name from 1952 to 1990, however.
Related names for the name Sidney:
Great middle names for Sidney and their meanings:
Blake (swarthy, dark-haired)
Cole (charcoal)
Grady (noble)
Corbin (little crow, raven)
Mason (stone worker)
Taylor (tailor)
Kate (pure, clear)
Blair (plain, meadow, field)
Mara (bitter)
Eliza (my God is an oath)
Famous people with the name Sidney:
Sidneys in popular culture: