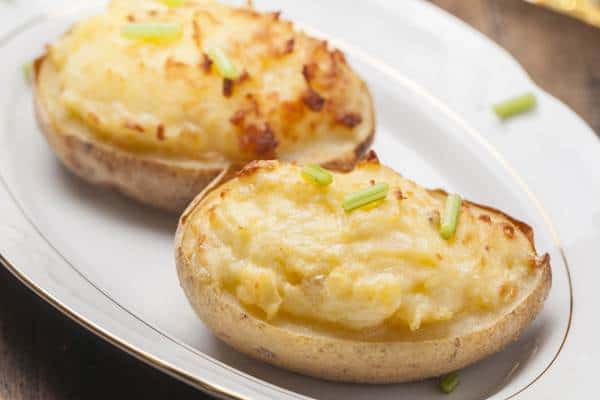 Healthy Cheese Stuffed Potatoes
These healthy cheese-stuffed potatoes are a quick but elegant side dish that will make any dinner seem extra special.
The whole milk we used gives the filling of these potatoes a rich, creamy texture, but adds almost no fat. The cottage cheese is a healthy eater's best friend, light, satisifying and filling, with low fat and calories, and a calcium boost as well.
Ingredients:
4 (8 ounces each) baking potatoes
7/8 cup lowfat cottage cheese
2 Tablespoons whole milk
2 Tablespoons onion, minced
1/4 teaspoon paprika
Directions:
1. Scrub potatoes and remove any blemishes.
BAKING – CONVENTIONAL METHOD:
1. Preheat oven to 400 degrees F.
2. Place potatoes in oven and bake until tender, about 30 to 40 minutes.
BAKING – MICROWAVE METHOD:
1. Pierce potatoes by using fork prongs.
2. Cover potatoes with waxed paper. Heat on high until tender, about 5 to 10 minutes.
TO STUFF POTATOES:
1. Slice each potato in half, lengthwise. Using a spoon, scoop out pulp, leaving about 1/4-inch
thick shells, saving pulp.
2. Blend cheese, milk, and onion. Add potato pulp; mix until light and fluffy.
3. Fill potato halves with mixture. Sprinkle paprika over potatoes.
Note: Return to oven or microwave to reheat, for a few minutes, if desired.
Makes 4 Servings, two potato halves each
PER SERVING:
Calories 250
Total fat 1 gram
Saturated fat 1 gram
Cholesterol 5 milligrams
Sodium 216 milligrams