Let's Get Ready for Baby!
Sign up for our monthly pregnancy email series, and you'll get regular updates on your baby's development, helpful timelines to get ready for their arrival, must-have baby needs and so much more! PLUS, you'll get instant access to the MomsWhoThink "Ultimate Guide to Baby Naming in 2022."
CLICK HERE
to get started!
Demi is a highly fashionable baby girl name. Although the name's origins date back millennia, Demi has a modern edge that makes it a favorite among current singers and celebrities. Demi is the pen name of biographical children's book author Charlotte Dumaresq Hunt, and Demi Miller was a central character on the British soap opera EastEnders. Keep reading to learn more about this name.
Meaning of the name Demi:
Greek: Earth mother
French: Half
Origin of the name Demi:
Demi originated as a diminutive of the name Demeter or Demetria. The name Demeter derives from the Greek da (meaning "earth") and meter (meaning "mother"). In Greek and Latin, Demi means "earth mother." Alternatively, Demi is also the French word for "semi" or "half."
Symbolism of the name Demi:
Demi is a diminutive of Demeter (meaning "earth mother"). In Greek mythology, Demeter is the goddess of the harvest. Her symbols include the cornucopia, wheat bushel, torch, and bread.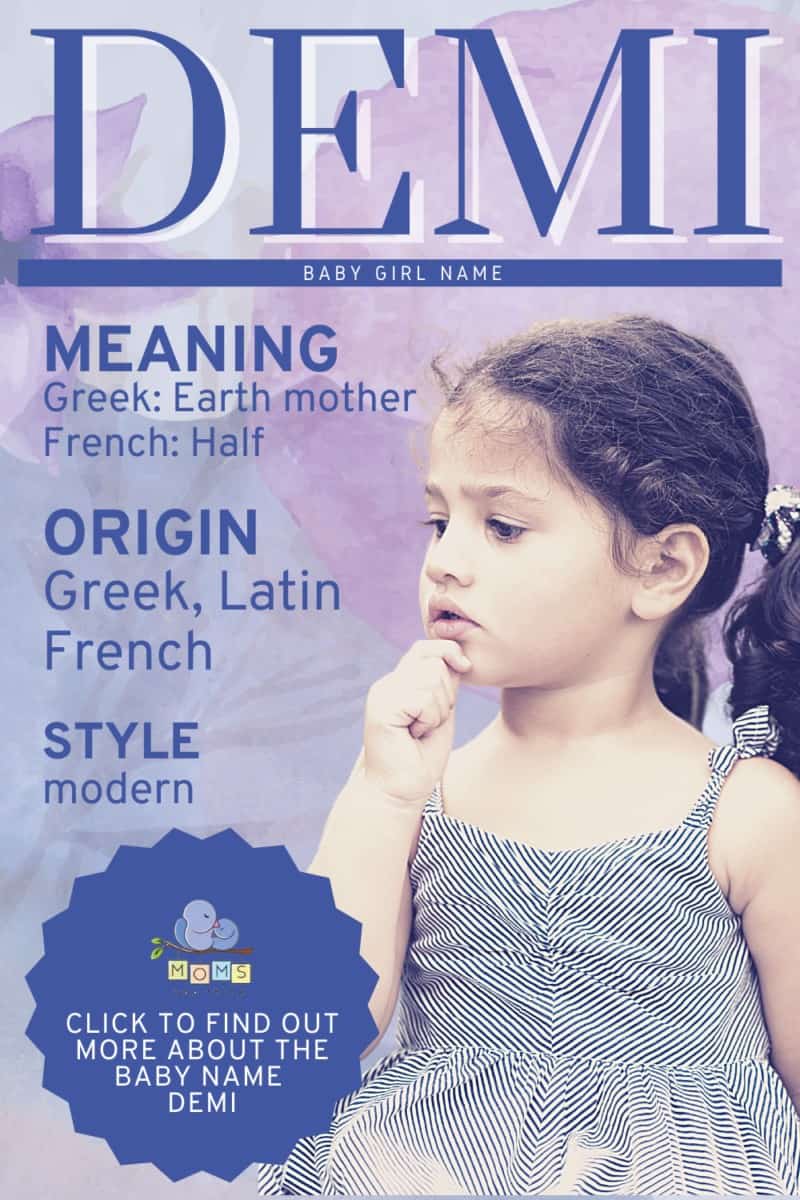 Style of the name Demi:
Modern
Gender of the name Demi:
Demi is a girl's name.
Pronunciation of the name Demi:
dim-EE
Number of syllables in the name Demi:
Two
Emotion evoked from the name Demi:
The name Demi evokes feelings of success and style.
Alternative spellings for the name Demi:
Nicknames for the name Demi:
Popularity of the name Demi:
According to the Social Security Administration index, Demi was the 338th most popular baby name for girls in 2020.
Related names for the name Demi:
Great middle names for Demi and their meanings:
Famous people with the name Demi:
Demi in popular culture:
Demi (female android featured on the Phantasy Star IV video game
Demi (pen name of biographical children's book author Charlotte Dumaresq Hunt)
Demi Miller (character on the BBC soap opera EastEnders)