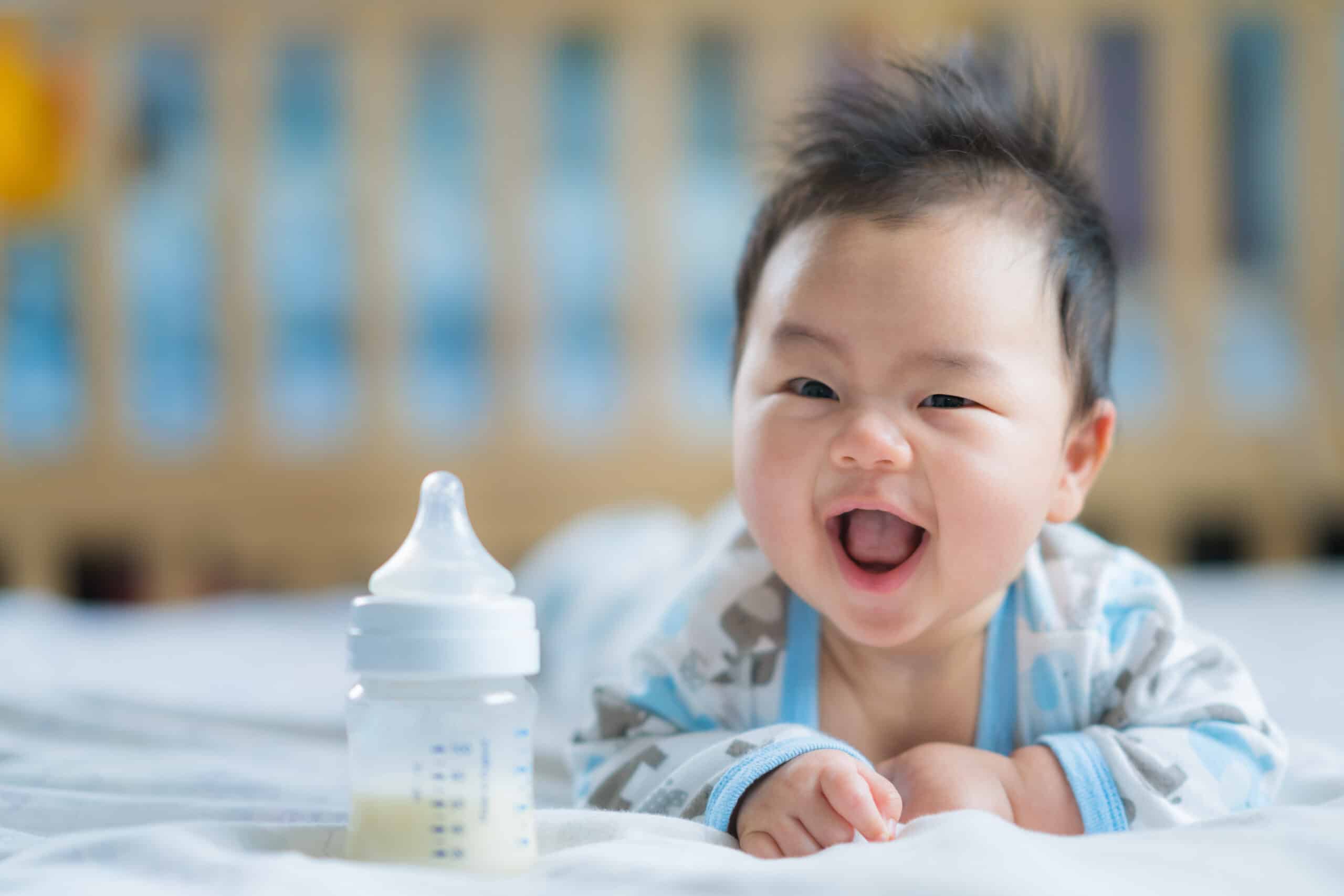 Whether you've already found the perfect first name for your baby or you're looking for a first and middle name at the same time, here is a great list of middle names that start with the letter D.
Middle Names That Start with D
Daffodil

Daffodil, a flower name, is an adorable middle name for that spring-born baby girl that's filled with joy and life.

Dakota

Dakota, meaning "friend or ally" in Sioux origin, is a truly unisex choice for the baby that's wild at heart.

Dale

Dale, meaning "valley", can be a simple middle name option that gives off a more serene vibe.

Dallas

Dallas, meaning "skilled", is the perfect middle name symbolizing a laidback, cowboy-like feel.

Danger

Danger, a word name, is a trendy option for parents who wish their baby to have a brave, masculine name.

Danny

Danny, meaning "God is my judge", is typically a nickname, but it can be a nice middle-ground option for a baby boy or baby girl.

Darcy

Darcy, with Irish origins meaning "dark one", is a charming middle name perfect for those fans of the classic Jane Austen novels.

Darian

Darian, meaning "possessing goodness" in its Persian origins or "rich, kingly" in its Greek roots, makes for a pleasant middle name for a baby girl to pay homage to a relative named "Darren".

Day

Day, a word name, is a cute choice if you seek a middle name that goes against the traditional route.

December

December, a month name, makes for the perfect symbolic middle name for the baby born within that time.

Declan

Declan, meaning "man of prayer", is a classic option for those religious-minded as it's the same name as an Irish saint.

Dee

Dee, a shortened name, can blend well with a baby that has a first name starting with the letter "D".

Del

Del, meaning "small valley", is typically a nickname, but it can be an appealing simple middle name for a strong baby boy.

Delaney

Delaney, which means "dark challenger", has a sense of enthusiasm about it while also having a slight feminine twist that gives some softness to it as a middle name.

Demeter

Demeter, meaning "earth mother", is a strong choice for a baby girl, giving her the compelling name of a Greek goddess.

Denny

Denny, typically a diminutive form of "Dennis", is a carefree and youthful middle name fitting for a happy baby boy.

Denver

Denver, the name of a capital city in the United States, works as a unisex middle name that is both trendy and strong.

Devon

Devon, with its English origin, brings forth feelings of the beautiful country, making it a welcoming and wholesome middle name.

Domino

Domino, with Latin origins meaning "lord, master", is among the ultimate cool middle names for a future stylish baby.

Donnie

Donnie, diminutive of "Donald" meaning "ruler of the world", is a good choice when looking for something informal that flows well with various first names.

Dream

Dream, a word name, is an endearing middle name that is easily distinguishable and symbolizes a serene nature.

Dru

Dru, a unisex option despite the meaning of "strong, manly", is a chic choice thanks to its different spelling of an otherwise traditional name.

Dune – Dune, a word name associated with a sandy beach, can also be a pleasant middle name for fans of the classic sci-fi franchise Dune.

Dusty

Dusty, embraced by many due to the popular singer Dusty Springfield, makes for a memorable middle name that can double as a nickname.

Dylan

Dylan, meaning "son of the sea", can come across as a middle name that balances both refinement and wholesomeness.
Boy Middle Names That Start with D
Dagger

Dagger, a word name, is an excellent choice that will arm any baby with the confidence they need to face the world head-on.

Damian

Damian, meaning "to tame, subdue", is a popular choice among Christian families as there are several saints that bear the name.

Damon

Damon, derived from "Damian" with the same meaning, is a more distinctive use of the traditional name, so it's a good choice if you want something more unique.

Daniel

Daniel, from the Hebrew meaning "God is my judge", is a favorite and popular choice for a middle name due to its classic, bold appearance.

Dante

Dante, meaning "enduring", is another popular middle name option, especially among Italian families, but it can be a powerful name for any little boy.


Darren – Darren is a wonderful choice for a bold baby boy thanks to its Irish origin meanings of "little great one".
Dash

Dash, with no real meaning on its own as it's generally a nickname, works well as a middle name for its cute qualities befitting an active and excited baby.

David

David, another strong name with Hebrew origins meaning "beloved", will always be a classic choice with heavy biblical roots.

Dax

Dax, with its French origins, is a middle name that, despite its simplistic spelling, gives an energetic vibe perfect for any enthusiastic baby.

Deacon – Deacon, meaning "messenger, servant", is popular within many Christian families with its connection to the job of "deacon", a cleric position within the church.
Dean

Dean, with English origins referring to "church official", although famous as a surname, works great as a middle name when seeking something strong and classic.

Demetrius

Demetrius, the name noted as a "follower of Demeter" from Greek mythology, is a powerful and bold name for a baby boy thanks to its origins.

Denim

Denim, although a name of a fabric, is a unique choice for a middle name that's fitting for parents who wish for something out-of-the-box.

Desmond

Desmond, meaning "one from south Munster", has Irish ties and a sophisticated nature about it that makes it a rising popular choice.

Dex

Dex, a shortened form of "Dexter" meaning "skilled, right-handed", is a fun choice for a middle name that's filled with energy despite its simplistic look.

Dick

Dick, meaning "dominant ruler", is a good middle name option if you don't want to use the formal "Richard" name that it stems from.

Dimitri

Dimitri, which means "follower of Demeter", has strong connotations to it thanks to the connection to the Greek goddess "Demeter".

Dominic

Dominic, meaning "belonging to the Lord", is a prevalent middle name found within Roman-Catholic communities because of its history of being given to boys born on Sunday.

Douglas

Douglas, coming from Scottish roots meaning "black water", is a traditional choice that's remained popular for centuries with its strong and formal nature.

Drake

Drake, meaning "dragon, serpent", is a go-to choice if you need a simple one-syllable name that's still stylish in today's world.

Drew

Drew, meaning "strong, manly", is usually a nickname from "Andrew", but as it works just as well on its own, it can be an easy middle name that blends with almost any first name.

Duke

Duke, typically a rank of nobility among the English, adds some sophistication to your baby's name.

Duncan

Duncan has a confident and strong sense about it that's just formal enough that it can be used just as well as a first name, especially with its origins meaning "dark warrior".

Dustin

Dustin, meaning "brave warrior", is a nice classic middle name that symbolizes a baby that will grow into a valiant little boy.

Dwayne

Dwayne, meaning "swarthy", has a natural charm about it, and it's more so a good choice if you happen to envision your baby growing up like the famous bearer of the name "Dwayne 'The Rock' Johnson".
Girl Middle Names That Start with D
Daisy

Daisy, meaning "day's eyes", is an adorable middle name that highlights the beautiful flower that is your baby girl.

Dana

Dana can oftentimes be seen as the feminine form of "Dan", making it a good way to name a baby girl after a male relative.

Danica

Danica, meaning "Morning Star", is a unique name of Slavic origin that's wonderfully feminine and distinctive without being too chic.

Daniella

Daniella, a feminine form of "Daniel", offers an easy way to give a baby a variation of cute nicknames stemming from their middle name.

Danielle

Danielle, meaning "God is my judge", has maintained popularity throughout the years for its slightly formal appearance.

Daphne

Daphne, an attractive middle name choice for a baby girl, has cool roots in Greek mythology meaning "laurel tree".

Daria

Daria, meaning "kingly", is a wonderful choice when you need simple, yet contemporary enough to have a bit of style to it.

Davina

Davina, which means "little deer", is a beautiful choice with how close it resembles the word "divine".

Dawn

Dawn, a word name, can symbolize new life and the joy of welcoming your baby girl into the world with brightness and sunshine.

Debby

Debby, meaning "bee", is a way to make the traditional name of "Deborah" come across as less formal and more lighthearted.

Delilah

Delilah, with Hebrew origins meaning "delicate", makes for a sweet choice for a soft and gentle baby girl.

Demetria

Demetria, stemming from ancient Greek, is a fun middle name for any baby with the possibility to grow up to become larger than life.

Denise

Denise, meaning "god of Nysa", is a formal middle name that still flows well with a stylish feel to it.

Desiree

Desiree, meaning "desired, wished", has both a complex and youthful way about it that makes it perfect for a joyful and smart baby girl.

Destiny

Destiny, a word name, is filled with potential and pairs well with similar exceptional first names like "Hope" and "Faith".

Diamond

Diamond, a given word name, embodies a baby girl with her natural shine, making it a good choice to represent her potential brilliance.

Diana

Diana, meaning "divine", shares the name with the Roman goddess connected to hunting, and it's a further powerful middle name option thanks to one incredible fictional warrior by the name of "Wonder Woman".

Dina

Dina, which means "judged or delicate", is a charming middle name with ties to the Old Testament for those who want something slightly religious.

Dione

Dione is ideal in its namesake which means "divine queen", celebrating what you wish for your baby girl to become.

Dixie

Dixie, with roots meaning "tenth", is a cute informal middle name that has a sassy feel to it, making it easy to be used as a nickname for a baby girl too.

Dolly

Dolly, which is typically taken from Dorothy meaning "gift of God", is a fashionable name with great connections to the famous singer "Dolly Parton".

Dominique

Dominique, meaning "belonging to a lord", is a good rift off "Dominic", which makes it a seamless choice when naming a baby girl after a male relative, especially if she has a twin brother with the name.

Donna

Donna, with the simple meaning of "lady", is an easy choice if you need something classic without it being overly formal.

Dorothea

Dorothea, meaning "gift of God," has a pleasant romantic feel to it, opening your baby girl up to an endless range of nicknames from "Dottie" to "Thea".

Dove

Dove, from the name of the bird, makes for a gentle middle name that represents serenity and peace.