Let's Get Ready for Baby!
Sign up for our monthly pregnancy email series, and you'll get regular updates on your baby's development, helpful timelines to get ready for their arrival, must-have baby needs and so much more! PLUS, you'll get instant access to the MomsWhoThink "Ultimate Guide to Baby Naming in 2022."
CLICK HERE
to get started!
Maeve is a traditional Irish name that dates all the way back to the first century. It is based on Irish folklore of a warrior goddess named Queen Maeve. The name still feels powerful and strong for any girl that is given this wonderful Irish baby name.
Meaning of the name Maeve:
Irish: intoxicating
Origin of the name Maeve:
The name Maeve came from the legend of Queen Maeve in Irish folklore from the first century as she is a Gaelic goddess. She was a warrior queen whose story is told in "The Cattle Raid of Cooley." Maeve is the English version of the name Medb or Meadhbh which was the original name for this queen. There are legends that the queen was also the ruler over the fairies.
Symbolism of the name Maeve:
Queen Maeve would have been intoxicating to anyone who saw her if legends were true. She is said to have been taller than the average woman and to be attractive. She also carries a sword to show how much of a warrior she was, making the meaning all come together.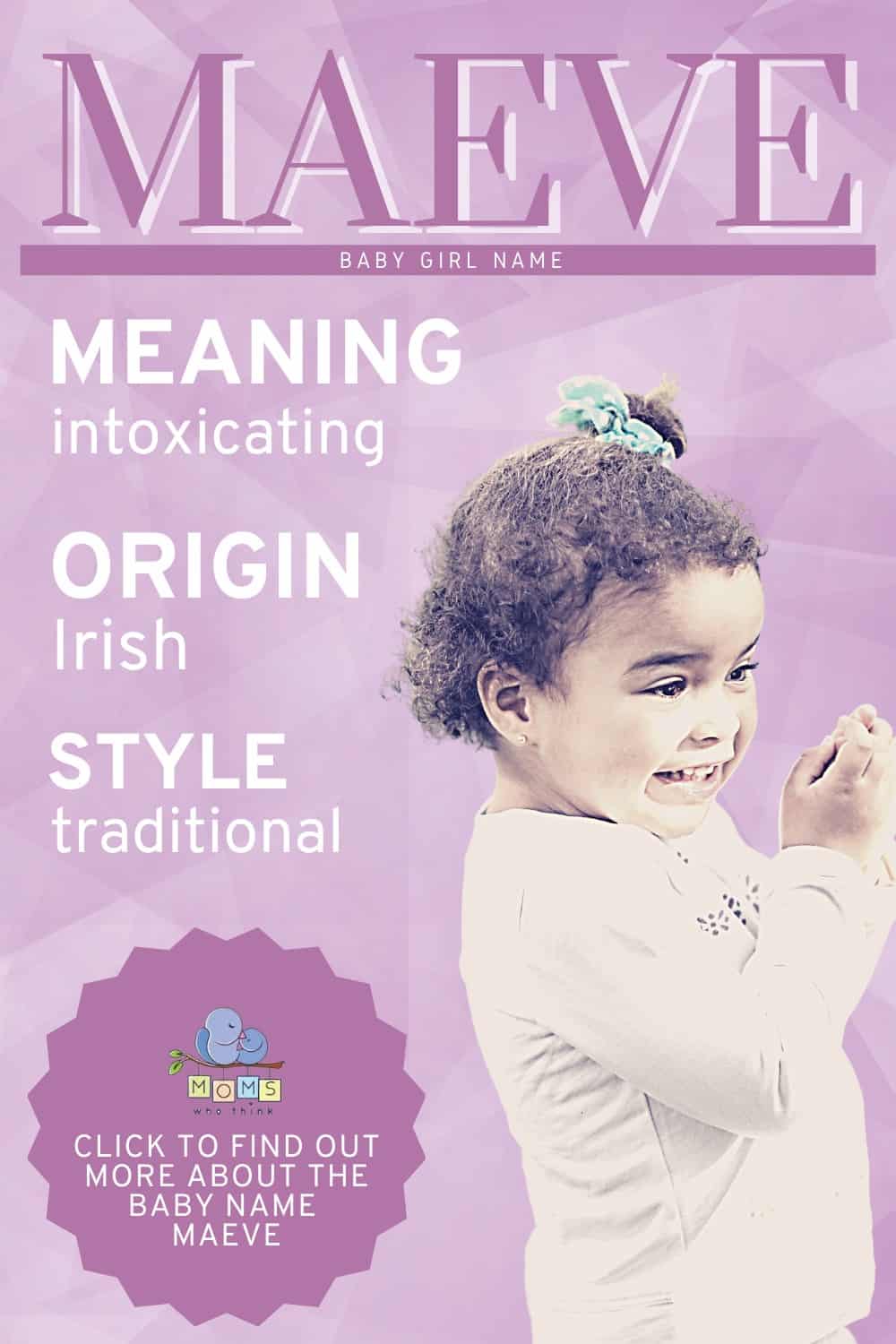 Style of the name Maeve:
The style of the baby name Maeve is traditional to Irish folklore and ancient Irish history.
Gender of the name Maeve:
Females are more likely to use the name Maeve.
Pronunciation of the name Maeve:
MAYV
Number of syllables in the name Maeve:
There is one syllable in the baby name Maeve.
Emotion evoked from the name Maeve:
The baby name Maeve is a very strong and unique name. It is best fit for a child who will have a unique personality and who will want to express herself in a creative manner.
Alternative spellings for the name Maeve:
Nicknames for the name Maeve:
Popularity of the name Maeve:
The name Maeve has only been on the Social Security Popularity Index since 1997 when it ranked all the way at number 955. The name, only just in 2020, entered the top 200 list for the first time. This new ranking puts in in 173rd place.
Related names for the name Maeve:
Great middle names for Maeve and their meanings:
Famous people with the name Maeve:
Maeves in popular culture: