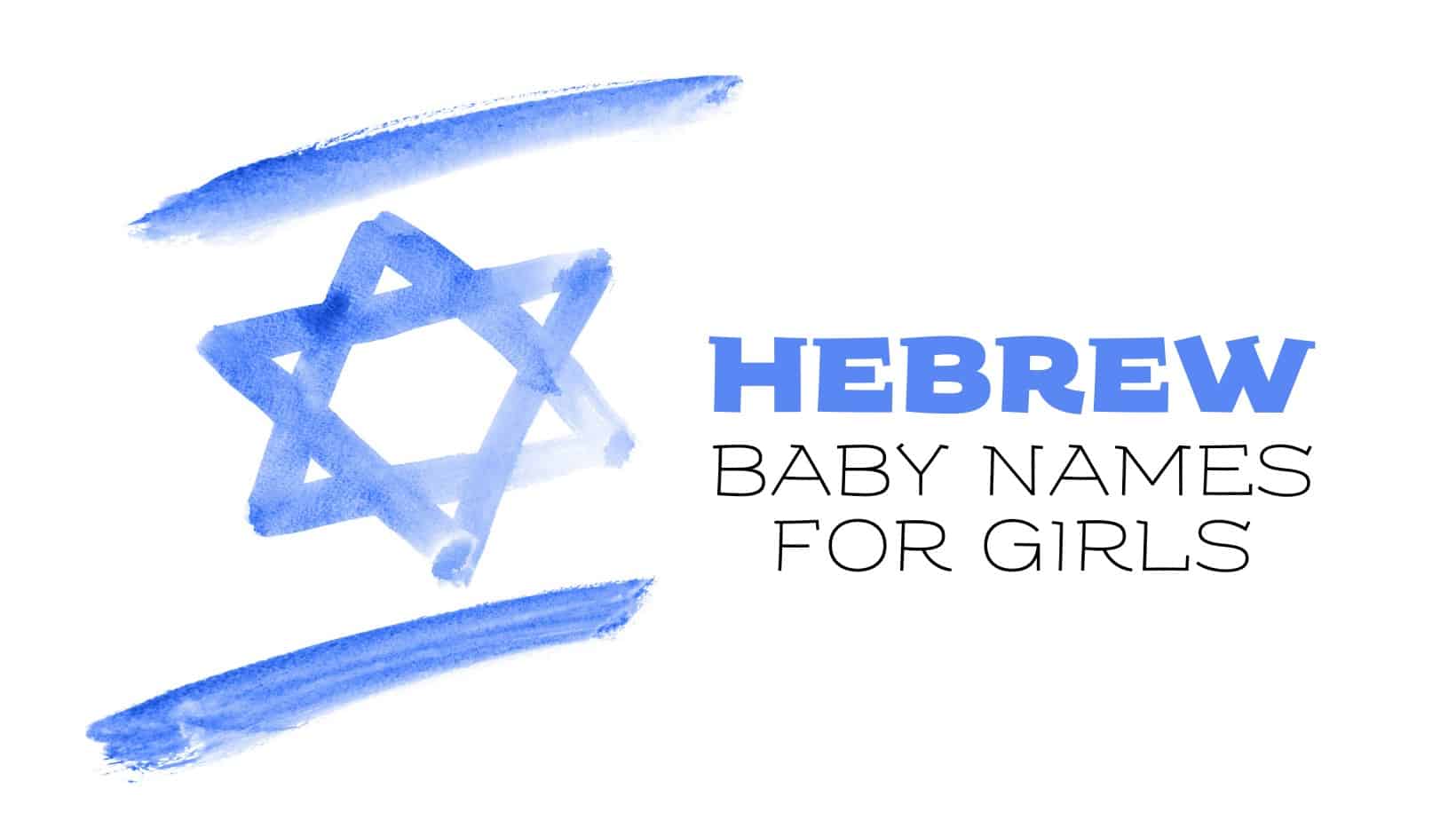 From popular names like Hanna and Rachel to more unusual options like Briah and Amira, this list of Hebrew baby names for girls is filled with a wide variety of beautiful and feminine names. Explore the options and meanings of each of these names to find the one you love most. (And if you're having a boy, check out our list of Hebrew baby names for boys!)
Hannah

This feminine title is quite popular with Hebrew speaking parents. It means grace.

Naomi

Jewish parents often title newborn daughters Naomi. In Hebrew, the name means pleasant. Though the moniker holds strong Hebrew origins, it has been embraced by other faiths and cultures.

Sarah

Sarah is one of the most popular Hebrew girl's names. The title connotes a princess.

Eden

Eden is a Hebrew moniker bestowed upon female offspring. The designation is translated to mean pure delight and honors the biblical garden bearing the same name.

Ruth

This biblical denomination is often awarded to Jewish girls. Ruth is defined as recognizing one with compassion or a loyal friend. Though not as popular as it has been in the past, the honorific still enjoys a solid level of popularity.

Rachel

Rachel is an extremely common Hebrew title handed down to girls. The name means ewe and honors a prominent biblical figure.

Miriam

Hebrew-speaking individuals often name newborn daughters Miriam. Translated from said tongue, the honorific means beloved. Currently, Miriam is the most popular title given to girls born in Israel. That said, the moniker continues to gain favor in other nations and religions.

Amira

Amira is a Hebrew girl's name. The denomination means princess. Language historians maintain that this biblical designation is growing more common.

Talia

Jewish parents often choose this feminine moniker for newborn daughters. It means product of God. Moreover, Talia is a combination of two words, tal, which means dew and yah, referencing God.

Jessica

Jessica is popular Hebrew title chosen for girls. This designation translates to the phrase God beholds. Additionally, Jessica, which is sometimes abbreviated as Jess, is consistently among the most popular girl's bestowed names.

Eve

This is a powerful female name holding Hebrew origins. The honorific symbolizes life. Furthermore, the title can be traced back to the bible's famous story of Adam and Eve.

Samantha

Samantha is a noted Hebrew girl's name. Meaning told by God, the designation is said to be the feminized version of Samuel.

Eliza

This name might be chosen for the newborn daughters of Hebrew-speaking persons. The title references the phrase pledged to God. Furthermore, Eliza is a variant of the English name Elizabeth.

Elliana

This biblical name is often handed down to girls born to Jewish parents. In Hebrew, the moniker is interpreted as God has answered. The honorific can also be spelled using various letter combinations.

Rebecca

Rebecca is one of the most powerful Hebrew girl's names. Its modern translation equates to kind or good-spirited.

Mariah

Mariah is a Hebrew feminine name growing in popularity. Translated from that language, the moniker means the Lord is my teacher. Arguably, its most famous possessor is legendary pop singer Mariah Carey.

Danielle

Danielle is a biblical title carrying Hebrew origins. It holds true to the phrase God is my judge. Additionally, Danielle is the female version of Daniel.

Dalia

This is a Hebrew girl's name. Language historians maintain that the denomination honors flowers.

Aviva

Hebrew-conversing individuals may opt to name newborn girls Aviva. The designation is translated to reference springlike and its popularity continues growing.

Deborah

Deborah is an incredibly common girl's name originating in the Hebrew language. Its literal translation is bee. Moreover, Deborah carries several acceptable spellings.

Anna

Anna is a feminine title holding Hebrew roots. The moniker references grace. That said, some historians suggest that the honorific is a shortened version of Hannah.

Shai

Shai is a Hebrew girl's name. In said tongue, it has multiple meanings including beautiful and gift.

Esther

Esther is an ancient biblical title possessing significant Hebrew origins. The moniker is known to reference a star.

Gayle

Jewish parents might designate newborn girls Gayle. In Hebrew, the honorific translates to cheerful. Moreover, the designation can be spelled several different ways.

Briah

Briah is a name sometimes bestowed upon girls born to Hebrew-conversing parents. It means powerful or a strong warrior.
Peruse thousands of baby names on MomsWhoThink.com! And follow us on Pinterest for more parenting inspiration!