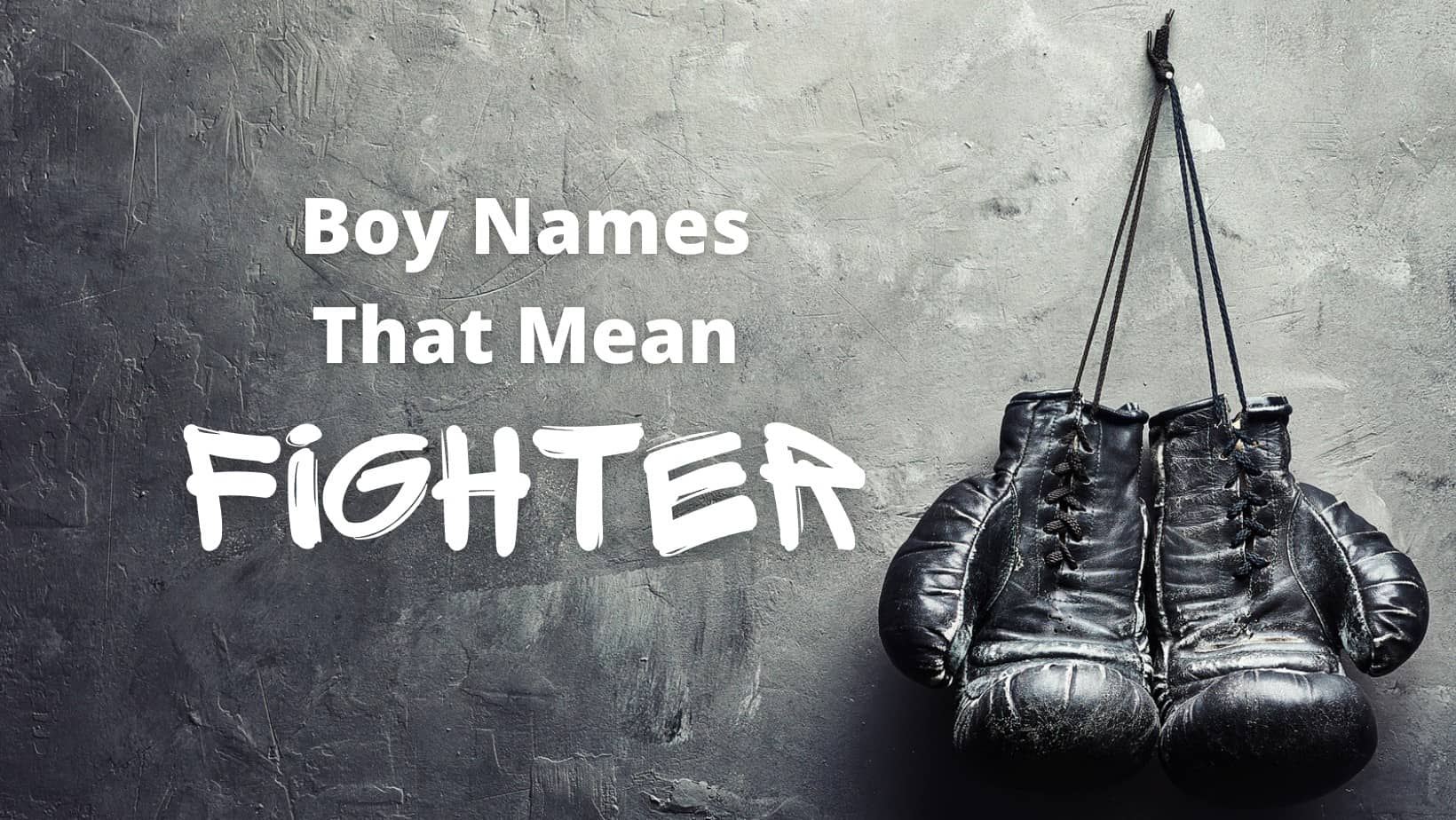 From Walter to Peyton to Liam and beyond, this list of boy names that mean fighter is filled with a healthy selection of masculine options. Peruse the list and make a selection that best suits the hopes and dreams you have for your little fighter!
RELATED: More Baby Names That Mean Fighter
Walter

Walter is a popular and powerful male name. Its roots are German and recognizes army rulers.

Patton

This is an old English title bestowed upon boys. Speakers of said tongue know that the moniker is interpreted to mean fighter's town. One current noted bearer is actor Patton Oswalt.

Murphy

Murphy's origins can be traced back to Irish dialects. The masculine designation honors sea warriors. Moreover, it is a very common surname.

Marcus

Though common amongst many ethnic groups, the roots of the male title Marcus are Latin. It means warlike.

Gunther

Gunther is a classic and strong German boy's name. The honorific celebrates battle warriors and holds several acceptable spellings.

Ansel

Ansel is a boy's name. It holds Hebrew roots. In English, the denomination salutes protectors. The late American photographer Ansel Adams is one of the title's more famous owners.

Duncan

Those with Scottish ancestry might designate infant sons Duncan. The honorific recognizes dark warriors.

Dustin

Individuals fond of the fighting spirit may name newborn boys Dustin. In German, the title means fighter. Two famous bearers are the late actor Dustin Diamond and legendary Academy Award winner Dustin Hoffman.

Kane

Welsh families might favor Kane as a strong denomination for infant males. It celebrates warriors.

Lewis

Lewis's ancestry is English. The male denomination honors the legacy of renowned warriors.

Milo

This popular masculine moniker holds German origins. When translated from said tongue, the designation salutes soldiers.

Peyton

Though well-known in the English-speaking world, Peyton's history started in Germany. In German, the title is interpreted to the phrase fighting man's estate. Arguably, its most celebrated bearer is former National Football League superstar Peyton Manning.

Liam

Liam is a common Irish title. In Irish dialects, the honorific recognizes strong-willed fighters. A noted current holder is actor Liam Neeson.

Troy

The moniker Troy's heritage is Irish. The masculine title translates to the expression descendant of a foot soldier. A noted bearer is former football star Troy Aikman.

Armando

The masculine moniker Armando has gained tremendous popularity in Spanish-speaking nations. That said, it first began taking hold in France. When interpreted from French, the designation honors soldiers.

Bade

Bade is a boy's name. In German, it means battle.

Ragnar

This boy's title is historic and common Norwegian honorific. Native speakers know the denomination celebrates warriors.

Umberto

Mothers and fathers of Italian heritage may title newborn male children Umberto. In English, the moniker describes bright warriors.

Wyatt

Old English is credited for holding the linguistic roots of the male denomination Wyatt. The name celebrates little warriors. Arguably, its most famous possessor is famed but late American lawman Wyatt Earp.

Mordecai

Hebrew-conversing parents might name newborn boys Mordecai. The moniker commemorates warriors and a prominent biblical figure. The title can be spelled several different ways.

Luther

Luther is a masculine German honorific. In English, the denomination means warrior. Several famous people have held the moniker as a first and surname.

Kaiden

Kaiden's origins are American. Additionally, the male honorific means fighter.

Herman

The German title Herman is a common male designation. This title honors warriors and soldiers.

Gunnar

Norwegian mothers and fathers or individuals fond of Norse mythology might name a newborn son Gunnar. In said sagas, the name honored war.

Gideon

Proud Hebrew-conversing or religious subjects might title infant sons Gideon. The moniker recognizes a powerful biblical figure and celebrates mighty warriors.
Peruse thousands of baby names on MomsWhoThink.com! And follow us on Pinterest for more parenting inspiration!